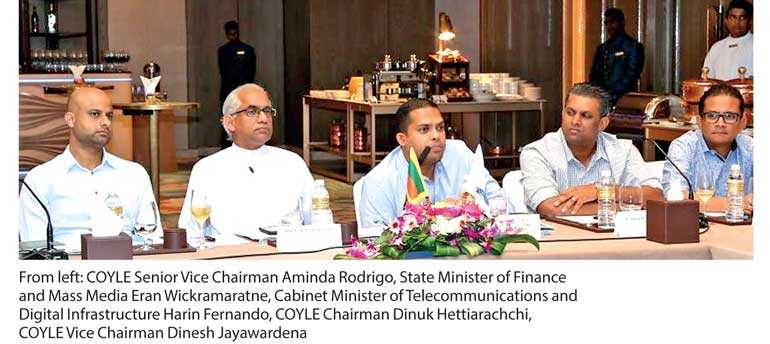 The Chamber of Young Lankan Entrepreneurs (COYLE) hosted a roundtable discussion at its monthly meeting with State Minister of Finance and Mass Media Eran Wickramaratne, who was joined by Cabinet Minister of Telecommunications and Digital Infrastructure Harin Fernando, at The Spice Room, Shangri-La Hotel recently.

He spoke to the members on the Government's project, "Enterprise Sri Lanka" – a driving force for economic development. In his address, he shared thoughts on the Government's support towards entrepreneurship stating that entrepreneurs are good for the economy and employment. Hence this ambitious program supports innovative startups and helps them grow.

He also reiterated the Central Government's policy for entrepreneurship development which aimed to strengthen the country's economy. Government policies and principles are important for entrepreneurship to succeed in any country. Governments that support entrepreneurs typically develop and implement growth-oriented structures that allow enterprise development.

Harin Fernando, in his speech elaborated on the need for a knowledge-based economy and said that a digital economy strategy will be put into effect to take the country forward. He also spoke on the history of the educational system and its shortcomings which are glaringly evident by the acute shortage of labour force in the country. A time to teach them how to fish instead of giving them free giveaways is a way to change the mindset and thinking of the rural and suburban youth.

At the Q&A session, some of the issues brought up by members included the acute shortage of labour and the ramifications of importing labour; and the necessity of imposing the law prohibiting young three wheeler drivers below 25 years in engaging in a non-productive business to avert the shortage of labour. The Minister addressed each issue and assured COYLE of taking their concerns into consideration.

The Chamber of Young Lankan Entrepreneurs is a membership-based organisation with the mission to support, promote and sustain business development in Sri Lanka. With 19 years of service in the community, COYLE focuses on critical areas including education, workforce, economic development and public policy.