From left: Director of Commerce and Head of Bilateral Affairs Division Somasena Mahadivulwewa, EU Delegation to Sri Lanka and Maldives Program Manager Harshani Halangoda, National Project Coordinator, ITC Dayaratne Silva and UNIDO International Technical Specialist Jairo Andres Villamil-Diaz – Pic by Indraratne Balasuriya
---
Sustainably expanding the export economy by increasing trade competitiveness of Sri Lankan SMEs in the EU and regional markets
---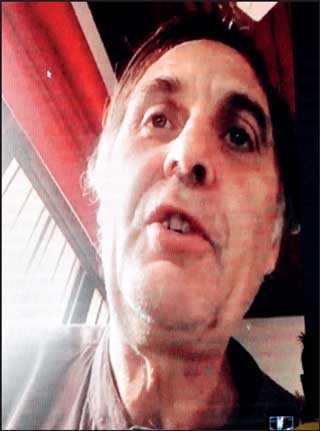 EU Delegation to Sri Lanka and Maldives Head of Cooperation Frank Hess
---
The EU-Sri Lanka Trade-Related Assistance project, funded by the European Union (EU), successfully concluded its four-year engagement of assisting Sri Lankan small and medium-sized enterprises
(SMEs) increase trade competitiveness in the EU and regional markets.
Implemented by the International Trade Centre (ITC) with the United Nations Industrial Development Organization (UNIDO), in partnership with the Department of Commerce (DoC) of the Ministry of Trade, the project has helped Sri Lanka integrate policies and regulatory reforms of the World Trade Organization (WTO), allowing SMEs to make the most of potential opportunities resulting from the EU's Generalised Scheme of Preferences Plus (GSP+).
Most significantly, the project supported the nurturing of a conducive business environment and capacity building for entrepreneurs in terms of building domestic production and trade capacities. It addressed standard-based compliance and efficiencies in cross-border procedures, which are key constraints to market access, especially for SMEs.
Since its commencement in November 2016, the EU-Sri Lanka Trade-Related Assistance project has strengthened the country's macro-economic framework by expanding the export economy and promoting investment within Sri Lanka's National Policy Framework. ITC supported the planning and implementation of a coherent national scale trade strategy for export competitiveness, under the lead of the Sri Lanka Export Development Board (EDB), resulting in a five-year National Export Strategy (NES) to support the country's development agenda and its goal of becoming a leading Asian export hub driven by innovation and investment.
Among countless other initiatives, national capacities were developed with the support of ITC in e-commerce, investment promotion, trade negotiations and policy dialogue to support policymakers and SMEs navigate complex multilateral, regional and domestic trading environments. Implementation was carried-out in partnership with Chambers of Commerce and trade chambers in regions, including the Ceylon Chamber of Commerce (CCC) and the Federation of Chambers of Commerce and Industry of Sri Lanka, to develop advocacy skills on issues interested to the private sector.
Efficiencies and capacities for cross-border procedures were addressed by directly supporting over 50 enterprises in managing cross-border procedures of EU and SAARC markets with a five-year roadmap for the implementation of the WTO Trade Facilitation Agreement (TFA) endorsed by the Sri Lanka National Trade Facilitation Committee.
The Department of Commerce also launched together with ITC the step-by-step trade procedures functionality to enhance the Sri Lanka Trade Information portal, to benefit Sri Lankan traders by providing transparent and updated trade-related import and export information. A comprehensive e-curriculum course was developed with the National Institute of Exporters (NIOE) for Sri Lankan SMEs to manage cross-border procedures.
The project focused on increasing SME competitiveness in high potential export-oriented sectors, with special attention given to enhancing value chains in the spices and concentrates, processed food and beverages (SCPFB), as well as the IT/BPO value chains. Jointly with EDB and SLASSCOM, the national chamber for the IT/BPM industry in Sri Lanka, Sri Lankan SMEs entered eight new markets in Europe and Asia, benefited from more than 300 business meetings and 120 companies received training and coaching to increase exports with the support of ITC.
With UNIDO's support, SMEs in the SCPFB sector entered 16 new markets in the EU, Asia-Pacific, and Americas. 2,000 SMEs and 400 extension officers were trained on food safety and quality (FSQ) assurance best practices and bespoke technical guidance to holistically strengthen enterprise performance was delivered to 101 SMEs, a third now certified against international FSQ standards. Three practical handbooks on food safety, quality, and packaging and an Exporter's Guide are available reference materials for SMEs targeting export markets.
4,000 trainees from NQI institutions and conformity assessment bodies (CAB) have been capacitated to elevate service provision to the sector. To effect institutional coordination across the NQI system, UNIDO supported the development of the NQI Strategy, an action plan for the National Quality Policy and laid the operational foundations of a National Quality Council. UNIDO delivered bespoke technical guidance towards accreditation of 24 CABs, now ready to provide 198 new conformity assessment services, 36 of those calibration services, accredited by the Sri Lanka Accreditation Board.
The Asia Pacific Metrology Programme, a regional metrology organization, approved the Measurement Units, Standards and Services Department's quality management system as compliant with international standards. The Industrial Technology Institute is to launch Sri Lanka's first national packaging testing centre this quarter.
The pinnacle of the collective efforts of the Ceylon Cinnamon Geographical Indication Association, founded with UNIDO's support, is the prospective international and local registration of geographical indication (GI) for Ceylon Cinnamon in the EU and Sri Lanka. To prepare upstream actors for higher-level quality compliance, 800+ cinnamon processing technicians have been trained at the Cinnamon Training Academy (CTA) within the National Vocational Qualification framework, an international occupational standard scheme CTA has become accredited for; a cinnamon processing centre has also been established there with project support.
To fortify the legal and institutional framework for food safety, UNIDO proposed modernisations to primary and secondary legislation for adoption and delivered an analysis to substantiate public health and commercial benefits of reform to stakeholders in the food control system.
The nature of disseminated and replicable results among local stakeholders following the large number of activities and initiatives carried-out during the past four years has ensured the sustained continuation of trade development following the completion of the project, with continued support for Sri Lanka's trade-led economy in the future.