From left: WCIC Chairperson Chathuri Ranasinghe, Norwegian Ambassador to Sri Lanka Trine Jøranli Eskedal, WIM Founder / Chairperson Dr Sulochana Segera, and ECCSL Head of Operations and Policy Tanya Goonewardene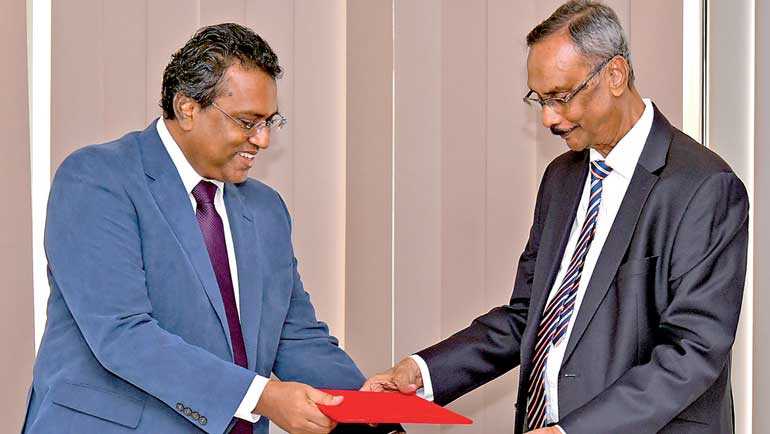 European Chamber of Commerce of Sri Lanka Chairman Arnold Perera (left) and President Sri Lanka Nordic Business Council of the Ceylon Chamber of Commerce Merrick Goonaratne
---
By Ayesha Zuhair

In a bid to promote gender parity in business and governance, the European Chamber of Commerce of Sri Lanka (ECCSL) has announced the launch of a preferential membership scheme for female entrepreneurs and women in governance. The ECCSL announcement was made in collaboration with the Royal Norwegian Embassy, Women in Management (WIM) and the Women's Chamber of Industry and Commerce (WCIC) at an event held on Friday to celebrate International Women's Day.

This preferential scheme targets businesses founded and managed by female entrepreneurs, or where the majority ownership rests with a female. It comes in response to the long felt need to amplify the voices of female entrepreneurs and women in management. A notable feature of this scheme is its emphasis on Small and Medium-scale Enterprises (SMEs) which is meant to provide a platform of inclusiveness for businesses looking to expand into Europe, and carry out advocacy to influence policy and improve inclusiveness in governance.
Mission of achieving gender equality needs constant nourishing and multi-stakeholder engagement - Trine Jøranli Eskedal

Norway's envoy to Sri Lanka Trine Jøranli Eskedal, commended the scheme as "a bold and progressive initiative taken by the Chamber, which has the power to unleash a huge untapped resource from the talent pool in Sri Lanka. The lesson that we have learned in Norway is clearly backed up by international research: increased participation by women translates directly into economic growth, welfare and sustainability. This means that the economic empowerment of women should be at the very top of every domestic strategy for economic growth," she said.



The Norwegian envoy noted that her country has one of the highest levels of female participation in the workforce, and has almost reached gender parity in political participation. "We now have a three-party majority Government, in which two of the party leaders are women. The three most senior roles in the Government – the Prime Minister, Finance Minister and Foreign Minister are held by women. So are the roles of Chief Justice of the Supreme Court and the President of Parliament. Nearly 40% of the parliamentarians are women," she stated.

Ambassador Eskedal pointed out that although most people assume that Norway's economic success is due to its oil and gas industry, an equally important factor is the value of equal participation of men and women in the labour force. She explained, "This didn't happen overnight. It was the result of sustainable, sound and targeted policies and political priorities such as government-funded childcare and gender quotas for company boards. Initially, when these policies were put in place, many were critical and saw it as hand-outs to women. But the government believed that a substantive push was needed to achieve real change."



"At the time the quota was introduced in 2006, the percentage of women on the boards of publicly listed companies was 7%. Today, it is more than 40%. And contrary to the predictions of those who were critical of setting quotas, business is booming. In the medium to long term, it has proved to be a policy that has given Norway a positive and competitive economic advantage." Speaking further the Ambassador explained, "The Norwegian government continues to build the gender equality policy on positive stimuli, such as start-up programmes, a focus on women entrepreneurships, and a separate database of women board members and managers.

She went on to add, "The mission of achieving gender equality needs constant nourishing and multi-stakeholder engagement. We need concrete actions and coalitions to move women's rights forward."
Time we stop reminiscing about our past achievements and take responsibility to re-design the future - Dr Sulochana Segera

WIM Founder / Chairperson Dr Sulochana Segera, flagged the need to increase finance and IT literacy, and stressed on the importance of innovation. "Sri Lanka continues to focus on traditional businesses rather than new or innovative businesses. Without technology, we cannot increase women's participation in the economy. Without improving financial literacy, we cannot move forward. The system needs to change and it's time we stop speaking about our past achievements and it's time we educated women to come out of their comfort zones and take responsibility for mentoring women to re-design the future," she asserted.

"Looking at the Global Gender Gap Report 2020, Sri Lanka was ranked 102 out of 153 countries but in 2019 we were 100 with 2018 data. If we are really making an impact how is our gender gap widening?" Dr Segera questioned. "In 2006, we were among the top 20 countries on gender. So my question is, are we going on the right path or are we following the crowd?" she asked. "Today, Sri Lankan literacy which we speak proudly of, is 98% for men for 97.2% for women but our financial literacy is at 30% and our IT literacy at 10%. We also don't have a system to match women's skills with the job market and businesses. So it is time we stop making Women's Day another Valentine's Day and start focusing on finding solutions to make an impact," she said.
Collective action and shared responsibility needed for a gender equal world - Chathuri Ranasinghe

WCIC Chairperson Chathuri Ranasinghe, said stated that gender equality is a human right and a necessary foundation for a peaceful and sustainable world, and advancing gender equality is critical to all areas of a healthy society. With only a decade left to achieve the 2030 Agenda of the UN for Sustainable Development it is crucial to ensure that every person has equal access to education, health care, decent work, and a life free from discrimination, abuse and representation in political and economic decision making, she asserted. Ranasinghe stated that empowering women to be decision makers, will help further the goal of equal participation of women and men in decision-making to provide a balance that better reflects the composition of society and strengthen democracy. "Gender equality is essential for economies and communities to thrive. The key driver to create a gender equal world is collective action and shared responsibility," she said.
The world now "expects" gender balance - Tanya Goonewardene

ECCSL Head of Operations and Policy Tanya Goonewardene, said that the world now "expects" gender balance and inclusiveness. "We now live in a world that notices its absence and celebrates its presence. There is however no denying that there still exists a continuing need worldwide for more progressive mind-sets and collective conscience of inclusiveness to be the norm and not the exception," she said.

Goonewardene explained that as this year marks 25 years since the adoption of the Beijing Declaration and Platform for Action, the focus of the 2020 International Women's Day celebrated by the ECCSL is "encouraging and celebrating women in management and governance". A key goal of the ECCSL for 2020 is enhancing women's economic empowerment through encouraging entrepreneurship business leadership. The preferential membership awarded to female entrepreneurs and women in business and leadership roles is among several initiatives planned by ECCSL this year to include improved female participation on the agenda of economic growth.

Pix by Ruwan Walpola