IPS to highlight lessons from SL in managing challenges and opportunities in post-conflict development
Conference from 29-30 July
At the memorial lecture and conference in honour of the former Executive Director of the IPS, late Dr. Saman Kelegama, to mark his first death anniversary, Institute of Policy Studies of Sri Lanka (IPS) will bring to light the lessons from Sri Lanka to manage domestic and international challenges to development in a post-conflict environment.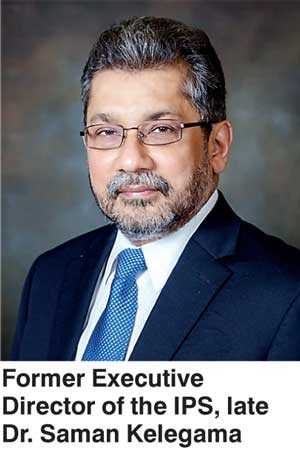 The memorial lecture, on 25 June at the Dr. Saman Kelegama Auditorium of IPS, will be delivered by the Governor of the Central Bank of Sri Lanka, Dr. Indrajit Coomaraswamy. The conference on 29 and 30 June in Colombo will be attended by eminent economists both in Sri Lanka and overseas, including economists of Sri Lankan origin in Australia and the US and key figures from South Asian think tanks and international agencies. The conference will be inaugurated by Prime Minister Ranil Wickremesinghe.

The heightened volatility in the global economy since the global financial crisis, the emergence of China as a dominant economic and military power, and intensifying geopolitical rivalries and tensions pose complex economic and political policy challenges for small countries embarking on post-conflict development. This international context brings both trials and prospects, and requires economic, political and diplomatic policy skills of a high level of sophistication and flexibility to ensure that a country can embark on a path of sustainable growth and development.

The ending of the conflict in Sri Lanka in 2009 opened the door for reconstruction and economic development. However, choosing development strategies that can consolidate peace and transform the country into a dynamic modern economy was challenging due to both internal and external forces. On one hand, prudence was needed in decision making in the ethnically and culturally diverse democratic Sri Lanka. On the other, caution was required in managing the economic and political forces in a volatile world economy and a region increasingly caught up in geo-political rivalries and tensions.

To sustain peace, post-conflict development needed to be broad based and inclusive. It needed to rapidly reconstruct and rebuild the war-devastated regions, restore macroeconomic stability, while delivering a 'peace dividend' and better living standards for all. It had to attract capital and assistance for rebuilding, and restore preferential access to international markets such as the EU. It had to maintain the political goodwill and support of the international community, including the rising Asian giants, China and India.

It is in such a context that the conference will look into issues such as Sri Lanka's post-conflict development in a transforming global economy, geopolitics and regional economic integration, policies, regulations and governance for growth, and smarter development for sustaining peace. It draws lessons from the story of post-conflict development of Sri Lanka in the context of a struggle for socio-political reconciliation, a turbulent world economy, and managing difficult internal and external economic challenges.