The Board of MTD Capital Berhad of Malaysia, the 90% shareholder of MTD Walkers PLC in Sri Lanka has announced the appointment of renowned scholar and a leading business magnet, Dr. Arosha Fernando to the Board of Directors of MTD Walkers PLC as the Group Director with effect from 6 May.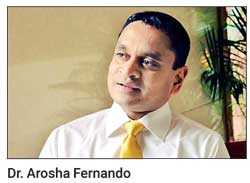 Dr. Fernando is holding six university degrees from Australia, two Bachelor's degrees, three Masters degrees and one doctorate. This includes Doctorate of Business Administration (DBA), Bachelor of Business (B. Bus.) in Marketing, Bachelor of Business (B. Bus.) in Human Resources Management from Swinburne University, Melbourne, Australia and Master of Business Administration (MBA), Master of Project Management (MPM) and Master of Engineering (M. Eng.) from RMIT University, Melbourne, Australia. Dr. Fernando has 26 years of senior management experience locally and internationally including Australia, New Zealand, Sweden and Philippines. He is currently the Chairman of five companies, and Deputy Chairman of another three companies in Sri Lanka.

Dr. Fernando has held a number of senior roles at the Government sector too including as the Board Member and Working Director (WD) of State-owned ITN TV channel and as the Senior Consultant at the Telecommunications Regulatory Commission of Sri Lanka (TRC-SL). In operation since 1854 as the seventh oldest company in Sri Lanka, over the past 166 years MTD Walkers PLC has been a pioneer in the engineering and infrastructure industry both locally and overseas and listed in the Colombo Stock Exchange (CSE). The new appointment of Dr. Fernando as the Group Director is expected to further strengthen the company's growth with its planned restructure. Currently MTD Walkers PLC has 23 subsidiary companies with a staff strength of over 4,000 people and an asset base of Rs. 50 billion.