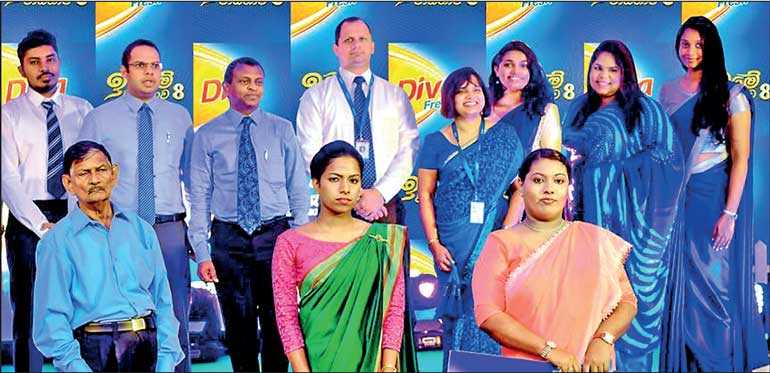 From left: Brands Intern Kalana Perera, Brand Manager Rashintha Ferdinando, General Manager Marketing Derrick Antony, Human Resources Director Niranjan Perera, Finance Director Nilika Goonetilleke, Brands Intern Menasha De Silva, Assistant Brand Manager Minoli de Alwis, Graduate Trainee Piyumi Rajapakse along with the land winners W.J. Fernando, Suchithra Sevvandi and Chamila Kumari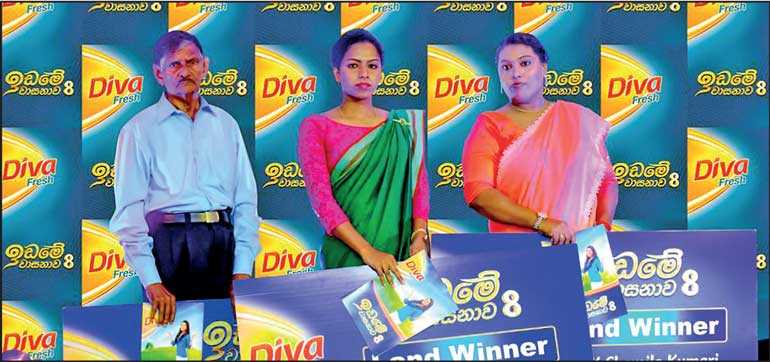 From left: Diva Idame Vasanawa land recipients; W.J. Fernando, Suchithra Sevvandi

and Chamila Kumari
---
Diva's 'Idame Vasanawa' competition, organised for eight consecutive years has once again presented the ultimate dream to three lucky winners of owning their own home.

Diva is synonymous as a brand in helping consumers reap rich rewards and recognised for making dreams come true. Celebrated as a popular and much-loved mega promotional campaign, consumers island-wide look forward to Diva's annual Idame Vasanawa with much anticipation.

Diva, Idame Vasanawa competition has presented 28 precious plots of land to lucky winners over a period of eight years. Since the competition began, consumers have received over 590 cash prizes, 54 gold coins, and other attractive gifts including motor cycles, refrigerators, washing machines and sewing machines.

During this year's eighth edition of Diva Idame Vasanawa, consumers have been gifted three plots of land and 90 cash rewards.

Explaining the company's continued commitment in rewarding consumers with land, Hemas Manufacturing General Manager (Marketing) Derrick Anthony said, "Through the Diva Idame Vasanawa Consumer Promotion we have helped consumers to make their dreams a reality. We are also extremely proud that to-date we have been able to gift 28 plots of land, 54 gold coins and 680 cash prizes, providing unimaginable joy to all recipients."

For the three recipients of land in this year's competition, it has been a life-changing event. A joyful Suchithra Sevvandi from Anuradhapura said, "I am married for three years and live with my parents and two sisters. The house has to be shared by six people and we try not to be a burden while dreaming of our own place. I purchased two Diva kilo packs and entered the competition. Diva Idame Vasanawa is truly a dream come true. Initially, my husband would not believe we had won, but now it's an incredible victory and we are looking forward for the wonderful future that awaits us."

W.J. Fernando from Pannipitiya echoed similar sentiments. He said, "While I am extremely very happy, I have so much praise for Diva for organising such a merit-worthy competition. I am a retired-military officer and my wife and my daughter's family live in the same house. We yearned to buy land and build a house but financially we knew this was beyond our means. We have been truly blessed by a benevolent God and Diva who presented us a dream land. It is unbelievable now we have a land and only need to build a house. We spend only a small amount to purchase a pack of Diva washing powder but the company has humbly gifted us a valuable gift."

The third recipient H.A.K. Chamila Kumari from Borella expressing her gratitude said, "Of all the winners I firmly believe I must be the happiest. We live in Borella on a small plot of two perches government-owned land which we have no hope of transferring to our name. Financially we do not have the means to purchase land close to Colombo. My family of six including my parents and siblings live in this very small place. I am speechless on expressing my joy of winning this reward. From the day the competition began I continued to send entries with the hope that I would win. We hope to get together and somehow build our home on this land that I have won. We owe our gratitude to Diva for organising this competition and presenting us this amazing opportunity."

Diva Fresh has a wide range of washing powders; Diva Aqua Lemon and Lime, Rose and Lime, Jasmine and Lime and Sepalika and Lime variants. Diva's new and improved array of detergent soaps is now offered in Lemon, Lime and Jasmine fragrances.