There can be few greater joys than owning your own home. For three lucky Diva consumers, the first step towards this ultimate dream was recently made a reality during the seventh edition of Diva's 'Idame Vasanawa' competition.

Celebrated in the country as a popular and much-loved mega consumer promotional campaign, consumers islandwide look forward to Diva's annual 'Idame Vasanawa' with much anticipation.

Diva is recognised as a symbol of making dreams comes true and as a brand synonymous with helping consumers reap rich rewards. The 'Idame Vasanawa' competition organised by Hemas Manufacturing and Diva has over a period of seven years presented 25 plots of precious land to lucky winners.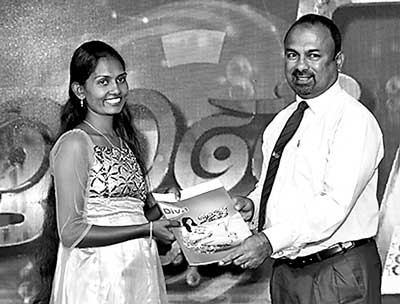 Additionally since the competition began, consumers have also received over 590 cash prizes, 54 gold coins, and other attractive gifts including motor cycles, refrigerators, washing machines and sewing machines.

During this year's 7th edition of 'Idame Vasanawa' Diva consumers have been gifted with three plots of land, 12 gold coins and 91 cash rewards.

Explaining Hemas continuing commitment in rewarding consumers with land, Hemas Manufacturing General Manager (Marketing) Fiona Munasinghe said, "For our consumers, the annual 'Idame Vasanawa' is a symbol of hope that dreams can be realised. We are extremely proud that we have been able to gift 25 plots of land to date providing unimaginable joy to all recipients."

For the three recipients of land in this year's competition, it has been a life changing event. P.A.S.M.G. Thewarapperuma from Wattala said, "I have been using Diva for the past three years and jasmine is my favourite variant. We were looking for a land to build a house but struggling to find a good land close to Colombo. Winning this land is definitely a dream come true."

Echoing similar sentiments was Inoka Ranjani Premathilaka from Medirigiriya. She said, "I have been using Diva for over a decade. Compared to other brands Diva is gentle on hands and cleans all the dirt. Both my kids are very talented but as we live in Polonnaruwa there are little facilities to help develop their skills. Also we face many difficulties as sometimes we don't have access to water. I was tearful when I heard I had won a land from Diva. We are planning to move to Colombo and build a small house on this land. Thanks to Diva my kids now have a bright future. I cannot thank Diva enough for continuously helping those in need and for gifting us this precious land."

Sarojini Madura Subashini from Serankada, Ampara also expressed her gratitude. "We live in a small house in rural Ampara with few facilities. We face many hardships. The road to our home is also very bad and we have to walk miles to the main road. As my husband is working in Seedduwa we can only visit him once a month. I have a three-year old daughter and I am also pregnant. It was always with great hope that I posted the wrappers. Being a housewife I am glad I am able to contribute to my family by winning a land. Diva's 'Idame Vasanawa' is a dream come true and we can now build our own home so that we could be together as a family."

Diva has a wide range of washing powders; Diva Regular comes in a fresh citrus fragrance while 'Diva Flowers' is available in Rose and Lime, Jasmine and Lime variants and Sepalika and Lime variants. Diva's new and improved array of detergent soaps is now offered in lemon, lime and jasmine fragrances.