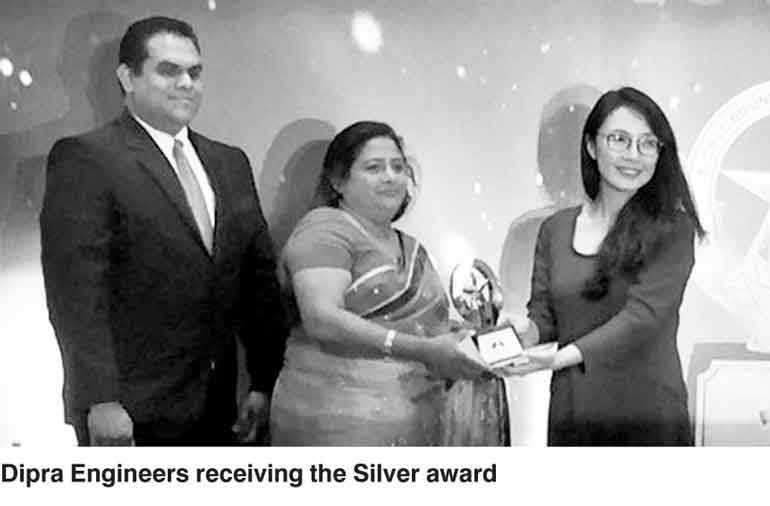 Dipra Engineers Ltd. won the Silver Award for Large Category – National Import Sector at the Business Star Awards organised by the Sri Lanka China Business Cooperation Council. "Achieving this award was a great victory for Team Dipra after 19 years of dedication and commitment. I would like to thank my teams at every level for their hard work, great efforts and proper planning and management skills which led us to this victorious moment," said Dipra Engineers Director Madhu Meulas Kahawatta.

Dipra Engineers, a leading company with expertise in the manufacture of material hoists since 1999, has expanded to numerous fields such as the supply, installation and commissioning of steam boilers, a wide range of passenger lifts and home lifts, EOT cranes, hydraulic lifters, dock levellers, a full range of manual and electric hoists, construction hoists, dockyard ship building shed travellers, car parking systems and dumbwaiters. As a company, it has exhibited excellence in providing quality products and valuable service in material handling for 19 years, and this has seen it obtain the ISO 9001:2008 quality standard

Significantly, Dipra Engineers has over 1,600 units functioning in the country and has been able to extend its products and services to Bangladesh, Maldives, Ethiopia, India and Nepal. It has supplied and installed passenger lifts and material hoists for MAS, Soorati and Vertex garment factories, and designed, supplied and installed material hoists for the Brandix factory in Vishakhapatnam, India. Dipra supplied and installed dumbwaiters for hotels in the Maldives, and supplied and installed material hoists for Jay Jay Mills in Ethiopia.

The traditional methods of ascending staircases have become weaker and the demand for elevators has grown immensely due to the rapid rise in construction of multi-storied buildings in Sri Lanka. Therefore, Dipra has introduced high quality brands of passenger and home elevators to the market at a favourable rate. The company recently introduced construction equipment for the civil sector. The products are from Fast Verdini, based in Italy and are different, superior and have outstanding characteristics. Considering the growth rate of the construction sector of the country, Dipra Engineers believes that the construction equipment will be a vital resource for the civil sector.

The firm also introduced the wheelchair lift to the Nation. For wheelchair users, and elderly citizens who cannot use staircases, a residential vertical lift is a great way to ensure safe and convenient entries and exits. The equipment possesses the advantages of easy operation and high safety. The dumbwaiter is another newly popularised concept for the hotel sector for handling food delivery in multi-storied hotels. It is a simple construction and a convenient device for hoteliers, which meet all safety requirements. Dipra Engineers has supplied, installed and commissioned dumbwaiters to KDU Weerawila and Dental Hospital, Colombo, recently. Car parking solutions is another new amenity Sri Lanka needs as parking of vehicles in busy and commercial places has become a serious problem. In order to find solutions, Dipra has introduced different types of parking systems, ranging from residential areas to restaurants, high-rise buildings and public car parking areas. The electro-hydraulically operated dock leveller is another contemporary product. This can be used to bridge the gap between the loading bays at factories. The device mainly ensures safe and economic loading.