CMA Excellence in Integrated Reporting Awards 2018 Gold Wimmer Diesel and Motor Engineering Company
By Shannon Jayawardena

Diesel and Motor Engineering swept the overall championship at the fourth consecutive CMA Excellence in Integrated Reporting Awards 2018 while bagging several other awards held on 5 July at Cinnamon Lakeside.

The company also received recognition under the categories; Top 10 best Integrated Reports, Industry and Commerce Sector Awards and for Conciseness, Value Creation and Capitals under the Special Awards category.

While Diesel and Motor emerged overall winners, the overall first runner up was John Keells Holdings Plc. winning the silver award and the overall second runner up was Peoples Leasing and Finance Plc., winning the bronze award.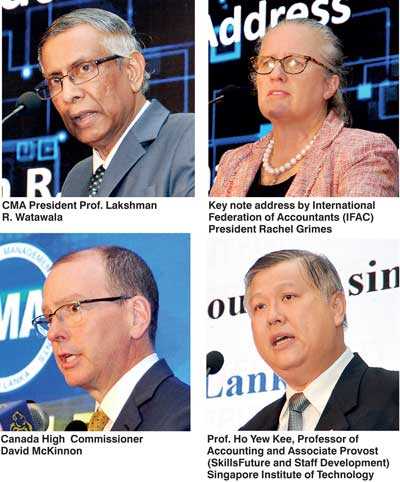 Alongside the award ceremony, CMA also hosted a global management accounting conference under the theme 'Integrated Reporting – Future of Corporate Reporting' under the patronage of International Federation of Accountants (IFAC), the global body for the accounting profession President Rachel Grimes.

CMA President Prof. Lakshman R. Watawala said: "The conference really brought a lot of value to Sri Lanka, where we had very eminent speakers who participated and gave a great deal of emphasis on the new accounting integrated report. Connected with this, for the first time we had the presentation of technical or research papers held the previous day."

All the companies that took part in the competition had complied with the very important condition of timely reporting which is great a matter. Professional accountants could play a major role in the overall economic development of Sri Lanka and must be given recognition for their great service given to the country, emphasised Prof. Watawala.

Chief Guest and Speaker of the Parliament Karu Jayasuriya addressing the gathering said: "The presence of the IFAC President here shows the global acceptance of the young accountants' professional body which is to play a major role considering the poor cost management and financial discipline of the state and government owned enterprises."

He noted that CMA is a self-supporting, non-profit making body and is not a burden on the Government. Jayasuriya stressed on the fact that this country needs many such bodies which will develop the skills of the Sri Lankan youth, enabling them to get employment not only in the country but in any part of the world.

The selection process of CMA Excellence in Integrated Reporting Awards were based on two phases, first being the short-listing of companies by a panel of technical evaluators and second being the final judgment by a panel consisting of both local and foreign judges. This year's listing included a total of 40 companies from sectors such as banking, finance and hospitality among others.

This year's judging panel was chaired by and consisted of experts from countries all around the world, including those from Singapore, South Africa, Australia, India, Pakistan, Bangladesh, Sri Lanka and so forth.

Grimes in her key noted said: "There is absolutely no coincidence that the integrated reporting council was inaugurated in 2010 and just within two years of what was known as the global financial crisis, this is a really key issue and these awards helped recognised some of the key issues that instituted that program."



There is a deficit of trust in society at the moment. Global political situations were driven by the lack of citizen faith in institutions that were meant to serve them and there is a much more nationalistic thinking at this time. Integrated reporting helps bridge that trust gap and long term thinking is critical to the way forward in corporate reporting, highlighted Grimes.

Emphasising on digitalisation's role in the accounting profession she stated: "Technology is a key factor in everything that we do and is one of the crucial opportunities for accountants throughout the world. Many have written it up as being our greatest challenge but I do believe that it is our greatest opportunity and there is no more an exciting time to be an accountant in the history of the world than right now."

Taking all these factors as part of their success, Citizens Development Business Finance PLC, Diesel and Motor Engineering PLC, HNB PLC, John Keells Holdings PLC, LB Finance PLC, Mercantile Investments and Finance PLC, National Savings Bank PLC, Peoples Insurance PLC, Peoples Leasing and Finance PLC, Softlogic Life Insurance PLC and Lanka Hospitals PLC were recognised for having the best Integrated Reports.

Aitken Spence PLC, Alliance Finance Company PLC, Ceylinco Life Insurance, Ceylon Tea Brokers PLC, Dipped Products PLC, HNB Assurance PLC, Lanka IOC PLC, NDB PLC, Peoples Bank, Talawakelle Teas Estates PLC and Nuwera-Eliya Hotels Company PLC received certificates of Merit.

Under the special Sector Awards, HNB was awarded under banking, Peoples Leasing and Finance under Finance and Leasing, Softlogic Life under Insurance, John Keells Holdings under Conglomerates, National Savings Bank under State owned enterprises/companies, Nuwera-Eliya Hotels PLC under Hotels, Talawakelle Tea Estates under Plantations and Ceylon Tea Brokers under SMEs.

Alongside these awards, Adrian Perera, R.A.A. Jayalath, Desamanya Prof. M.T.A. Furkhan, S.G. Senarathna, Jagath Perera, Suresh Goonaratne, Janaka De Silva, Indranee Jayasinghe, Prof. Ho Yew Kee and Graham Terry were awarded the Professional Excellence Awards.

Pix by Ruwan Walpola
State enterprises must follow good global practices for public knowhow: Karu Jayasuriya
It is very essential that State enterprises follow good global practices as the public would like to know how they are managing their enterprises and about the value created by the used public funds, insisted Parliament Speaker Karu Jayasuriya at the recently held CMA Excellence Awards.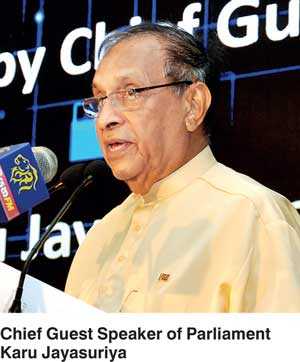 "The non-sufficiency of annual reports on a timely basis is another big role among State-owned institutes, but I believe that the situation has fast improved. In fact, there was a situation where it took several years, but we established a Parliament committee, we got the help of the private auditors and we were able to rear more than 85-90% of the accounts," he said.

Karu also stated that today, approximately 90% of the public reports are submitted on time. There are very few public bodies that are not following the procedures but that is due to a certain weakness in the system or due to the lack of the right people. Steps are being taken by the Parliament to control these situations in the form of removing the Finance Director of certain institutions that do not provide timely reports.

"We have also started an internal audit system, and it is being regulated very strongly by a side committee. We have urged the respective ministries, Committee on Public Enterprises and the Public Accounts Committee to make it mandatory for all the State-owned institutions and the Government ministries to submit integrated reports on a timely basis, making them accountable for good governance," he said.

Speaking on the importance of integrated reporting, Jayasuriya noted: "An integrated report is a front-sided communication about how the organisations' strategy, governance and performance in the context of its environment lead to the creation of value over the short, medium and long-term. Integrated thinking is an active consideration by an organisation on the relationship between its various operating and functional units."

"The primary purpose of an integrated report is to explain to the providers of financial capitals the way an organisation creates value over time. It contains relevant information, both financial and non-financial, and benefits all stakeholders by creating value over time, including employees, customers, suppliers, business partners, legislators, regulators and policymakers," he added.

These reports also have an emphasis on consciousness, strategic focus, future orientation and capitals. However, as there is great interest from the public-quoted companies of the private sector, the number of private sector enterprises are restricted to the same banks currently regulated by the Central Bank, insisted Jayasuriya.

He further stated that integrated reporting is a journey and has shown remarkable improvement in Sri Lanka when compared to the previous years, which is indeed a great encouragement for the country.

Recognition of Outstanding Leadership and Contribution to the Accountancy Profession Life Time Achievement Award present by Chief Guest Speaker of Parliament Karu Jayasuriya and International Federation of Accountants (IFAC) President Rachel Grimes to CMA President Prof. Lakshman R. Watawala. Accompanied by (from left) South Asian Federation of Accountants (SAFA) President Dr. Suvod Kumar Karn, CMA Vice President H. M. Bandara, Chartered Institute of Sri Lanka President Jagath Perera, Canada High Commissioner David McKinnon and Prof. Ho Yew Kee, Professor of Accounting and Associate Provost (SkillsFuture and Staff Development) Singapore Institute of Technology