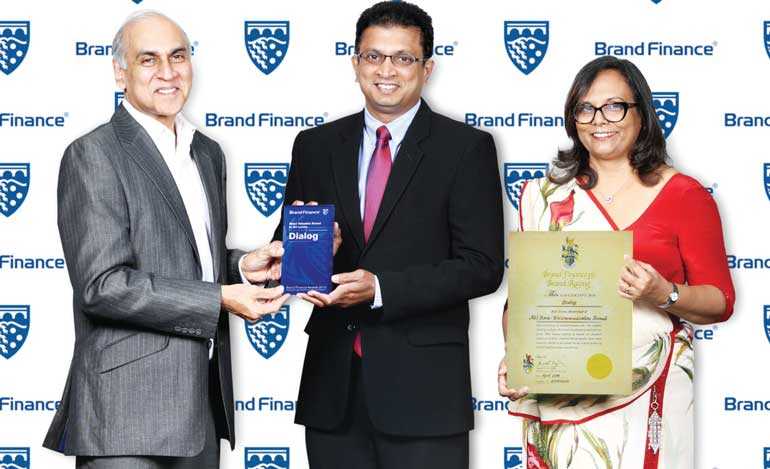 Brand Finance Lanka Managing Director Ruchi Gunewardene presenting the award at Dialog Axiata headquarters to Group Chief Executive Officer Supun Weerasinghe and Group Chief Marketing Officer Amali Nanayakkara
---
Brand Finance releases the latest ranking of the Sri Lanka brand index for the 16th consecutive year
Valued at Rs. 54.2 billion, Dialog takes the No. 1 position for the very first time
Dialog's achievement linked to being the strongest brand (with a AAA rating) for 7 consecutive years
BOC the No. 2 brand sets a new benchmark in the sector by surpassing Rs. 50 billion in brand value
LMD's Brands Annual to release full results shortly


Brand Finance Lanka, the pioneering brand valuation and strategy firm, released its 16th consecutive review of Sri Lanka's most valuable and strongest brands in LMD's Brands Annual. The launch event scheduled for 30 April was cancelled as a mark of respect to the many people who were affected and lost their lives in the tragic Easter Sunday attacks.

In 2019, following global trends, Dialog takes the coveted most valuable brand title for the very first time. This move paves the way for other technology savvy brands to follow.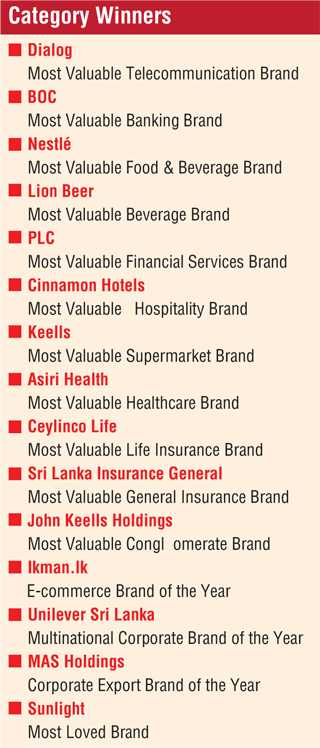 Brand Finance Lanka Managing Director Ruchi Gunewardene commenting on the results said "we congratulate Dialog for being the No. 1 brand in this year's index. It is a signal which recognises the first wave of change that we foresee in line with global trends. Technology brands have become the most valuable by displacing many of the legacy brands in banking and consumer goods sectors across the world."

The rise of technology brands is seen in the Brand Finance Global 500 where the top five positions are Amazon followed by Apple, Google, Samsung and Facebook in that order. These brands have overtaken the old legacy brands such as Coca-Cola, Citibank, Walmart, Toyota, HSBC and GE amongst others, dramatically changing the business and brand landscape within a short period of 10 years.

BOC the No. 2 brand on the list has also performed creditably, with a growth of 21% and exceeding the Rs. 50 billion value mark with a brand value of Rs. 51.9 billion, setting a new benchmark for the banking sector.

Gunewardene said "at an overall level, this year's results do not auger well for some of the established brands. It is clear, if they don't transform, it is a matter of time before they lose their position. Our review has shown that two types of strategies have succeeded to bring brands to the top of our index. One is long term strategic brand building as opposed to tactical or ad hoc focus on campaigns. The other is to holistically embrace technology, not as an add-on to the business, but as a total transformative process. We don't have many brands following these paths, but there are a few examples, and they are making big strides on our index".
Success using both strategies: Dialog

Dialog has been the model of branding excellence. It has adopted both the strategies of brand excellence and technology adoption to get to the top. Dialog is a technology company, so it has the advantage of not having to embrace the transformation required by non-tech brands. It has on the other hand been on a long journey of brand building. For seven years on the Brand Finance Index, Dialog has been the strongest brand, having an AAA rating. This is indicative of the meticulous way in which they have been building brand strength and creating brand value. They have been able to live the brand proposition "The Future. Today" with its employees whilst also delivering it in a credible manner to customers.

Its sleek and innovative brand perception runs consistently through all its products, services and retail sites. Its mono-brand structure has created marketing efficiencies and has helped to cement its brand on an aspirational platform amongst customers. Reliability, user-friendly interfaces, knowledgeable staff and bringing cutting edge transformative technology meant that the brand fulfilled its promise. Also, its ability to cross-sell to customers through the various streams of businesses from telecommunications to data and media, has enabled strong advocacy to be built.


Success using technology adoption: Sampath Bank

Whilst the bank brands have shown good growth in value this year, there is a definitive trend towards the smaller more nimble brands rapidly catching up with the established ones. The biggest threat to the large private sector banks come from Sampath Bank, which jumped one spot from No. 8 to No. 7 rank on the index, with a massive brand value increase of 33%. This is significant traction for a brand of this size, and they seem to be having the momentum to carry this over the long term. Sampath Bank has aggressively adopted technology and has embraced it holistically which seems to be having a positive impact on driving revenue and brand value performance.

This was a year in which the smaller bank brands performed well. Nations Trust, DFCC, Seylan and NDB are the fastest growing brands in this sector. The small size provides them with the agility which the larger banks do not have. This, coupled with embracing technology enables them to meet the flexible and dynamic online needs of the new, younger customers.


Success using brand building: Keells

This year is a significant inflection point in the supermarket category, with the emergence of Keells as the most valuable supermarket brand, taking over from the long standing leader Cargills Food City for the first time. There has been massive changes in this sector recently, with rebranding of nearly all the major players such as Keells, Cargills Food City, Laugfs and even the launch of a new brand Glomark.

What is noteworthy amongst the sector is the growth in value of Keells. There was a 52% increase in brand value, which enabled it to surpass the value of Cargills Food City. The significant growth in brand value was primarily driven by increased revenues, which was 26%.

Of the main supermarket retailers, Keells opted to make the most dramatic rebranding change - from its dominant red and smiley faced brand identity, there was a 360 degree make over in green to singularly support its proposition on freshness. They are now introducing a freshness guarantee return policy which offers customers double the money back on any fresh produce they are dissatisfied with. This introduction from Keells marks one of the major post re-branding initiatives. It demonstrates that caring for customers and delivering the freshest produce each and every day is of utmost importance.

Gunewardene concluded by saying "we complete our 16th consecutive review of brands in Sri Lanka under a pall of gloom and great sadness which has enveloped us all due to the events of Easter Sunday. This, without doubt will negatively impact the performance of all the brands in the current year. Looking to the future, we anticipate a negative performance when we next carry out our review in 2020 across many sectors. We anticipate it will be those brands which have a strong coherent and strategically well thought through brand framework with a clear brand management process which will be able to sustain performance under these trying conditions".

Sri Lanka's most valuable and strongest brands are identified through detailed analysis of data that is obtained from an exclusive market research study carried out by an independent market research firm and publicly available financial information on companies listed on the Colombo Stock Exchange. The comprehensive review of all the brands with related analysis will shortly be available in LMD's 2019 Brands Annual.

Brand Finance, the world's leading independent brand valuation consultancy, advises strongly branded organisations on developing brand strategies and maximising their brand value through effective management of their brands. Brand Finance was founded in 1996 in London and has a network of offices across the world including a joint venture in Sri Lanka, which was established in 2004. Brand Finance Lanka is a full-fledged office which has performed many brand strategy and valuation projects for Sri Lankan businesses.