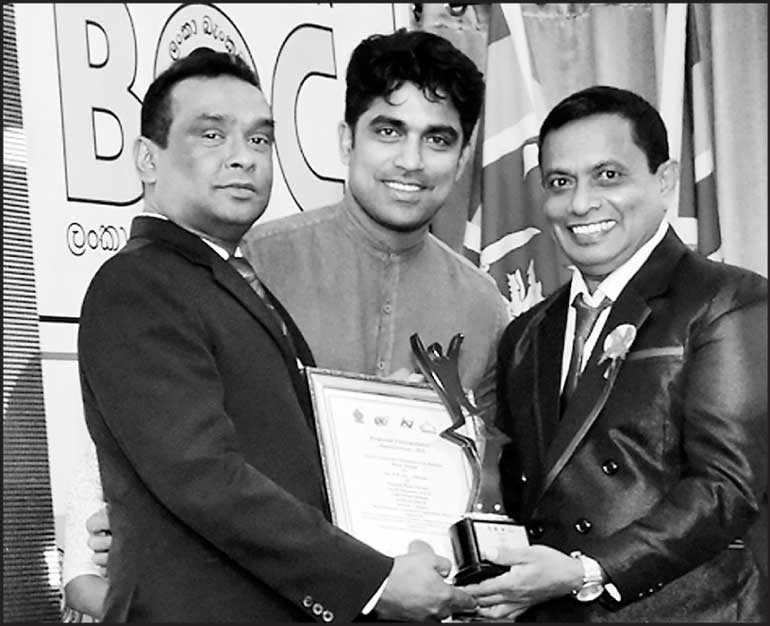 Deepthi Plant Nursery Proprietor B.R. Anton Mendis receiving the award
B.R. Anton Mendis, proprietor – Deepthi Plant Nursery, Polonnaruwa, was the proud winner of the Silver Award, Agricultural Sector, Medium Category at North Central Provincial Entrepreneurship Excellence Awards – 2019.

Founded by B.W.K. Mendis, father of Anton Mendis, way back in 1968, Deepthi Plant Nursery has achieved tremendous success over the years. It spreads over a six-acre land equipped with green houses, latest technology and best practices of traditional farming. Located in Jayanthipura, Polonnaruwa, with a dedicated staff of 45 personnel it has made history as the first A grade plant nursery in North Central Province. The most valuable asset is the public trust it maintains as a nursery of high quality plants. The nursery is capable of supplying bulk orders for tree planting events of state and private sector. Anton Mendis who is a well-known philanthropist, has founded 'Deepthi Sadaham Foundation' in order to extend his helping hand to people in need in his neighbourhood. Through his foundation Anton Mendis welcomes new entrants to grade 1 of Thambala Wewa Vidyalaya every year by giving away educational instruments and stationery. In addition to that, Deepthi Sadaham Foundation helps poor students in nearby schools and conducts blood donation camps. Yet another CSR activity is the funding of the construction of pagoda at Mangala Bodhirajarama temple located in close proximity to the plant nursery. Mendis expressed his gratitude to all his staff 'without whom achieving such a great feat would have been impossible' according to him.