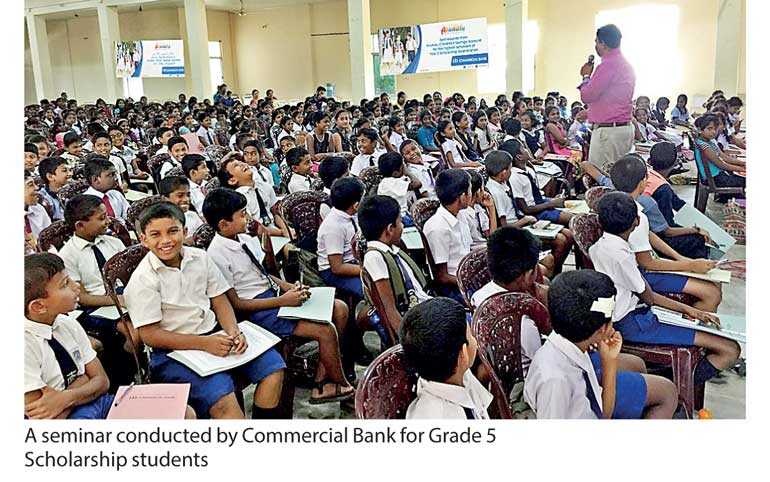 Top achievers at this year's Year 5 scholarship examination will win more in cash from the Commercial Bank of Ceylon, which has announced an increase in the prize money to be awarded to holders of its 'Arunalu' Children's Savings Accounts.

The bank said it will once again reward students placed first, second and third at the national and school levels and those placed first in each district through its three-tiered scholarships scheme implemented via the Arunalu Children's Savings Account.

The students ranked in the top three positions at national level this year will receive Rs. 200,000, Rs. 150,000 and Rs.100,000 respectively, if they are holders of Arunalu accounts, the bank said.

Additionally, Arunalu account holders ranked first in their respective districts at the examination will receive Rs. 50,000 if they are Arunalu account holders, while account holders who are placed first, second and third in their schools will receive cash prizes of Rs. 10,000, Rs. 7,500 and Rs. 5,000 each respectively.

All cash prizes will be credited to the winners' Arunalu Savings Accounts.

In 2017 alone, the scheme rewarded over 700 Arunalu account holders with cash prizes valuedatRs.6.3million.

The minimum requirement for Arunalu Children's Savings account holders to be eligible to receive these cash prizes is a balance of Rs. 5,000 in their Arunalu accounts by the date of the Scholarship examination.

An Arunalu Children's Savings account which offers the highest interest rate of 6.5% for Children's Savings Accounts can be opened at any of Commercial Bank's branches with a minimum deposit of Rs. 100. The Arunalu account can be converted to one of the bank's many other savings accounts when the child reaches the age of 18, making the account holder eligible for a Commercial Bank debit or credit card, as well as to apply for personal loans for educational purposes.

The only Sri Lankan bank to be ranked among the world's top 1000 banks for eight years consecutively, Commercial Bank operates a network of 261 branches and 775 ATMs in Sri Lanka. The bank has won more than 30 international and local awards in 2016 and 2017 and 16 international awards in the first six months of 2018.

Commercial Bank's overseas operations encompass Bangladesh, where the bank operates 19 outlets; Myanmar, where it has a Representative Office in Yangon and a Microfinance company in Nay PyiTaw; the Maldives, where it has a fully-fledged Tier I Bank with a majority stake; and Italy, where it operates its own money transfer service.