University of Colombo Vice Chancellor Professor Chandrika Wijeratne this week underscored the importance of greater collaboration with the private sector, in tandem with more investments into Research and Development.

"Our university system in general has possibly underrated its potential in transferring cutting-edge research findings. The knowledge creation, applied research, technology transfer, which is the very basis of having an effective university research agenda, needs a lot of Government commitment as well as a well-organised plan," she said at a licensing agreement signing event at University of Colombo on Tuesday.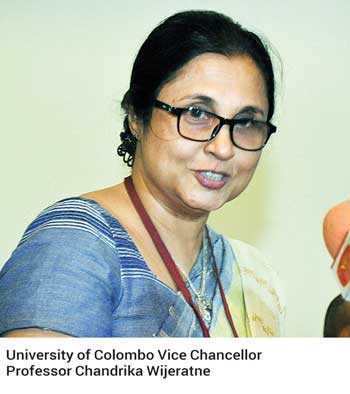 Prof. Wijeratne insisted that human commitment and financial support, both of which are needed for university research, have to be viewed as long-term investments.

"Historically, our university system has looked to Governments to fund our research. However, declining State funding has obligated our university researchers to seek jobs elsewhere — sometimes we lose them for overseas opportunities, and for inability to link them effectively with the industries," she pointed out.

She highlighted that the University of Colombo has a long history of collaborating with successive Governments, local industries and corporate sector in three major areas — service, training, and research. Nevertheless, being the pioneer in State councils system of higher education in Sri Lanka, the Vice Chancellor said there has been an inevitable gap of collaborating with the private sector, particularly in terms of industry.

"Traditionally, our academic thrust has been to develop partnerships with the privately-funded corporate world and local industry towards improving our graduate employability, which has indeed paved way for students with interest. However, university and industry collaborations can also be achieved through grants, contracts such as consultant agreements, and collaborating training programs as well," she stressed. Prof. Wijeratne said university-industry collaborations beneficial outcomes are bilateral, and it also needs a strict code of conduct which needs mutually agreed protective protocol by adhering to standard technical norms.

"I believe such a process can help sustain both the university system and industry. No doubt such partnerships will yield product innovation for the industry, while the university gain greater reputation and recognition along with external research funding," the Vice Chancellor added.