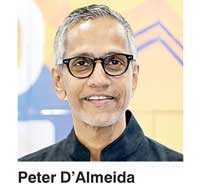 Coffee with CEO is a new talk series hosted by young leaders – a steering committee of the Ceylon Chamber of Commerce, with Frimi on board as the strategic sponsor. Coffee with CEO will be interactive sessions that facilitate a two-way dialogue between youth leaders and a business idol.

The business idol featured in the inaugural Coffee with CEO will be Peter D'Almeida, Managing Director and CEO of N-able. He founded N-able in 2008 with 12 others, and today it employs over 200 people, and provides technology-enabled business solutions; 'connecting people and things, with insight, for an efficient and intelligent world'.

D'Almeida will share his insights on 'What it takes to be a CEO' on 17 September, from 5 p.m. at Cinnamon Lakeside Colombo, at the first of the Coffee with CEO series. If you wish to participate, contact Sriyani Chandrasekera via 5588877 or email sriyani@chamber.lk before Friday, 14 September.