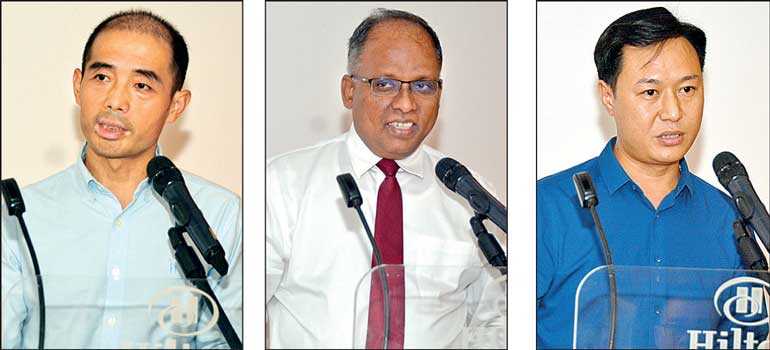 ---
A group of potential of Chinese investors of members from HeBei Corporate Social Responsibility Promotion Association who are entrepreneurs in the field of construction, science and technology, financial, education, real estate, trading, decoration, etc. visited Sri Lanka on 5 November to explore investment opportunities.

This delegation comprised officials from the Board of Investment Sri Lanka and Urban Development Authority at the Investment Investigation Symposia held at Hilton Colombo Residences, Colombo 2.

In the conferences, BOI Director of Infrastructure, Knowledge Services, Utilities and Services sector Ranjan Sibera introduced Sri Lanka's investment-related policies and UDA Director Strategy Planning Priyani Nawaratha explained Sri Lanka's urban development planning.

Zhong Tian Ding Hui Ltd., a giant in the Chinese construction industry which has already launched its investments in Sri Lanka with 'Sky One Residences' Colombo 10, shared its years of valuable investment experience in the local market.

SKY ONE Project Head of Marketing and Sales in China Wang Wenshan explained the current market strategies to battle the Easter attacks and the present Sri Lankan political situation and its impact on economic development.

She stated: "Sri Lanka is seen as one of the vital nodes along China's 'Belt and Road' Initiative. Chinese investors are also very optimistic about the real estate in Sri Lanka, especially in Colombo, the largest city of Sri Lanka for they accept the rental return rate and property appreciation in Sri Lanka. We are expecting more linkage with other high-quality projects in Sri Lanka so as to introduce Sri Lanka to Chinese investors, and to let Chinese investors focus on Sri Lanka, the pearl of the Indian Ocean."
China is Sri Lanka's largest trading partner and largest investor
China is the world's largest outbound travel market with 150 million person-times outbound trips each year. A total of 400 million Chinese from middle class constitute the largest consumer group in the world because of their huge purchasing power and they are extremely enthusiastic about overseas investment.

It is shown that each Chinese HNWI has 2.3 overseas properties. For the first time in 2019, China surpassed the United States in the term of total number of the ultra-rich. The purchasing power and investment enthusiasm of Chinese investors are amazing the world.

The 'Belt and Road' Initiative has created a new global investment trend, indicating directions of investment for Chinese. Previously, it is the State-Owned Enterprises that dominate China's investment in Sri Lanka. However the Delegation is expected to guide the way of investment in Sri Lanka by private enterprises and individuals, which will attract more investors and inject new impetus into Sri Lanka's economic development and employment.
Chinese investors are optimistic about investment environment of Sri Lanka and its potential
After visiting Colombo Port City Project and Hambantota Port Project, as well as high-quality projects such as Sky One and The One, the delegation was optimistic about Sri Lanka's market. They also visited Pinnawala, Kandy, Nuwara Eliya, Hambantota, Galle, Bentota, etc. during the nine-day trip to do a deep research of Sri Lanka's investment environment.

A large-scale seminar will be held in China in mid-December to explore the Sri Lankan market, which will also attract great Chinese investors' attention to Sri Lanka.

The real estate industry welcomes new opportunities to drive development of tourism, infrastructure and employment

Located in old downtown area of Colombo, Sky One is one of the first real estate projects invested by Zhong Tian Ding Hui, early this year. Sky One is a luxury residential with affordable prices. Sky One Residences at Colombo 10 with redefining the affordable urban living luxury.

The project comprises 349 well-appointed luxury apartments ranging from 547.60 Sq. Ft.-1800 Sq. Ft with one, two and three bedrooms. This twin tower project comprises 36 storey towers with eight floors of ample parking and ninth floor nestling indoor swimming pool (adults/kids), entertainment lounge, library, kids' play area, BBQ terrace, Party area, indoor sports area and a fully equipped gymnasium and 27 floors of luxury living.

An appointment to experience the luxury at Sky One Residences sales gallery can be arranged Arshad Ahmed via (076 855 0110 and [email protected], www.skyone.lk).