Dumith Fernando, Deshamanya Professor W.D. Lakshman, Shiran Fernando, Subhashini Abeysinghe and Maninda Wickramasinghe at the panel discussion on the economic outlook for the year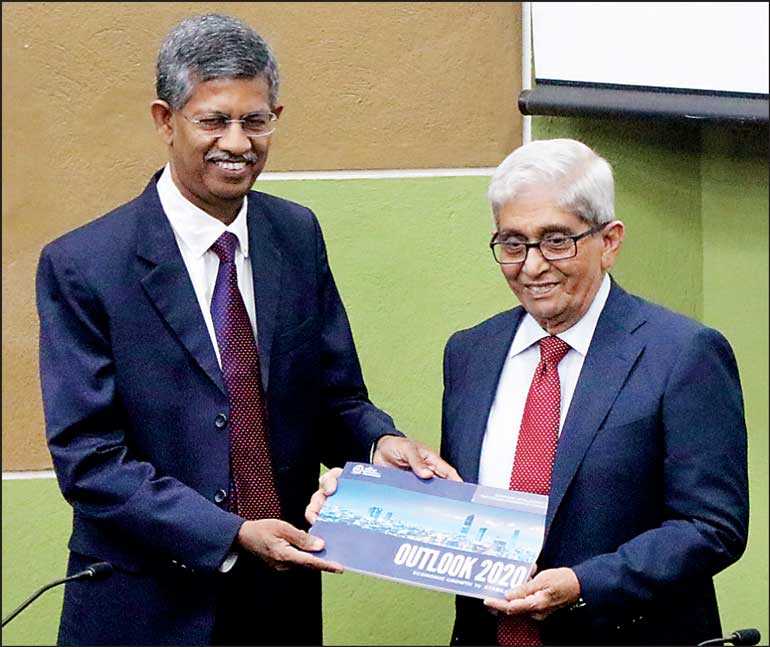 Ceylon Chamber Secretary General and CEO Manjula de Silva presenting the Outlook Report for 2020 to Central

Bank Governor Deshamanya Professor W.D. Lakshman

at the launch
---
The Ceylon Chamber of Commerce launched its annual Outlook Report for 2020, at the Economy + Sector Review and Outlook 2020 event on Monday (10).

The Outlook 2020 report, published by the Economic Intelligence Unit (EIU) of the Ceylon Chamber, explores the macroeconomic and sector outlook for the year ahead. The sectors covered include Apparel, Consumer Durables, FMCG, Tourism, Construction, Agriculture, Plantations and Dairy, following interviews conducted with experts in each sector. The report provides a review of the economy's performance, and of each sector's perspectives on the year ahead.

Delivering the welcome address, Chamber Secretary General and CEO Manjula de Silva pointed out the need to have a growth rate of close to 7% over the next five years, in order to make a difference.

Presenting the Outlook 2020, Chamber Chief Economist Shiran Fernando reiterated that growth was a constant theme which emerged when compiling the Outlook 2020 report. Sri Lanka's economic growth, he said, would surpass 3.5% in 2020, with a substantial part of that being driven by consumption. The key takeaways of the report are as follows:
Global outlook improves, but is fragile
Economic growth VS stability – acceleration in growth could come at the cost of stability
Key structural reforms need to be implemented in order to sustain growth momentum
Better performance in key sectors is expected in 2020
The presentation and launch was followed by a panel discussion comprising Central Bank of Sri Lanka Governor Deshamanya Professor W.D. Lakshman, Asia Securities Chairman Dumith Fernando, Verite Research Director Subhashini Abeysinghe, and Fitch Ratings Lanka Chief Executive and Country Head Maninda Wickramasinghe.

To obtain a copy of the report, please call 0115588883, or email [email protected] It can also be purchased under the 'publications' tab on chamber.lk.