Casio SAARC Manager Marketing Uttam Kumar, Avarna Ventures Group Head of Strategy Yaasir Nizam, Casio SAARC Managing Director Masao Naka, Casio SAARC Vice President Kulbhushan Seth, Blink Director Operations Muhammed Mansoor, Casio SAARC Channel Head Nikhil Sharma
Casio recently conducted a dealer event to educate and introduce how the Casio wristwatch experience needs to be showcased to Sri Lankan consumers.

Casio launched the full range of their watches which will be available to local watch enthusiasts. Meet is power packed by NAADRO's performance where they have used Gshock Watches and Casio time pieces to play an amazing stage performance.

The launch which was well attended by dealers islandwide, also had Masao Naka, Managing Director, Casio, SAARC countries and Kulbhushan Seth, Vice President, Casio, SAARC countries, flying down very specially for the event.

All brands under the Casio umbrella were presented in a world class display. The range included, G-shock – Attitude watches for fashion-forward youngsters! Since its birth in 1983, G-Shock has continued its unrestrained evolution, matching current international fashion trends while retaining its unique shock resistance structure.

Baby-G was created as a counterpart to G-Shock in 1991 and shows the meeting of fashion and function for the vibrant, active woman. Baby-G watches are inspired by the latest international trends.

Edifice is inspired from motorsports and comes in intelligent designs that recognise the value of speed and time for the young achiever who lives for the moment.

Sheen watches come in elegant designs which are suited to both formal and casual attires. The universal designs of Sheen watches make them the perfect fit for office wear, party wear or for a business trip.

Protrek/Outdoors triple sensor watches are built for those who love to challenge their limits and explore the unexplored. They are the perfect partner for all your outdoor adventures. Enticer Men is an evergreen, high quality, watch for men with versatile designs. Perfect match for the person with philosophy of simple living and high thinking.

Enticer Ladies is ideal for the woman with simplistic tastes and style. She may be the girl-next-door, an employed or self-employed woman in the early stages of her career, having a high aspiration to succeed.

Youth series are for youngsters who are both stylish as well technically savvy, but require quality and affordable accessories.

Naka spoke of how with operations control being brought closer to Sri Lanka, in India, a better growth and development of the market for the Casio brand could be expected. He said that in fact the results are already reflecting the success of this strategy.

Seth highlighted the advantages of working with an official partner in terms of genuine products, latest launches, warranty support, latest world class display, regular trainings, promotional support, etc.

Placing a wide range of Casio watches will cater to a wider spectrum of customers that will enhance the over1all experience of the store and increase their per sqft profitability also. He also spoke about the strength of Casio and the strategy being followed to ensure that world class experience and high quality Casio products can be brought to the door step of all discerning watch buyers in Sri Lanka.

Blink International Director Muhammed Mansoor, speaking as Casio's local partner, said: "Today a watch denotes your lifestyle, your persona and your status; it is not a mere time piece or a convenience but a lifestyle statement. We at Blink International have identified that together with our principals CASIO we will give Sri Lankan consumers an experience they deserve."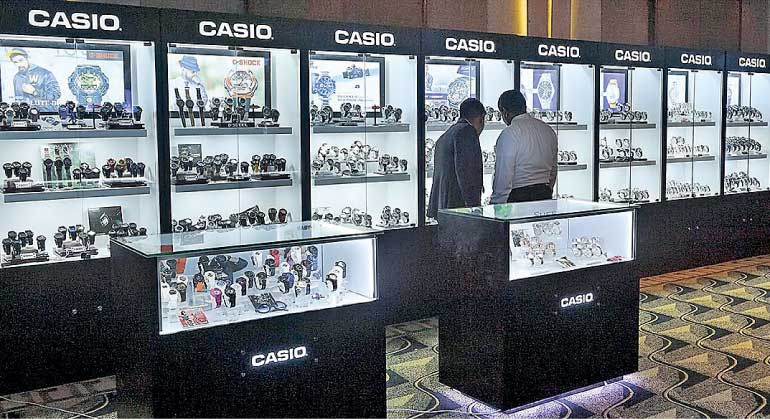 Blink International Ltd., a company under Avarna ventures (which also holds Rainco), is the authorised distributor for Sri Lanka for Casio wristwatches.

Casio watches are available island wide at over 80 outlets including Cool Planet, Fashion Bug, The Outlet Store, Diliganz, Nastars and a host of many others while there are over 650 models that customers could choose from.

A state-of-the-art service centre has been set up with access to all required spare parts which come directly from Casio Japan. A tourist warranty is also provided.