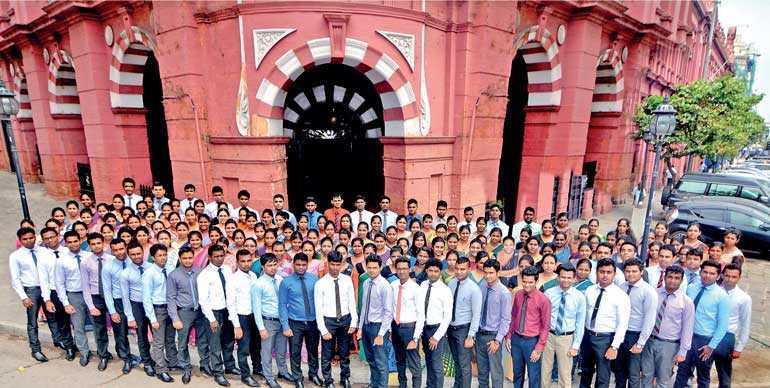 In its commitment to empower Sri Lanka's young graduates Cargills (Ceylon) PLC embarked on a landmark two phased recruitment drive to open its doors to 500 new management. The Cargills Management Trainee program targeting Retail Management commenced in March 2018.

160 graduates have been given the opportunity to embrace their full potential in an exciting and vibrant retail career. A further 340 graduates would be onboarded from April 2018 in a 12-month long training that would cover Retail, Food Manufacturing, Restaurants, Banking, Entrepreneurship and Agribusiness. The training period is followed by confirmed employment as an executive based on performance.

Building future

leaders for Sri Lanka

Cargills Deputy Chairman Ranjit Page noted that the company's Management Trainee Program has been expanded to accommodate the growing number of graduates seeking private sector employment. "Cargills is an inclusive employer and we believe that every individual has the capacity to achieve leadership potential. We actively seek out young people with the right attitude and commitment regardless of their discipline. Our approach and the leadership training given drives individual potential to such a level that some of our best Managers have origins in fields that are usually considered unmarketable."

He added, "This year our MT program has been further fine tuned to provide young graduates exposure in multiple sectors. Cargills success has been its focused diversification into multiple sectors with the single-mindedness of driving regional development through our business processes. Our MT program takes on a similar challenge of building future leaders for Sri Lanka with the capacity to take management from board rooms to the ground level realities."

Page noted that the Group is committing resources from the highest level to mentor the young trainees. "We have committed the time and effort of our young senior management to mentor and nurture the young trainees during their first year of employment. The program from the point of recruitment has been converted to fully engage the trainees with a new activity-based interview format and practical oriented training pedagogy. The training is exciting in its expansive exposure to multiple sectors with continuous performance evaluation."

KSAM graduates

to be truly

effective leader

Meanwhile providing voluntary consultation to Cargills Training Dr. Sunil Nawaratne, Director General of Samurdi Development Department (SDD) and former Secretary of Higher Education said, "I am supporting Cargills empower Sri Lanka's graduates on the KSAM model which is a concept that is now world recognised. We are driving Knowledge Skills Attitude and Mindset to build leaders with a Vision for themselves and in turn for Sri Lanka. Cargills has fully embraced this approach propagated by several local intellectuals and we are confident that every graduate that goes through the programme would emerge a truly productive grounded leader for Sri Lanka."

Cargills upped its Management Trainee quota from 150 graduates recruited in a year for the programme to 500 in 2018 in view of the ever increasing demand for opportunities from young graduates from public universities. Cargills expected to meet 30% of its future leadership requirement from Sri Lankan graduates and currently employs 10,000 team members across every district of the island.