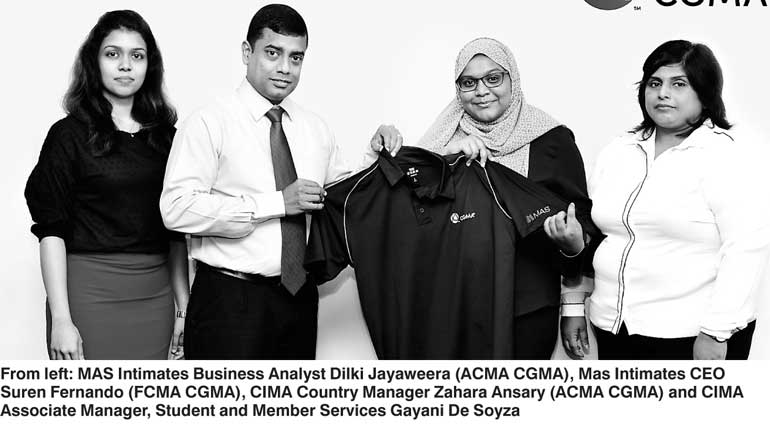 The Chartered Institute of Management Accountants (CIMA) recently collaborated with MAS Holdings to create exclusive t-shirts for CIMA members. These limited-edition t-shirts are available in black, grey and dark blue.

CIMA, founded in 1919, remains the world's foremost professional body of management accountants; helping individuals and businesses succeed in the global marketplace by harnessing the full power of management accounting. In 2017, CIMA and the American Institute of CPAs (AICPA) joined forces to create the Association of International Certified Professional Accountants (the Association). This has allowed CIMA to bring more value to members and students.

The CIMA t-shirt was launched in March by MAS Intimates CEO Suren Fernando. "We are grateful to the team at MAS for collaborating with CIMA Sri Lanka on this initiative. We are always looking for new ways to engage members, and this initiative helps us to brand ourselves in a fashionable yet professional manner whilst offering members the chance to be part of this prestigious collective identity. We are planning several other innovative initiatives in the next few months," stated CIMA Sri Lanka Country Manager Zahara Ansary. T-shirts will be available for collection at the CIMA Sri Lanka Division from 4 to 25 April. The limited-edition t-shirts are only for CIMA members.