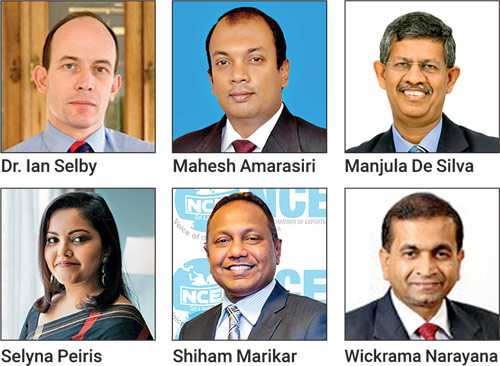 COVID-19 and the resulting lockdowns have challenged long-held business assumptions and rules of operation. Whilst it is uncertain how long this pandemic will impact global economies, even once lockdowns are lifted, organisations must re-operationalise processes and change their business models to reflect a new world with different ways of doing business.
The Chartered Institute of Management Accountants (CIMA) together with Ceylon Chamber of Ceylon of Commerce are organising a webinar on 7 October, aiming to provide business leaders with three tools to plan for their transition into a 'post-COVID-19 reality' and build resilience across their businesses.
The new toolkit, entitled 'Reimagine business resilience in the COVID-19 world', has drawn on the extensive experience and solid expertise of CIMA members in business and finance.
The tools include the Chartered Global Management Accountant (CGMA) horizon scanner, which helps organisations explore possible future scenarios, with a particular focus on integrating elements such as supply chain, the regulatory environment, or customer behaviours. The resource also features the CIMA strategic scorecard, which is designed to help organisations design their future strategy and focus on key issues, such as competitors, cashflow, project feasibility and risk management. In addition, it will also include the CGMA business model framework, which "encourages organisations to ask future-focused questions around their business model".
Other areas of the discussion will be;
Get your finances in order

Adapt your business model

Build resilience for the future
Transform businesses using trending digital technologies
A panel of industry leaders comprising of CIMA Vice President – Research and Development Dr. Ian Selby, DSI Samsons Group General Manager Corporate Planning and Business Development Mahesh Amarasiri FCMA, CGMA, National Chamber of Exporters of Sri Lanka Secretary-General and CEO Shiham Marikar, People's Bank Enterprise Banking AGM Wickrema Narayana, and Selyn Handlooms Director Business Development Selyna Peiris, are expected to share thoughts at the forum. The session will be moderated by The Ceylon Chamber of Commerce CEO and Secretary General Manjula De Silva FCMA, CGMA.
For more details on joining this webinar, please contact Kishnika Weeresinghe at [email protected] or Yasura Samarakoon at SME Centre at the Ceylon Chamber of Commerce via [email protected]