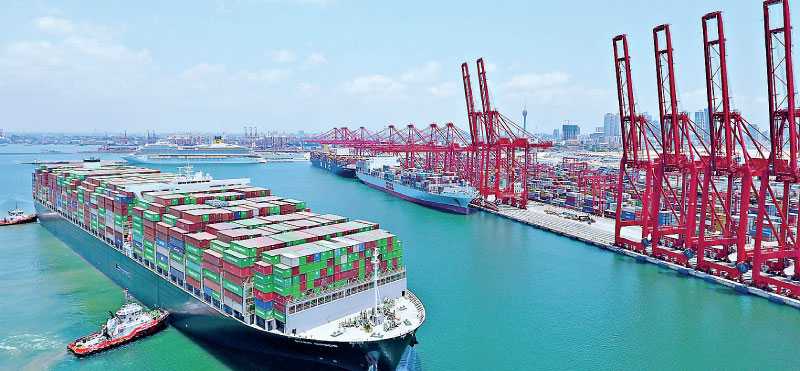 ---
Beats terminals in South Korea, China and Indonesia to win prestigious AFLAS award in Under 4 million TEUs category
---
As the global logistics and supply chain industry struggles to cope with the challenges of the COVID-19 pandemic, Colombo International Container Terminals (CICT) has brought honour to the Port of Colombo by being adjudged the Best Container Terminal in Asia in the Under 4 million TEUs category for a record fourth consecutive year.

The winner of this coveted award was announced on Monday 9 November at the 2020 Asian Freight, Logistics and Supply Chain (AFLAS) awards gala in Hong Kong.

CICT, which is managed by China Merchants Port Group (CMport), beat three other shortlisted finalists in its category – Busan New Container Terminal (South Korea), Dalian International Container Terminal (China) and Jakarta International Container Terminal (Indonesia) – to win the award.

CICT's victory at the best container terminal awards puts it in the company of globally-respected terminals of the calibre of PSA Singapore Terminals, the Asia winner in the Over 4 million TEU's category and PSA Antwerp, adjudged the best container terminal in Europe.

Hosted by Asia Cargo News, the AFLAS awards are designed to honour leading service providers including air and shipping lines; airports and seaports; and logistics, 3PLs and other associated industry professionals for demonstrating leadership as well as consistency in service quality, innovation, customer-relationship management and reliability.

"We are delighted to be crowned the best container terminal of our size in Asia for four years in a row," CICT CEO Mr Jack Huang said. "Besides the intense competition among terminals across the region, these are challenging times for all players in sectors linked to international transportation, and retaining our position at the top is a great demonstration of our consistency even in hard times. This award is therefore a valuable tribute to the entire CICT team, the management and all our stakeholders."

"We are also grateful to the Sri Lanka Ports Authority for its support, and to our staff whose commitment enabled CICT to be 100% operational during the difficult time of the pandemic, minimising the adverse impact to the port and the country."

The AFLAS winners are decided by going through a three-step process, taking into account industry opinions, and through nomination criteria and technical evaluation by Asia Cargo News. The shortlist of finalists is sent out to more than 15,000 readers to vote.

Huang attributed CICT's achievement to the terminal's persistently high levels of productivity leading to fast ship turnaround times. Nominees for the AFLAS awards are judged on adherence to criteria standards encompassing higher operational productivity, efficient turnaround of trucks delivering and picking up containers; provision of suitable container shipping-related infrastructure; cost competitiveness, customer service level and customer satisfaction; timely and adequate investment in new facilities to meet future demand; innovative operating environment, facilitation of ancillary services and ease of doing business activities; and effective and easy-to-use IT systems.

Leading companies in the cargo, logistics and supply chain sectors took home more than 40 different awards at the 2020 presentation at the Hotel ICON, Hong Kong.

Written by leading transport and cargo industry journalists, Asia Cargo News is a vital source of intelligence for cargo, logistics and supply chain companies located in and doing business in Asia. The newspaper includes a range of in-depth features, news and analysis designed to meet the information needs of industry decision-makers.

CICT manages the South Terminal of the Port of Colombo, the first and currently the only deep water terminal in South Asia, which is equipped with facilities to handle the largest vessels afloat. Since its inception in 2014, the terminal has incrementally grown the volume it has handled; from 686,639 teus in 2014, to 1.56 million teus in 2015, 2 million teus in 2016, 2.38 million teus in 2017, 2.67 million teus in 2018, and 2.9 million teus in 2019.
​