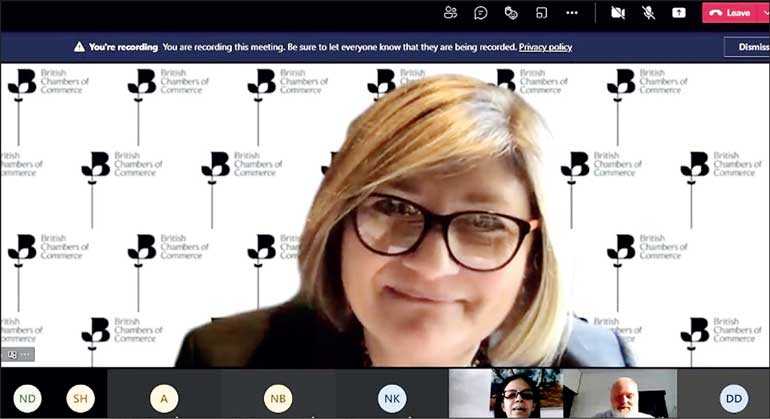 British Chambers of Commerce Director of Global Business Networks Anne Marie Martin
---
​The Council for Business with Britain (CBB) is now a member of the British Chambers of Commerce and marked this collaboration with an open networking event.
The virtual gathering titled 'The Power of a Global Network' gave CBB members and other businesses across Sri Lanka a platform to connect with over 50 Regional Chambers of Commerce in the UK -as well as 70 International British Chambers across the globe, and explore the many trade, investment, learning, and networking opportunities this partnership would pave the way for in the years to come.

Through its association with the British Chambers of Commerce, CBB members will benefit from unparalleled insight into the UK business community, and also a network of over 120 business communities globally; through the support of shared goals to generate maximum strategic impact for all parties involved.

"We are pleased to now be able to identify ourselves as a part of this prestigious global network," said Council for Business with Britain President Roshanie Jayasundera Moraes. "Through our partnership with the British Chambers of Commerce, we will be able to provide even greater value to our members in terms of exclusive insight on how to grow their business securely and strategically in both new and existing markets in the UK, while simultaneously supporting wider government-led efforts to uplift the economy through trade between the two countries."

The not-for-profit organisation was founded in 2000 through the merger of the Sri Lanka and United Kingdom Business Council and the British Business Association (BBA), with the aim to promote bi-lateral trade, as well as to foster and maintain a conducive business relationship between Sri Lanka and the United Kingdom.

With a membership of 157 medium to large corporations in Sri Lanka -hailing from sectors ranging from apparel to tourism, logistics to fisheries, etc.- the CBB facilitates the free exchange of ideas, information, and advice on UK trade and investment pertaining to its members, introduces members' business activities to potential UK trade partners, stimulates and aids in co-operation between member companies and other organisations, while also organising various trade and investment promotion missions, and informative and interactive forums, seminars, and awareness programmes on doing business with the UK. Additionally, the council has also been actively supporting the training of English Language in partnership with the British Council for over 15 years.

"Sri Lanka's growing export market is one that UK companies have been increasingly interested in as the UK moves towards forging new and lasting trading relationships across the world, and our members across every business hub in the UK will be keen to explore activities and initiatives around the promotion of business and opportunities for trade and investment with Sri Lanka," said British Chambers of Commerce Director of Global Business Networks Anne Marie Martin.

"Now, alongside the Council for Business with Britain in Sri Lanka, we are able to actively serve and support the Sri Lankan business community with our extensive international network of like-minded companies, while in turn also reaping the benefits of investing in the commerce of a prospering economy."

The British Chambers of Commerce sits at the heart of a powerful network of 53 accredited Chambers of Commerce across the UK, and over 70 international British Chambers of Commerce worldwide; representing thousands of businesses of all sizes and from all sectors.