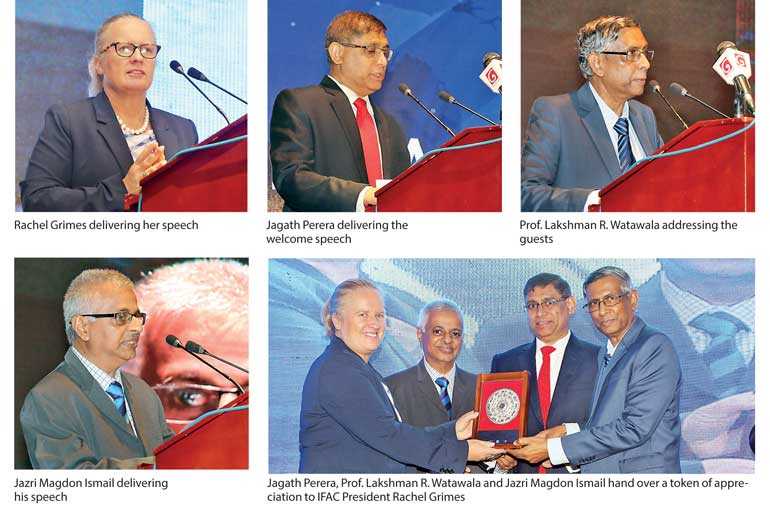 Global accounting body President in high praise of Sri Lankan accounting bodies
President of the International Federation of Accountants (IFAC) Rachel Grimes praised the country's top three local accounting bodies, CA Sri Lanka, CMA Sri Lanka and AAT Sri Lanka, for coming together to strengthen the profession by launching the 'Creating a Profession Par Excellence' new strategic initiative.

Delivering a speech at the event, Grimes, who heads the global body of the accounting profession, congratulated the three local bodies for taking this important step and uniting for the betterment of the profession.

"This is a big celebration, and a much warranted one, because three bodies of the 175 bodies of IFAC have united and this is a great step forward. I congratulate everybody for pulling this off," she said.

Grimes also praised the Sri Lankan accounting professionals, including CA Sri Lanka members, for their fantastic contribution made while serving as members of various top IFAC committees.

The 'Creating a Profession Par Excellence' - a strategic initiative jointly launched by CA Sri Lanka, CMA Sri Lanka and AAT Sri Lanka, aims to further strengthen the accounting profession and also ensure Sri Lanka has sufficient skilled workforce in the country to meet the changing demands of the economy.

Speaking at the event, President of CA Sri Lanka Jagath Perera said that this is the first time that three professional National accounting bodies in Sri Lanka are working together with a single aim. "We have been conceptualising this moment where we meet at a common platform to reflect and contemplate our common aim, goals and issues, and today, with the IFAC President's arrival, we are pleased that this initiative is beginning to take shape," he said.

Speaking at the event, President of CMA Prof. Lakshman R. Watawala said that the visit of the IFAC President to Sri Lanka alone was testament of the recognition that the three Sri Lanka accounting bodies command in the global accounting arena. "Our bodies have received world recognition and we must march in that direction by making young people skilled so that they can work in Sri Lanka and also in other countries," said. Prof. Watawala. He also said that about 50% of Sri Lankan accountants work overseas, and this is because they are of good quality. President of AAT Jazri Magdon Ismail said that AAT was the only technical body in the world to hold full membership of IFAC and also of the Confederation of Asian and Pacific Accountants (CAPA). "Admission to IFAC as a full member in 2017 was a key milestone for AAT," he said. Ismail assured that they will work with IFAC in developing the profession further, while ensuring it continues to remain the most ethical and vibrant profession with a strong ability to attract promising talent.

The Institute of Chartered Accountants of Sri Lanka (CA Sri Lanka), the Institute of Certified Management Accountants of Sri Lanka (CMA Sri Lanka), and the Association of Accounting Technicians of Sri Lanka (AAT Sri Lanka) are member bodies of the International Federation of Accountants (IFAC), which is based in New York, USA.

Grimes is currently on a four-day visit to Sri Lanka where she is scheduled to take part in a series of events organised by the three accounting bodies, as well as to meet with top Government officials, representatives of regulatory bodies and members of the accounting profession.