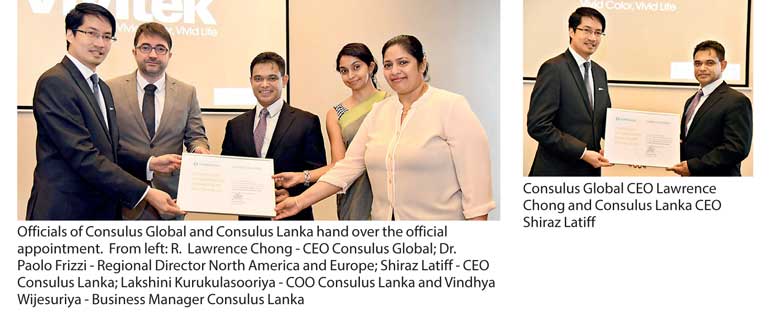 In response to the relentless speed of change and the impending disruption that Industry 4.0 will bring to business and the global community, Hummingbird International, which was a representative of Consulus Global, had its consultancy division upgraded to a fully-fledged partner called Consulus Lanka.

The launch event was held with a CEO Breakfast Meeting at Jetwing Colombo Seven with North America and Europe Regional Director Dr. Paolo Frizzi addressing the audience on Industry 4.0 and its impact on organisations. CEOs and senior leaders of industry and officials of Consulus Global and Hummingbird International attended the event.

Hummingbird International has extensive experience supporting Sri Lankan organisations in critical organisational design and development areas. Whilst these initiatives continued to connect people with their organisational strategy, the next natural progression of reimagining and realising the organisational existential purpose to prepare for the coming industrial revolution becomes increasingly essential. For this urgent reason, Hummingbird has taken the bold step of becoming an accredited and fully-fledged member of Consulus, which has extensive experience in helping companies transform their business models through innovation. Consulus Lanka consultants will provide innovative solutions to Sri Lankan companies on their transformational journey to become more relevant in the future.

"In partnership with other Consulites present in 11 countries from Brazil to Singapore, we will also look forward to add our Sri Lankan perspective to the network. While international in outlook, Consulus' practical and integrated approach of combining business, organisational development and design is a good fit for the business realities in Sri Lanka," said Consulus Lanka CEO Shiraz Latiff.

"Leveraging on the Consulus experience (spanning over 20 cities and helping companies with an aggregated turnover of $ 5.2 billion), Consulus Lanka will be able to bring to this country tested innovation methodologies and expertise. Consulus Lanka will have consultants accredited by Consulus Global and will offer to Sri Lankan companies quality organisation transformation solutions by Sri Lankans and supported by global experts," said Consulus Lanka COO Lakshini Kurukulasooriya.

"We are extremely happy to see Shiraz take this step to establish Consulus Lanka as a fully-fledged member of our global network. As an innovation consultancy inspired by the thinking of the Economy of Communion, our principal approach in transforming companies is to enable unity which becomes the glue that unites different stakeholders, leaders, employees and the community for sustainable change. In a similar way, now that Consulus Lanka is a full-fledged member and not a representative, we look forward to Sri Lankan Consulites making a contribution to our global network in terms of sharing their knowhow and work on projects globally," said Consulus Group CEO Lawrence Chong.

"The establishment of Consulus Lanka is a strong, positive move for Consulus growth in South Asia as we can now tap into Sri Lanka's bright and talented young people to expand our work internationally. We also see that Consulus Lanka can serve as one of our global centres for excellence," said Consulus South Asia Regional Circle Regional Director Rita King.

Consulus is a global innovation consultancy with multidisciplinary business and design capabilities. Since 2004, its UNIFY methodology has helped companies gain new capabilities and a competitive advantage by redesigning their business models, organisational cultures and brand experiences. This enables them to sharpen their capacity to innovate and meet the challenges of Industry 4.0.

Its custom-built solutions have allowed its clients to increase revenue by over 138%, expand to overseas markets, develop new products and intellectual property and prepare the next generation of leaders to drive and sustain high-growth. Today Consulus is present in Singapore (World Centre), Argentina, Bangladesh, Brazil, Brunei Darussalam, India, Italy, Myanmar, Sri Lanka, Thailand and Vietnam. Consulus is a member of the Economy of Communion.

Hummingbird International (HBI) is a regional boutique consultancy focusing on organisational design and development, specialising in values-based competency development and work levels optimisation. Through their collaborations with dynamic specialist organisations across the globe, they bring in expertise in the areas of strategic competency and business design.

HBI is the local partner for Consulus Singapore, providing organisational design and development solutions with the collective collaboration of expertise. HBI is the authorised representative for Kotler Impact (the marketing and knowledge agency for Prof. Philip Kotler of the US), Ken Blanchard Inc. USA for their flagship Situational Leadership, SLII, programs and Mettl for competency and 360 degree assessment tools and employee engagement surveys.