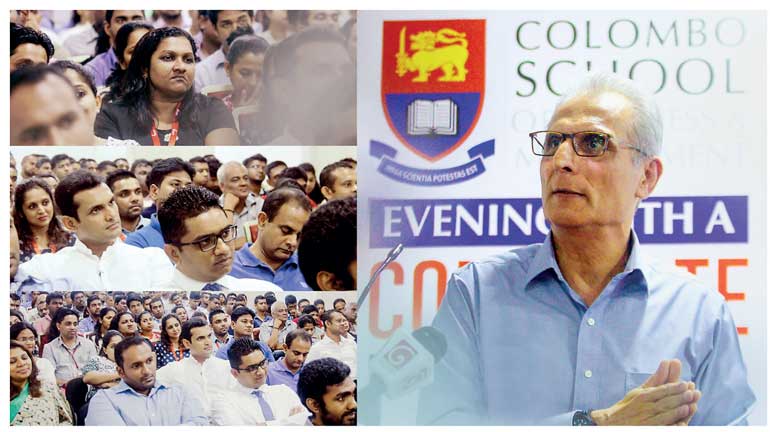 Evening with a corporate leader is a thematic series organised by the Colombo School of Business and Management with a view to learning from shared experiences of top corporates in the business community of Sri Lanka. This is meant to bring inspiration to aspiring young executives who need encouragement, direction and an opportunity for corporate networking. Each story is a tale on its own; none is compared but courage is taken – that everything is possible for those who try and persevere. The climb to the seat of success is achievable.

Brandix Lanka CEO Ashroff Omar began with outlining his initial vision to be in the export industry – and how he now enjoys an unparalleled success as a leader in the apparel trade. He then shared that he had the confidence to be a leader – giving credit to his "rugby experience" in school, and his initial thought that he had what it took to manage what was coming his way. Soon he realised that he needed experts to move the pace on and he had to invite others from different nationalities which meant he had to be willing to adapt to other cultures, personalities, styles of working and time frames set by others. Identifying that he has a "hot headed" tendency he spoke of learning to adapt and be more receptive in order to move forward. Omar expressed that he doesn't consider himself an expert but will gladly share his experiences for all to benefit.

"Working with inspiring people is the single most important attribute of any successful leader. All of us are very different," he said.

Omar continued to share the different types of characters on a team – the impatient visionary the big picture guy, introverts, extraverts, the structured guy, a detailed thinker, implementers and executors. A leader needs to acquire skills to lead all these different characters in a team. Nurturing their individual talents will bring the best results to the job. Leaders are not born; it is your task to become one and create leaders.

Omar further shared more characteristics within a team – those who make things happen, those to whom things happen and those who don't know things are happening to them. Understanding and harvesting the best in an individual is leadership. He described a thin yardstick between competition, envy and jealousy. Elaborating that competition is acceptable, but envy and jealousy are not. "Play hard play straight – if you win its great if not, it's ok." Omar rounded up commenting on the tech revolution and his expectation that it will make work more productive in the future and more lucrative.

In summary Omar focused on understanding your team's personalities – as through harvesting the best in them – the best results will also be produced.

Colombo School of Business and Management (CSBM) has been continuing these sessions over the last 20 months to cover 41 corporate leaders to include, Dhammika Perera, Vallibel One; Ashhroff Omar, Brandix; Wegapitiya, Laugfs; Dr. Hans Wijesuriya and Supun Weerasinghe, Dialog; Ashok Pathirage, Softlogic; Dian Gomes, Hela Clothing; Aelian Gunawardene, JAT Holdings; Sumal Perera, Access; Ranjith Pandithage, DIMO; Dilhan Fernando, Dilmah to name a few.

The next speaker to befeatured will be Mr. ThilangaSumathipala, President of Sri Lanka cricket. Speaking on Leading and managing the biggest brand in Sri Lanka this will be on 2nd April 2018 from 6pm at CSBM corporate Campus, Ward Place Colombo 07.

This is organised as a free event and CSBM will require interested participants to prior register online and will be accommodated on first come first served basis.