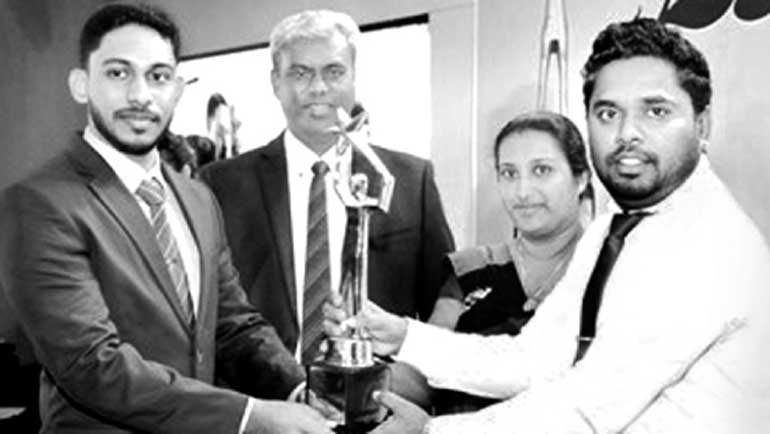 Shashika Erantha Fernando receiving the award
Blooming Fashions Ltd., one of the leading names amongst department stores in Sri Lanka was the proud winner of a Gold Award at the 'Thambapanni Abhimani 2018' Business Excellence Awards. The Award Ceremony, organised by the Puttalam District Chamber of Commerce was held at the Sooriya Resort, Waikkala recently.

Founded by the late Robert Fernando, a famous businessman in the area, and located strategically in the city centre of Mahawewa as a small-scale business towards the end of 1970, it grew into a renowned department store with a high sales record. By mid '90s, the business got into the hands of Jude Fernando, the eldest son of late Fernando and the business was named as Blooming Dress Point which grew into an unprecedantly big palace of fashions in Mahawewa. Jude Fernando went on to expand the business and opened an attractive showroom in Chilaw.

After Jude Fernando, his only son, Shashika Erantha Fernando, took over the business in 2015 and renamed it as Blooming Fashions Ltd. In addition to expanding. Shashika ventured into other areas, with the brand name 'Blooming', to open Blooming Gas Distributors, B L M International and Blooming Automobile. Presently, Blooming Fashions Ltd. is a network of four big readymade garment showrooms and some other affiliated businesses with more than 150 employees and a lot more depending on it for their livelihood. Shashika aims to open up Blooming Fashions showrooms island-wide and strengthen the national economy of the country in near future.