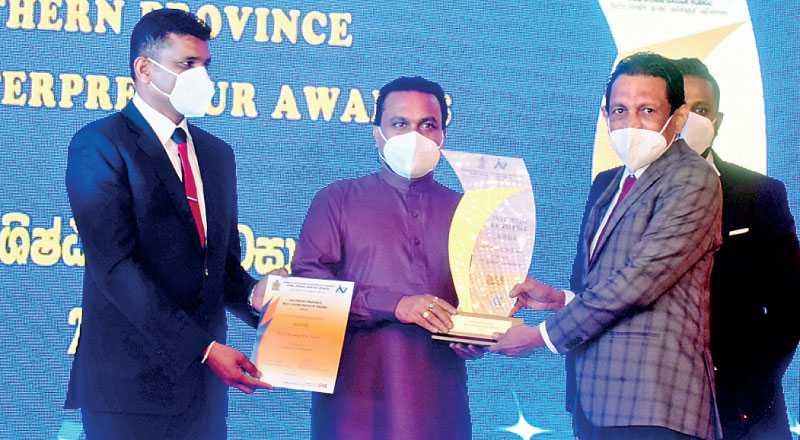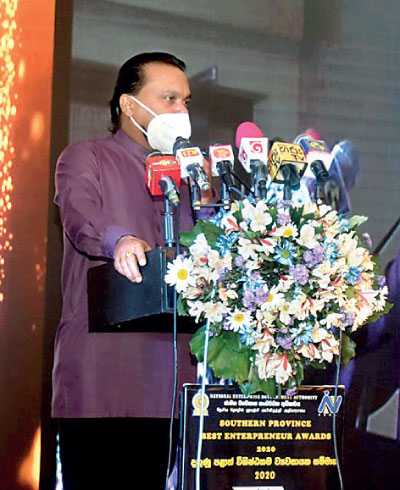 The Best Entrepreneur Award Ceremony of the Southern Province was held on 18 February at the Golden Pearl Hotel in Tangalle.

The event was organised by the National Enterprise Development Authority (NEDA) in collaboration with the Hambantota District Chamber of Commerce (HDCC) and supported by the Chambers of Commerce in Galle and Matara, Consulate General of India Hambantota office and Southern Province Development Authority.

This event was supposed to be held in 2020 but due to the latest COVID-19 safety precautions it was brought to this year. This is the fifth consecutive time the award ceremony has taken place and feted the SMEs in the Southern Province.

The awards were designed to encourage the business community in the province to improve their standards of business practices and achieve higher levels of entrepreneurship. NEDA has been selected the HDCC to manage the evaluation process and organise the ceremony.

Industries Minister Wimal Weerawansa served as the Chief Guest. Other special guests participated included MP and Hambantota District Coordinating Committee Chairman (Dr.) Upul Galappaththi, Consul General of India P.R. Dipin, NEDA Chairman Anushka Gunasinghe, University of Ruhuna Vice Chancellor Prof. Sujeewa Amarasena, Ruhunu Tourism Bureau Chairman Chaminda Sooriyapatabandi, District Secretaries of Hambantota, Matara and Galle, Southern Province Development Authority Chairman Charith Lasantha, National Enterprise Development Authority Officers, Presidents of the Galle, Matara and Hambantota District Chambers of Commerce.

Representatives from the Government, NGOs and private companies also participated in the event. NEDA provided partial funding for the event, which is also sponsored by the Consulate General of India Hambantota office, Southern Province Development Authority. Significantly this year the event feted micro scale entrepreneurs with the objective of encourage and felicitated their commitment to the country's economy and improve their capacity to the next level of entrepreneurship.

Winners were selected by a panel of judges who evaluated entrepreneurs' submissions, conducted interviews and field visits. The competition presented awards for three sector categories under four size categories, as well as eight special awards.

The Chairman of Ever Green Tree Factory won the coveted Southern Province Enterprise Excellence Award of the year bagging another two awards behind him that included Best Export Enterprise and Industry/Manufacturing Sector.