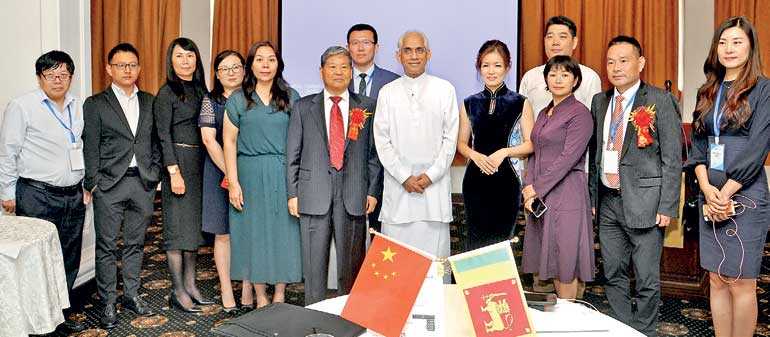 By Rahel Kirinde
The Belt and Road International Production Capacity Cooperation Promotion Centre (BRIPCCPC) held an event on recently to promote business and investment between Sri Lanka and China.The event featured a business interactive session between a Chinese business delegation and the business community of Sri Lanka.
State Minister of Finance Eran Wickramaratne speaking at the event said that the political relationship between Sri Lanka and China has grown exponentially since its beginning and China's economic involvement with Sri Lanka has significantly risen over the recent years.
"Even our ancient kings sent ambassadors to European Courts more than a thousand years ago, our locational advantage by being a centre between the shipping routes of East and West have made us a global transportation hub," he said adding that Sri Lanka has been building upon that capacity during the recent years.
Highlighting the key traits for investment he said with the CICT joining the SLPA and SAGT as a major port in Colombo.
"Sri Lanka will be expanding its capacity in the Colombo Port over the next decade," he noted. He mentioned that the Hambantota Port too will have a manufacturing zone created and further expanded around it.
Wickramaratne acknowledging the Free Trade Agreements (FTAs) Sri Lanka is a part of stated that India is one of Sri Lanka's closest trading partners with the Indo- Sri Lanka FTA dating back to 1998 and the Pakistan-Sri Lanka FTA dating back to 2005. He revealed that Sri Lanka will be expanding its FTA with India and that discussions have already taken place. He also mentioned that negotiations have begun for an FTA with Thailand and even Bangladesh has indicated the need to get into a trade arrangement with Sri Lanka.\

Wickramaratne further stated that key economic policies of Sri Lanka are focussed on increasing exports. "Our future lies in becoming a more open economy driven by exports," he said.
On a different note speaking on the economy of the country Wickramaratne mentioned that Sri Lanka has shown a high economic growth rate during recent years and that overall macro-economic indicators of the country have strengthened considerably since 2015. "Growth rates have been around 6-8%, the budget deficit has dropped down to 5.5% from 7.7% in 2014 it will further fall to nearly 4.4% in the coming year," he said.
Likewise, he noted that Sri Lanka has the highest amount of reserves since the 2014 and Sri Lanka has relatively had the least depreciation on par with the Euro, the Sterling Pound and other strong currencies of the Asian region.
Pix by Ruwan Walpola