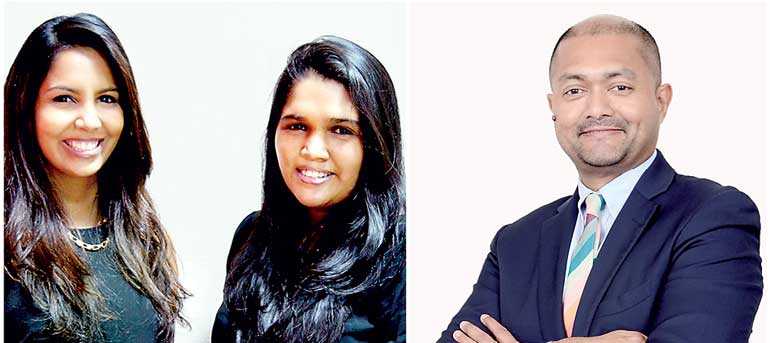 From left: Bakamuna Chief/CEO Rochelle Bibile, MTI Venture Manager for Bakamuna Malithi Herath and Hilton Colombo General Manager Manesh Fernando.
Bakamuna's first ever Pop-up Store will be hosted by the Hilton Colombo from 23 June till 1 July. The lifestyle store is an exciting launch for Bakamuna, a mixed media lifestyle brand powered by MTI's idea2fund for aspiring entrepreneurs.

Having launched early last year, Bakamuna has been steadily making a name for themselves in the design and lifestyle space. Looking to further their retail reach through a spin-off chain of Bakamuna Pop-up Stores, the young and creative company approached the Hilton Colombo.

Hilton Colombo General Manager Manesh Fernando said: "It is our pleasure to partner with Bakamuna on this initiative and to be able to play our part in supporting and enabling the startup ecosystem in Sri Lanka through our professional service and business facilities. We see a lot of potential in this unique and daring brand and we look forward to support their future ventures."

Hilton Colombo has continued to support idea2fund since 2016. 'idea2fund' is a year round venture competition powered by MTI Corporate Finance. Having launched its third wave last October, their mission has been to create a platform for prospective entrepreneurs to present their venture ideas, get linked with potential investors, be challenged and receive constructive feedback from pioneers in the respective fields.

Hilton Colombo has shown unwavering support in their aim of nurturing and developing Sri Lankan entrepreneurship. Awarded the title of Sri Lanka's Leading Hotel and Sri Lanka's Leading Business Hotel at the World Travel Awards, the Colombo hotel is the epitome of excellence in hospitality.

Bakamuna's specialty is mixed media; an art form where two or more artistic mediums such as ink and pastel or painting and collage are combined in to a single composition. These designs will be available to purchase as lifestyle products at the store.

"We are extremely excited to kick start our very first Pop-up store. I would like to take this opportunity to thank Hilton Colombo for their support of young start-ups like Bakamuna. We hope to have our Pop- up store at many more locations and are very glad to have our first store location at the Hilton Colombo," stated Bakamuna Chief/CEO Rochelle Bibile.

Bakamuna is a mixed media lifestyle design brand that aims to create, connect and collaborate. The company actively supports the local art community in diverse ways. A percentage of the proceeds from the store will go towards aiding art therapy based programs for centres catering to children who are economically challenged.