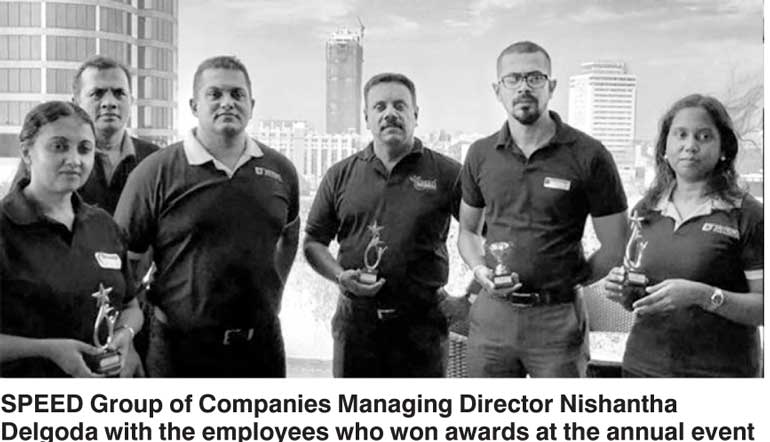 The annual awards ceremony of SPEED Group of Companies, a leading diversified business enterprise in Sri Lanka, was held recently. The profound commitment of longstanding employees, who made an outstanding contribution over the years towards the success of the companies under the wing of SPEED Group, were honoured and rewarded at the ceremony.

The core objective of the key annual awards event is to appreciate the dedicated services of long serving employees of the SPEED Group, while also encouraging them to continue their good work to take the companies to greater heights.

Expressing his views at the awards ceremony, SPEED Group of Companies Managing Director Nishantha Delgoda, said that in any business activity, the most fundamental factor is the customer. The next in line are the employees, who are an asset to the organisation, he pointed out, while stressing the importance of appreciating their services and honouring and rewarding their efforts.

Continuing Nishantha Delgoda said: "The frontline in any commercial enterprise are the ordinary employees as it is they, and not the top management, who take the company's goods and services to customers. Whether it is customers or the supply chain, it is also the ordinary employees who deal with them and build a close rapport."

Therefore, it is imperative that employees of a company should be kept happy and contented to provide a good service to customers. When this happens, the customer base increases and the business prospers, he emphasised.

SPEED Group of Companies comprises Sritrims, Speed Water, Speed Motors, Speed Land and Speed Credit. A leading business entrepreneur, Nishantha Delgoda is the architect of SPEED Group of Companies.