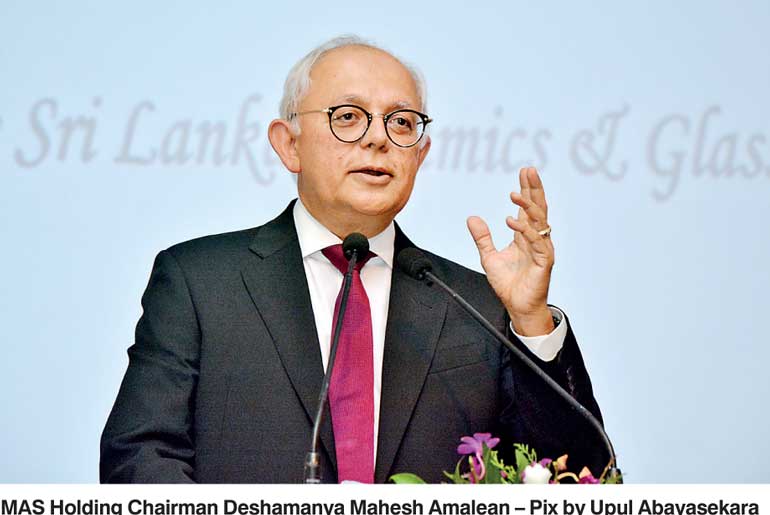 By Charumini de Silva

MAS Holdings Chairman Mahesh Amalean yesterday expressed confidence that Sri Lanka's ceramic, glass and red clay industry has the potential to double its size and become a Rs. 100 billion industry within the next five to 10 years.

Delivering a promising, informative and compelling presentation on how his company became Sri Lanka's largest apparel exporter at the inauguration of Sri Lanka Ceramics and Glass Council Symposium 2018, held yesterday, he outlined six success factors for any business to be thriving and be sustainable in the long term.

According to Amalean, the six success factors were: 1) think of the world as your market; 2) invest in becoming a world-class company; 3) constantly find ways to create new avenues for customers; 4) be proactive and continue to improve; 5) stay relevant; and 6) leverage on technology to make a clear strategy to become a differentiator.

"I believe, to any business to be successful and sustainable in the long-term, it is important to use these six factors and if a company could adopt them to a proportionate amount, I promise you all will be successful," he added.

Attributing to the current changing trends and challenges of the ceramics, glass and red clay industry, he said they were much similar to the apparel industry as well.

"At MAS, we also see our business environment changing rapidly in three specific ways. Firstly the traditional channels of distribution such as retailers and brands are being disrupted by digital platforms. Secondly, our customers are looking for speed-to-market (speedy market access) with customisation at affordable prices. Thirdly, the rising cost of inputs such as energy," he pointed out.

With these three dynamics in the marketplace, Amalean said the question was on how businesses could ensure long-term sustainability, and become more relevant where growth would be more meaningful to the individual companies and industry as a whole.

"How do you double the size of the ceramic, glass and red clay industry in the next 10 years? I am confident with the knowledge and experience the people have in this industry, together with opportunities such as new technologies like digitalisation and automation, Sri Lanka's ceramic, glass and red clay industry can double its size and become a Rs. 100 billion industry in the next five to six years," he stressed.

Irrespective of the size of the company, Amalean told the ceramic, glass and red clay industry stakeholders to always aspire to be a world-class company and see the world as their market, relating to the MAS success story.

"For me at the very beginning, building a world-class business with the world's best business practices and gaining access to international markets was more important than bringing in new technology. Later, our development and growth was built on many strategic partnerships. This made us stand out not just from the rest of the others in the country, but from other players in the region," he stated.

Having established MAS as a world-class business, Amalean said they later realised that it was important to not just add value, but also create new values to sustain in the marketplace.

"This was when we started investing on the integrated supply chain. We needed to become more agile. This move made MAS transform from a contract apparel manufacturer to a design apparel manufacturer. I am proud to say that today the entire design team is Sri Lankans," he said.

He also shared how MAS inculcated the lean manufacturing culture by learning from the Japanese and adopted innovation production and technology from Silicon Valley in the United States to make MAS into the world-class company it is today.



"After my inspirational visit to Japan, I sent a 35-member team to Toyota in Nagoya to learn lean manufacturing, but the team said there was nothing they could relate from the vehicle manufacturing to the apparel industry. However, when they saw how the car seats were made, it triggered how that could be adopted to our industry. After adopting lean manufacturing, our efficiency increased by 80% within three years and it was a great eye opening moment for MAS," he recalled.

Not restraining from Japan on lean manufacturing, Amalean went to Silicon Valley to adopt innovation production and technology. "We visited Google, Facebook, Microsoft, 3M, and Stanford University. We learnt that many of these companies were open for innovation. They were simply tapping talent through open innovation. Today, we have also taken our brand directly to the customers."

Emphasising on using automation and robotics at MAS, he said they are now considering reducing labour engagement. However, he said that the technology is used with a human touch to bring 100% productivity to the company.

With the introduction of automation to MAS, Amalean said that the firm has saved $9 million.

"Never before it has been possible like it is today. Technology can level the playing field to leapfrog over competition and revolutionise the industry," he added.

He further said that the adoption of automation and digitalisation has provided MAS a strong edge to overcome some of the biggest challenges and grow its business. Thereby Amalean reiterated that he believes the ceramic, glass and red clay industry could do the same with the craftsmanship, experience, knowledge and opportunities.