Aitken Spence Board of Directors during the virtual AGM

Aitken Spence Board of Directors during the virtual AGM​
---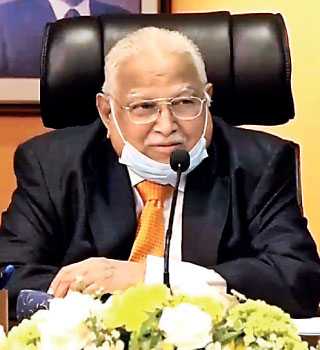 Aitken Spence Chairman Deshamanya D H S Jayawardena
---
Aitken Spence PLC achieved yet another milestone in its 150+ year legacy by conducting the company's first virtual Annual General Meeting (AGM) on 30 June. Whilst being among the country's first companies to transition successfully to virtual AGMs, Aitken Spence is also leading the way among the diversified holdings companies to host a virtual AGM. The 68th AGM was conducted at Aitken Spence Towers on Vauxhall Street, conforming to the health and safety regulations issued by the Government of Sri Lanka in the aftermath of the outbreak of the COVID-19 pandemic. The session was hosted live for shareholders via the application Zoom.

The Board of Directors of Aitken Spence PLC assembled in the corporate board room whilst maintaining social distancing protocols. The shareholders joined the meeting from various locations via Zoom.

Commending the efforts of the Group, Aitken Spence PLC Chairman Deshamanya D H S Jayawardena said: "In these times, adaptability and resilience are crucial traits for the sustainability of any organisation. It was heartening to see the company's efforts to ensure continuity of operations also being supported by the relevant regulators with their recommendations and guidelines. Every challenge is also an opportunity for growth, and I congratulate the team of Aitken Spence PLC for taking the reins to adapt to the new working order."

All attendees were able to view and participate in proceedings, were able to vote online on all resolutions and were encouraged to actively participate at the meeting. Furthermore, shareholders were enabled to participate in online voting on a single platform which facilitated a seamless engagement. This was another unique feature of the online meeting.

Moreover, the online platform facilitated an interactive Q&A session with the Board of Directors.

The co-ordination of the event was entirely handled in-house by the Company Secretarial Division and the Group's Information Technology Division, with assistance from AV Productions who facilitated the audio/visual aspects.

Aitken Spence Hotel Holdings PLC also conducted its 43rd Annual General Meeting as a virtual AGM on the same day and in the same manner.

With an indisputable repute as one of Sri Lanka's pioneering corporates, Aitken Spence is anchored to a heritage of excellence spanning over 150 years. Listed on the Colombo Stock Exchange since 1983, Aitken Spence is a responsible enterprise driven by over 13,000 employees across 16 businesses in 9 countries. Creating opportunities for Sri Lanka across new frontiers, Aitken Spence PLC is an organisation committed to the development of Sri Lanka.