Advantis Engineering bagged the 'Most Innovative Stall' Award at the National Construction Association of Sri Lanka's (NCASL) Construct 2017 Awards ceremony held at Water's Edge recently. The company received this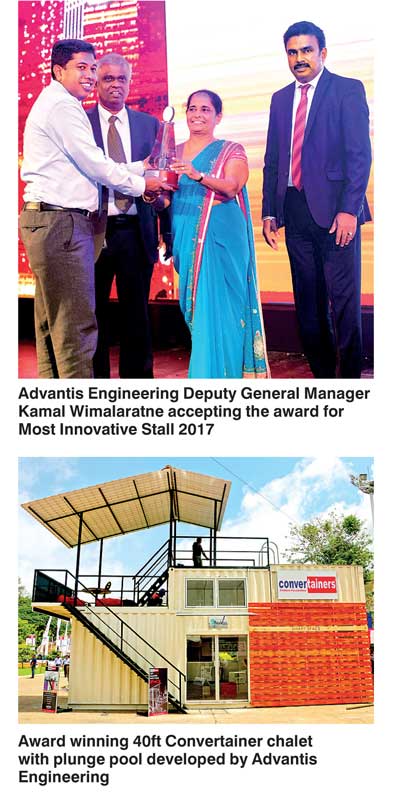 award for the modular living vision of a 'Smart Space' that it showcased at the recent Construct 2017 exhibition.

Responding to the needs of the country's blooming tourism sector, the Advantis Engineering team had modified a 40ft container into a compact chalet with a plunge pool on top. This eco-friendly solution has been designed with energy efficiency and portability in mind and can be rapidly deployed on clients' properties with minimal impact to the environment. This is yet another unique living and working space solution developed by the company under its renowned Convertainers brand. A trendsetter in the container conversions industry, Advantis Engineering has the distinction of being the first Sri Lankan company to export locally converted containers to companies around the world under this brand.

"At Advantis Engineering, we strive to reimagine the way in which living and working spaces are built in the country through smart, modern construction solutions that have prefabrication at their core. The 'Smart Space' concept that we showcased at Construct 2017 is our vision of a compact, modular living space that is both eco-friendly and easily deployable. Being prefabricated, it does away with many of the cumbersome issues of traditional construction faced by property developers when trying to construct hotels and villas in idyllic, remote locations. We are delighted to see this concept being honoured with the 'Most Innovative Stall' Award by the National Construction Association of Sri Lanka," said Advantis Engineering Deputy General Manager Kamal Wimalaratne.

"This is just one of the many container based, tailor made space solutions that we offer under our brand Convertainers. These products have won the trust of clients in Sri Lanka and around the world for the quality and convenience they offer. Fabricated at our state of the art manufacturing facility, these Convertainers help eliminate delays and other traditional construction related issues."

Advantis Engineering is a fully owned subsidiary of Sri Lanka's most diversified transportation and logistics provider Hayleys Advantis Ltd.