CMA National Management Accounting Conference and Commonwealth Accountant Conference Breakout Sessions 3(d)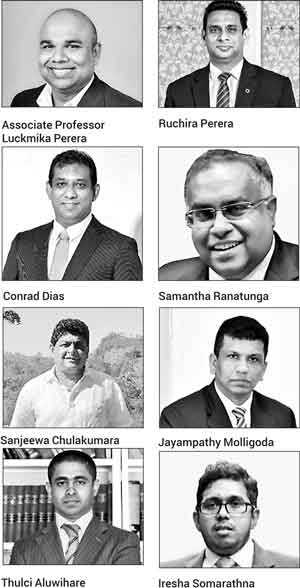 The third session at the CMA National Management Accounting Conference 2019 and Commonwealth Accountants Conference on 9 and 10 September will be a Breakout Panel Discussion consisting of four concurrent sessions. This Breakout session 3(d) will be on 'Achieving Sustainable Economic Growth'.

The Chairman/Moderator of the session will be Associate Professor Luckmika Perera Director – Pathways & Partnerships at Deakin University. The session will be Co-Chaired by Ruchira Perera, is currently functioning as the Group Chief Financial Officer of Concord Apparel Ltd. and a Council Member of CMASL. Conrad Dias is the CIO of the LOLC Group and MD/CEO of LOLC Technologies Ltd. He holds a Master of Business Administration from the University of Leicester and is a Fellow of the Chartered Institute of Management Accountants, a Chartered Global Management Accountant and a Fellow of British Computer Society and a fellow member of Certified Management Accountants of Sri Lanka. He will discuss on the topic 'Achieve higher levels of economic productivity through diversification, technological upgrading, and innovation focusing on value addition'.

Samantha Ranatunga joined the Board of CIC on 21 May 2002, appointed Chief Operating Officer in February 2005 and appointed Managing Director/CEO in April 2009. He will discuss the topic 'Double agricultural productivity and income of small scale farmers'. Talaal Maruzook is the General Manager – Group Strategic Planning at Cargills (Ceylon) PLC. He will discuss the topic 'Halve per capita food wastage at retail and consumer levels and reduce food losses along production and supply chains, including post-harvest losses'. Jayampathy Molligoda is the Deputy Chairman of Bogawantalawa Tea Estates PLC. He is a Fellow Member of the Institute of Chartered Accountants of Sri Lanka. He has obtained his MBA from the Postgraduate Institute of Management He will discuss the topic 'Journey towards climate smart Agriculture & Sustainable Foods'. Sanjeewa Chulakumara is the Director of Insee Ecocycle Lanka Ltd. He has obtained his B.Sc. degree (Chemistry, Molecular Biology and Biotechnology, Computer, Economics and Management) from the University of Peradeniya and Master of Business Administration from Australian Institute of Business Administration, Australia. He will discuss on 'Sustainable Waste Management'.

Thulci Aluwihare is a member of the Colombo International Financial Centre (CIFC) Steering Committee Task Force to set up a Special Economic Zone (SEZ) within Port City to attract FDIs, promote export of services and ease of doing business. Prior to joining CHEC Port City Colombo Ltd., Thulci was the Head of Mergers and Acquisitions at PwC Sri Lanka and Maldives. He will discuss the topic, 'Port City development, a Sustainable Master Planned City'. Iresha Somarathna is currently the Group Head of Engineering at Brandix Apparel Ltd. He has over 15 years of experience in the fields of engineering management, environmental sustainability, advanced engineering systems and project management. He will discuss the topic, 'Sustainability Benchmark for World Apparel Industry'. Participants should indicate their preference in attending the Breakout Session of their choice in advance. They will also have an opportunity to obtain clarifications and direct questions to the panellists. The conference is specially meant for Directors, CEOS, Management and Financial Accountants, Managers and Executives in Marketing, IT, Human Resource, Banking, Finance, Insurance, key management of state owned enterprises and government, lecturers of universities, technical colleges, professionals and others in industry, commerce, non-profit institutions and professional bodies.

Those interested to register for the CMA National Management Accounting Conference and Commonwealth Accountants Conference please contact Shanthi on 071 4705536 or email: [email protected] for special conference rates applicable to those applying on or before 3 September.