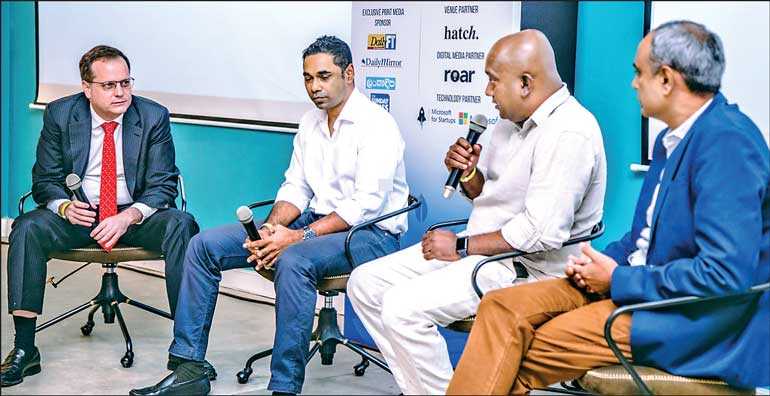 Citibank Asia Pacific Banking, Capital Markets and Advisory Managing Director and Head Jan Metzger moderates a panel discussion on Software-as-a-Service (SaaS)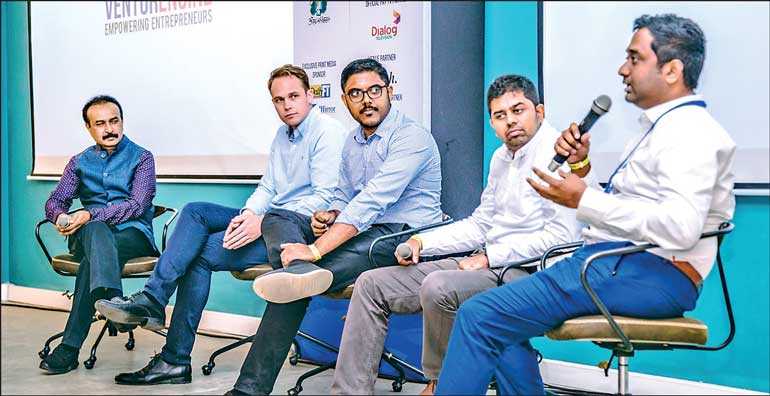 Accel Partner Prashanth Prakash moderates a panel on 'Consumer Internet and B2C' that features the heads of ikman.lk, Zigzag.lk, PickMe and FindMyFare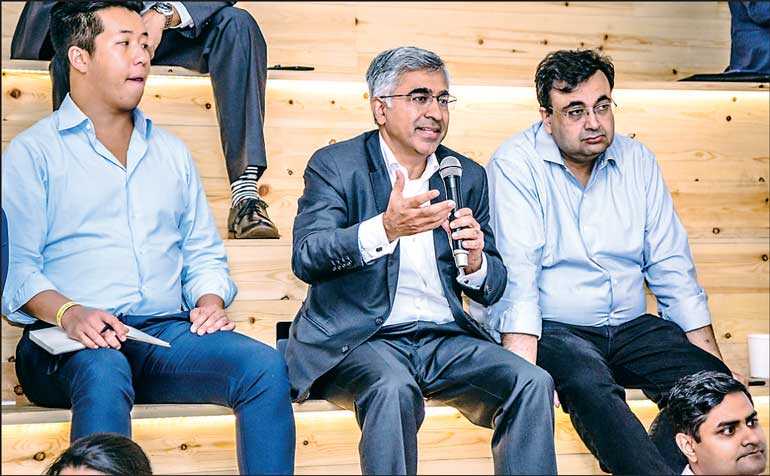 Temasek International Investment Group and Portfolio Strategy and Risk Group Joint Head Rohit Sipahimalani asks a finalist a question during the judging process
---
Venture Engine's positive impact on Sri Lanka continues with more than 40 international investors participating at this year's finale, with delegates in attendance from over 10 countries including India, Singapore, Hong Kong, UAE, USA, Canada and Australia.

It is also noteworthy that many delegates flew down specifically to assess the entrepreneurial talent highlighted at Venture Engine. Painstakingly filtered down over 12 intensive weeks of workshops, the seventh Venture Engine recently showcased its finalists TravelSpends, Kimbula Kithul, Porukki, LiveRoom, Loop Learning, Project 360, Niwadu Deals, Real Pixels (Avina), Tripmo, Strive.lk and SparkGrid, providing these innovative start-ups with unprecedented access to top international investors.

Notable attendees at 2019's Venture Engine included Temasek International Investment Group and Portfolio Strategy and Risk Group Joint Head Rohit Sipahimalani, Accel Partner Prashanth Prakash, Citibank Asia Pacific Banking, Capital Markets and Advisory Managing Director and Head Jan Metzger, BEENEXT Founding Managing Director Dirk Van Quaquebeke, TVS Capital Funds Managing Director Gopal Srinivasan, Google Vietnam Country Head Melissa Nguyen, Microsoft – Microsoft for Startups, SAARC and MENA Country Head Lathika Pai, Crescent Group (UAE) Principal – Investments Tushar Singhvi, Unicorn India Ventures Managing Partner Anil Joshi, Google – Ecosystem Google Cloud Asia Pacific Head Startup John Winthrop Fitzpatrick, Integrated Capital Principal Jeffrey Chun Lok Yam, and World Bank IFC Sri Lanka and Maldives Country Manager Amena Arif.

Representatives from the following organisations also attended Venture Engine: Sri Kumaraguru Mill, The Brenta Group LLC, Signet Chemical Corporation, Dextrus, Vikatan Group, Singapore Angel Network, Jewelex India, AARK TechAccess, Sayi Consulting, Tradex LLC, KIBAR, Morph Ventures, Investopad/Good Capital, Sugee Developers Group, GIH, AdvantEdge Founders Fund, IAN Fund, IntrinsicID, CT Corp, Chapter 1 Ventures, Pomona, Coyne Properties LLC and Striders Corporation.

At the same time, members of this influential community were also given the opportunity to experience first-hand the rapid development taking place in the country.

Venture Engine, Sri Lanka's pioneering entrepreneurship program, was founded by BOV Capital and the Indian Angel Network, with the event organised by the Lankan Angel Network.

"Not only were we excited to welcome many top international investors to Sri Lanka, but we were also pleased that several were willing to contribute significantly by participating in workshops and panels. We believe their efforts in mentoring and guiding our top local talent will greatly contribute to the success of this year's batch of finalists as well as Sri Lanka as a whole," commented BOV Capital co-founders Rajan Anandan and Prajeeth Balasubramaniam.

Event sponsors included Platinum Sponsor – Aavishkaar, Venue Partner – Hatch, Telecommunications Partner – Dialog Axiata, Official Pay TV Partner – Dialog Television, Print Media sponsor Wijeya Newspapers, Digital Media Partner – Roar and Technology Partner – Microsoft and Microsoft for Startups.

Even though the current cycle of Venture Engine has concluded, its organiser the Lankan Angel Network will continue to accept new ideas for investment. Visit www.lankanangelnetwork.com for more details.