Hameedia, the leading menswear brand in Sri Lanka that is synonymous with style and quality, recently launched its newest campaign 'The Hameedia Wedding Touch'.

Focused on creating the perfect groom for his biggest day, the Hameedia Wedding Touch Campaign is an opportunity presented to couples hoping to tie the knot in 2019/20. Having popped the big question and while planning for the big day, traditionally it is the brides who take on the role of organising and co-ordinating the wedding. But with 'The Hameedia Wedding Touch' campaign, grooms can finally hold their own.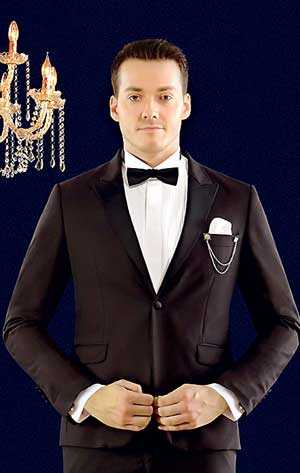 It is essential that every groom complements his bride, standing tall and proud, and a cut above the rest. Backed by the unfaltering expertise of Fouzul Hameed and his experienced team of professional grooming consultants, all prospective grooms are able to achieve their best and look dashing on the most important day of their lives.

"I am delighted to introduce this campaign to prospective grooms looking to get married soon. I firmly believe that it is very important that a groom looks and feels his best on his wedding day. My team and I have worked tirelessly on every detail of 'The Hameedia Wedding Touch' campaign. Our highly professional and trained grooming consultants are ready at hand to ensure that every groom looks his best," affirmed Hameedia Managing Director Fouzul Hameed.

Hameedia grooming consultants will help prospective grooms choose their overall style, fabric, accessories and give all relevant fashion advice. The campaign is categorised into four packages, each with a minimum suit quantity that will allow grooms to select the best one for them as per their requirement. Each category will also receive further benefits and deals, and also a chance to enter a grand raffle draw.

The Luxury package is valued at Rs. 300,000 with a minimum suit quantity of three suits. The Platinum and Premium packages are valued at Rs. 150,000 and Rs. 100,000 respectively have a minimum suit quantity of two suits each. The Classic package with one suit is valued at Rs. 50,000.

All packages will receive gift vouchers ranging from Rs. 20,000 to Rs. 2,500 and 20% off on adidas product with selected packages getting 15% off on footwear and accessories, and free alteration services. The Luxury and Platinum packages will also receive free grooming consultation service. Additionally the couple will also receive a free dinner for two at Cafe Bagathale.

The Premium and Classic packages are available at all Hameedia showrooms island wide while the Luxury and Platinum packages will be available exclusively at the Envoy Mansion. The Hameedia Wedding Touch offer is valid until 31 August.

With over 70 years of experience of bringing men's fashion to the forefront in Sri Lanka, Hameedia is reputed for delivering high quality menswear – both bespoke custom tailoring and ready-made clothes. Hameedia is a multi-brand retail store and houses a collection of quality menswear brands such as Envoy London, Le Bond, Signature, Van Heusen, Louis Philippe and Park Avenue providing customers the ultimate retail and service satisfaction.