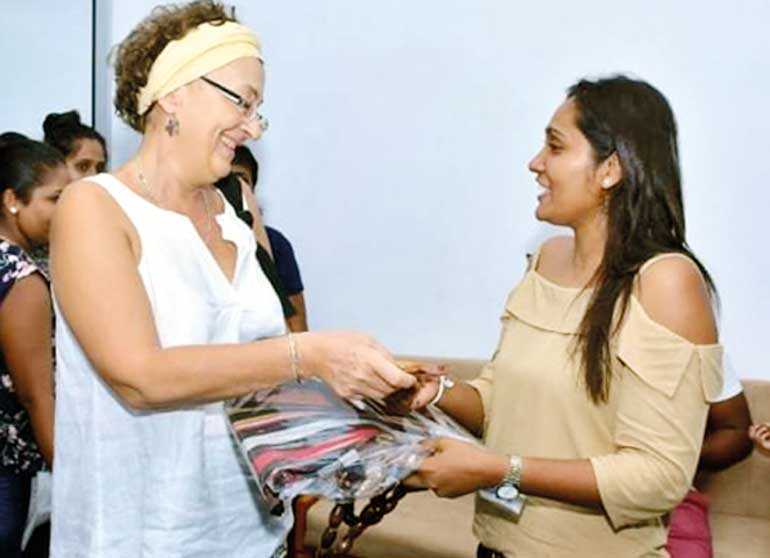 Sashi Fashion Shell Owner and Dressmaker Sashini Thilakshika Punchipatabandi
Everyone likes to hear a good success story, especially one that involves an individual going through a learning curve in life that eventually ends up changing their life for the better within a short period of time. This sentiment is one that has been experienced by many students who graduated from the Singer Fashion Academy after pursuing courses related to fashion and dressmaking.

Recently, a young lady who had completed two courses from the Singer Fashion Academy had gone on to launch her own dressmaking outlet in Tangalle, where she hailed from. Launched as 'Sashi Fashion Shell', she embarked on an entrepreneurial journey following her graduation from the Singer Fashion Academy. Owner and Dressmaker at Sashi Fashion Shell, Sashini Thilakshika Punchipatabandi shared her story on how she successfully trudged through challenging territories when it came to the subject of fashion. She explained how the Singer Fashion Academy and her lecturers had assisted her throughout her learning process to not only learn new things but to also boost confidence and balance work with studies together.
Ideal learning environment for working students

Sashini disclosed that she has always been interested in sewing and learning to make her own dresses from a very young age. However, after she got into full-time work, she had wondered about learning to sew her saree jackets and went looking for a reputed place to learn the techniques.

"I had no skills whatsoever when it came to sewing and was eager to enrol at a class that would enable me to learn how to make my own saree jackets since I was working full-time and required to wear sarees daily. Eventually, I was browsing online one day and came upon an online flyer that mentioned courses through the Singer Fashion Academy. I contacted them and acquired details with regard to the courses."

The closest branch of the academy for her was located in Embilipitiya. Therefore, she enrolled in a Saree Jacket course, which she completed in less than six months. An added advantage that she benefitted from was the level of flexibility and support that the Singer Fashion Academy offered to students who were working. She did not stop there as her interest piqued and with the encouragement of her teachers, she enrolled in a Diploma in Scientific Dressmaking for a year. "After graduating with my diploma, I felt confident enough to start my own outlet and create custom-made bridal wear, saree jackets, party wear and pre-shoot wear to name a few. This was how I was able to launch Sashi Fashion Shell in Yayawatte, Tangalle. At the moment, I run the outlet with my mother and hope to employ more staff and expand the business," Sashini stated.

She added, "I am truly indebted to the Singer Fashion Academy for their valued support throughout this learning journey and the level of confidence that I was able to achieve from the beginning. The teachers and staff of the academy have been very supportive and always eager to help. I wish to thank Subashini Anuruddhika for her guidance and the management and staff of Singer Business School for being there with us along the way."
Taking the entrepreneurial leap

Explaining further about her business, she relayed that unlike setting up a tailoring outlet for instance, there is a level of creativity that can be gained thanks to the knowledge she acquired from the diploma. She is able to design and create unique pieces for herself or the individual who seeks her services. "A fashion designer's approach is different and sometimes customers look up designs over the internet and ask us to create something similar for them. So, having an understanding of the fashion design schematic has really helped me to come up with unique garments for my clients."

The Singer Fashion Academy offers over 20 different programs, which include three diploma programs, eight certificate programs and 11 short courses. They also offer a new fashion design program with a degree pathway at an extraordinarily affordable cost. Their programs are available across 62 strategic locations island wide and this offers a level of convenience for students from across the country to follow their course of choice. A highlight of the courses they offer is the inclusion of both, academic and industry based knowledge incorporated into these courses. The academy was also named the first and only institute in the country to receive course validation status from the Chartered Society of Designers (CSD) in the UK. The CSD validation ensures that the following courses; Certificate in Fashion Design, Certificate in Scientific Dressmaking, Certificate in Machine Embroidery, Certificate in Saree Jacket, Diploma in Scientific Dressmaking and Diploma in Machine Embroidery are recognised globally.

Students who follow any of these courses will automatically receive a certificate from The Chartered Society of Designers (UK) apart from the certificate they will already be getting from the Singer Fashion Academy. Such credentials greatly assist the student in carving a pathway into fashion sectors worldwide.