10 Sri Lankan designers and 6 international designers showcase the latest trends at OLU Swim Week Colombo
Swim and luxury resort wear is a fast-expanding new growth category across the globe. OLU Swim Week Colombo as a luxury resort wear edition is thus strategic to the growth of the fashion design industry of Sri Lanka and profiles Sri Lanka as an important destination for this category of clothing.

OLU Swim Week Colombo is Asia's first fashion week dedicated to swimwear and resort wear, which highlights Colombo as a burgeoning tourist destination. As demonstrated in its previous editions, Swim Week Colombo is the foremost platform for swimwear designers in Sri Lanka as well as the region and brings together some of the leading minds in the fine art of swimwear the world over.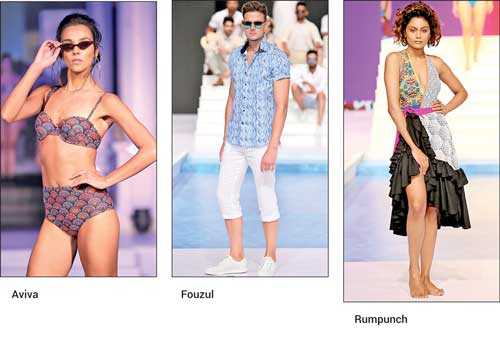 OLU Swim Week Colombo was established in 2015 with the vision of creating a global platform for swimwear and positioning Sri Lanka as the swimwear capital of the world. Sri Lanka is renowned globally for its world-class swimwear manufacturing capabilities, having engineered and produced swimwear for some of the world's finest swimwear brands. This existing knowledge and expertise, along with Sri Lanka's strategic position as an island with world-famous beaches and holiday attractions, lends the country the potential to become a global swimwear hub.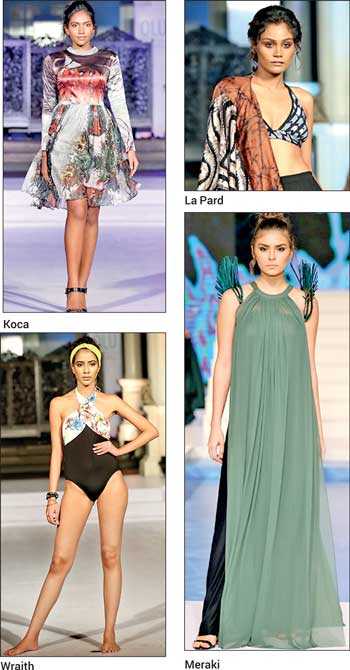 "CFW Swim Week Colombo has expanded the scope of Sri Lankan fashion designers and grown their design portfolios. The platform has also given birth to a new generation of designers whose key focus is swim and luxury resort wear," said Colombo Fashion Week Founder and Managing Director Ajai Vir Singh. "In addition, Swim Week Colombo is creating an ecosystem that is seeing the growth of the swim and luxury resort wear category in Sri Lanka, and we are also seeing new retail stores opening around Colombo with the focus solely on swim and resort wear," he further stated.

The Luxury Resort Wear segment is driven by occasions which are based on events like destination weddings, frequent resort holidays, and design-conscious tropical living. As tourist demand grows for these unique experiences in Sri Lanka, multiple industries are adapting by changing their focus to cater to these needs. This is evident in the rise of boutique hotels and resorts and the emerging trends in demand for resort wear, which signals prospects to change focus towards this opportunity on the rise.

Already Sri Lanka is attracting tourists looking for such experiences, and positioning Sri Lanka as a destination for this form of experience is essential to the economy. Swim Week Colombo, which is spearheading a platform for resort wear in the region, further creates opportunities for designers in Sri Lanka and in the region to be at the forefront of the luxury resort wear category. This segment is thus strategic to Sri Lanka as it positions the country as a destination for high-profile lifestyle experiences.

The fifth edition of OLU Swim Week Colombo unveiled the latest trends in swim and luxury resort wear presented by 10 Sri Lankan designers and six international designers at three key hotels for the first time this season – Hilton, Colombo, Galle Face Hotel, and Shangri-La Hotel, Colombo respectively.

The Swim and Luxury Resort Wear '20 edition featured prominent names in Sri Lankan fashion design such as Sonali Dharmawardena; Meraki; Rum Punch; Koca; Pigeon Island; Maus; Peronie Stefel; La Pard, Fouzul and launching for the first time will be Wraith by Dinesh Chandrasena. In addition, several renowned international designers showcased this season, namely Wendell Rodricks; Aqua Blu; Verandah; Aviva; Eka by Rina Singh; and Nivedita Saboo, who launched her debut swim and luxury resort wear collection at Swim Week Colombo.

This season, CFW Swim Week Colombo brought together four creative industries namely Art, Fashion, Food and Music to host a week-long creative festival titled 'Celebrate Colombo' presented by So Sri Lanka, Sri Lanka Tourism and Promotion Bureau (SLTPB).

Swim Week Colombo has formed relevant and strategic partnerships with Sri Lanka's leading brands and they all play an important role in pushing the annual event to the international level. Olu Tropical Water as Title Partner; Nations Trust Bank American Express as the Official Fashion Card; Shangri-La Colombo, Hilton Colombo and Galle Face Hotel as the Official Hospitality Partners; Jaguar Land Rover Sri Lanka as the Official Automobile Partner; Vaseline as the Official Skin Care partner; MAS Linea Aqua as the Official Manufacturing Partner; Wine World as the Official Lifestyle Beverage Partner; Ramani Fernando as the Official Hair and Make-Up Partner; Vision Care as the Official Fashion Eyewear Partner; Coca Cola Sri Lanka Ltd., Turkish Airlines, Taj Samudra Colombo, Park Street Mews and Dutch Hospital Shopping Precinct as Official Food Festival Partners; Scope Cinemas as the Official Fashion Films Partner; The Faculty of Art at the University of Colombo as the Official Art Exhibit Partner; Wijeya Newspapers as the Official Print Media Partner; We Are Designers as the MullenLowe Sri Lanka as the Official PR Partner; and Emerging Media as the Official Outdoor Digital Media Partner. All of these entities share and extend their support towards the vision and aspirations of Swim Week Colombo.

For more information on OLU Swim Week Colombo's Swim and Luxury Resort Wear 2020 edition, please visit www.colombofashionweek.com and @colombofashionweek on Instagram.