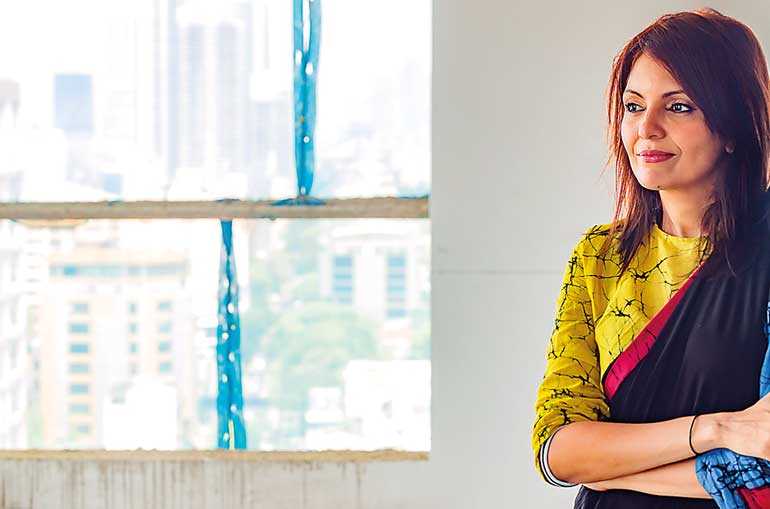 Linda Speldewinde
---
Located in prime Colombo, bordering Duplication Road and the Lauries Roadintersection, Colombo Innovation Tower is not just another co working space but a space dedicated to innovation led by design and tech, the future workforce that will give big businesses an opportunity to discover their creative space in a building spanning 20 floors and 120,000 sq. ft. It is set to house one of the best spaces for innovation that Colombo's innovative companies will want to join. Opening doors this July, it's calling potential tenants to be housed on unique membership models in this unique space, which is not really about space but about the innovation it will drive and the eco system. Here, Founder of the project and this unique concept Linda Speldewinde speaks about the vision behind the project:
Q: Why did you think that Colombo needs an Innovation Tower?

Design is at the heart of everything and everyone has woken up to it. With a new AOD 3.0 model in the making, AOD is well poised to be the engine at the Colombo Innovation Tower, together with many tech and international design partners to deliver what the country and the region needs to create some actual innovation out of here. It delivers to an identified need for a modern way of working that Sri Lanka's new generation understands, and will demand for in the future, which is needed to drive innovation.

Sri Lankan companies in today's commercial space know that we may be physically located in Sri Lanka, but are definitely part of a global community and a modern world that thinks differently and a world that we need to be wired in to, in order to deliver to it. This gives their teams the opportunity to be part of that world.
Q: How will you deliver to driving this Innovation?

It's through a unique eco system we have created and many partnerships and tenants that have already committed both local and international. Key among them is from an international community of innovators and change makers who empower each other to create, share, and disrupt industries, such as CIRCO – focused on creating a circular economy through design and Fashion For Good –connecting startups and entrepreneurs working on sustainable fashion.

Local members range from HNB taking on making Colombo Innovation Tower cashless, among other innovating banking initiatives to apparel industry leaders, MAS, Brandix andHirdaramani who have always been a part of AOD's mission.

CIT is not a co working space but a space for big companies to discover their creative space to drive innovation. We are committed to drive some real tangible innovations right up to market using Design thinking. We have the right expertise and the right eco system to do this.

We've invited the best of our companies to give them the opportunity to work together with the brightest minds from tech, design, arts, and science into one dynamic and collaborative ecosystem including our international partners with the Dutch leading the Design Innovation topic and the UK on Creative Industries.

Imagine building a business in a place where creative talent, conscious manufacturers and award-winning companies are working together under one roof. Imagine the innovative capacity to unlock their people, and the exponential opportunities opening up for them. This is no longer an imagined future; it is the promise of the Colombo Innovation Tower – South Asia's hottest new catalyst space for business innovation, right here in Sri Lanka.
Q: Can you explain more about this new way of working that the Innovation Tower promotes to Sri Lanka?

The modern way of working is geared to technology, interdisciplinary work, collaboration and it also lies between the physical and the virtual worlds. This is the work philosophy that the Colombo Innovation Tower delivers.

It has a more contemporary approach which focuses on the concept of creating a carefully designed and curated 'experience' using design thinking. The exterior is modern and slick and lends us to drive this innovation concept, but focus is the synergy of creativity and collaboration that happens inside the building. The way of working itself be a demonstration that will enable a modern way of working the new generation will want to work in.It recognises that for great things to happen, different industries, ideas and disciplines need to be brought together; which is why this space is to select and curate a diverse and ambitious community of companies geared up to embrace the future.
Q: What kind of companies will be part of this new vision?

The companies we select to be part of this modern work community will include fast growing global businesses that are housed in Sri Lanka or want to set up here, home grown companies that drive innovation from various sectors, individual companies that are recognised as some of the most inspiring and influential makers of product and new technologies like the apparel and software sector, etc.

At the same time, AOD which serves as the creative nucleus for design in Sri Lanka will naturally be a part of this eco-system rooted in the tower; this will allow all to engage with the contemporary design and innovation driven energy that it creates.Innovation comes from being open to emerging ideas and breakthroughs from different fields; which is why this community needs to be carefully created. We have just put out a call for companies interested to get in touch.
Q: What makes the Colombo Innovation Tower different from a co working space and how will companies join?

What makes us different? Well, in many cases we foster working with each other, not just next to each other. They say you are who you surround yourself with, and at the Colombo Innovation Tower we believe this couldn't be more true. Working amongst like-minded, driven, creative individuals and pushing yourself and your ideas to the next level will be the norm.

Being a part of the Colombo Innovation Tower would mean committing to a lifestyle of collaboration and innovation. We are offering a series of membership packages for companies to join our community to get access to our innovation driven eco system that's supplemented by the curated network, insightful events, inspiring spaces, and the best member perks which are designed to focus, experiment, relearn, and grow through a living excellence academy we will house within the premises.

Everything we will be doing in that space would be designed to help its members flourish and succeed in the modern economy and also enable them to unlock the future creative potential of their people.
Q: What does the building offer to help the operations in it exactly?

The building recognises the modern work world and the habits of the future corporate generations.For example, things that promote the wellbeing of your team are and should be recognised as a core deliverable by organisations today. A person's performance is at the heart of everything they do and we know that feeling good and of course eating healthy and being fit is essential in making great work, and therefore we will provide a regular series of activities to support wellbeing.

Also encouraging quality work-life balance and the importance of spending time with your children we are also having a crèche and nursery for the infants and toddlers and even space and engagement for the pre-teens so that parents can really bring their whole selves to work with no opportunity cost.

It also recognises the need for exposure that Sri Lankan teams need and the requirement to broaden their horizons; therefore it would be offering a program that gives access to leading thinkers, innovators, entrepreneurs through hosting an inspiring year round series of talks, exhibitions, music, film screenings and more that will truly wire professionals to a global community.

All this is part of the emerging work culture where work takes a holistic approach that looks after the well-being of workers and the work output becomes incredible.
Q: How will you scout the kind of companies who will be part of the Innovation Tower? Will there be particular criteria?

We are looking to build a diverse ecosystem of innovative organisations that are capable of having a collaborative and synergistic relationship with the world around them and who are at the intersection of their different fields. We are hoping to have 80% our tenants on this basis and the balance 20% will be housed because of the work they do like design studios, innovation labs, venture capital and other such organisations.
Q: How would one find out more about the project?

We have just put out a call for potential tenants and we have just started discussions with interested parties. Therefore, anyone interested in collaborating with us, renting space or contributing to the space can get in touch with us on 0115867772/3 or email us onconnect@cit.lk.