International sustainable fashion speakers on Sri Lanka's potential for sustainable fashion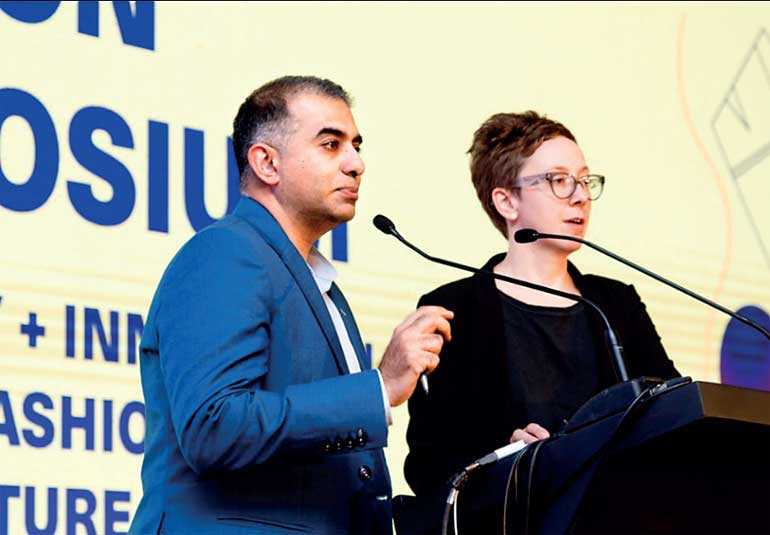 Hirdaramani Group Director Nikhil Hirdaramani and C&A Foundation Head of Global Sustainability Kate Heiny
---
Collaboration to launch South Asian Innovation Program
Sri Lankan apparel industry and international sustainable fashion champions advocate sustainable fashion agenda out of Sri Lanka
As a key partner in the region, Colombo Innovation Tower (CIT) is in an exceptional position to strengthen Fashion for Good's expansion into South Asia with access to a network of local innovators and the wider business ecosystem. The rapidly growing region presents significant opportunities to create value and make both social and environmental impacts in transitioning to a circular economy, which CIT and Fashion for Good wish to facilitate through this partnership.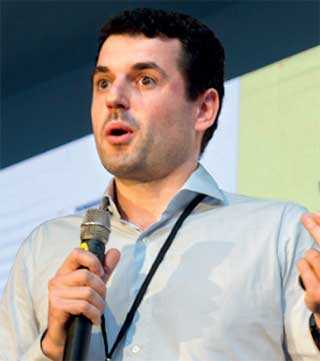 Fashion For Good Investment Manager Rogier van Mazijk speaking at the Sustainable Fashion Summit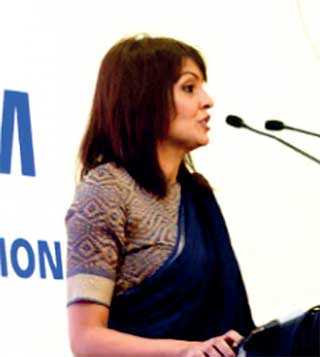 Design Corp Group of Companies Founder and Chairperson Linda Speldewinde
The Fashion for Good South Asia Innovation Program allows start-ups from the region access a network of global brands, manufacturers, investment and business support. The program collaborates with CIT's own recently- announced program and helps stimulate the regional economy with innovative, disruptive start-ups.

CIT's vision to bring global design-led innovation expertise to South Asia matches perfectly with Fashion for Good's mission in the region.

Based in Amsterdam, Fashion for Good has been the most influential global platform addressing the current take-make-waste practices in the apparel industry, supported by their founding partner C&A Foundation and corporate partners adidas, C&A, BESTSELLER, Galeries Lafayette Group, Kering, Otto Group, PVH Corp., Stella McCartney, Target and Zalando and affiliate partners Arvind and Nørrona. Through their innovation platform, they give promising start-up innovators the expertise and access to funding they need in order to grow, and also acts to change consumer behaviour. They are to open the world's first interactive tech museum dedicated to sustainable fashion innovation and creating open-source resources such as its Good Fashion Guide to cradle-to-cradle apparel.

Fashion for Good has partnered with CIT to host the Sri-Lankan element of the program. Leading up to the program, Fashion for Good will be hosting an Innovation Day during Mercedes Benz Fashion Week Sri Lanka, held at CIT in November 2019, where 10 innovators will be selected to showcase their solutions in a series of pitches, concluding with an engaging discussion with industry leaders. The Innovation Day brings together key stakeholders from the region, featuring discussion forums with panel participants from the regional investor, brand and manufacturer network. These innovators will also gain priority access to the program, enabling access to a network of global partners such as founding partner C&A Foundation and corporate partners such as C&A, adidas, Kering and PVH Corp, as well as funding, mentoring and bespoke coaching, and providing innovators with the tools needed to grow.


What this means for South Asian fashion disruptors

A spokesperson of the Colombo Innovation Tower stated that the presence of Fashion for Good in Sri Lanka means that local innovators can tap into their expertise in the circular apparel industry as well as sustainability, raw materials, dyeing and finishing, manufacturing, retail, end-of-use and traceability. "It's a global platform for fashion innovation, made possible through collaboration and community—this resonates perfectly with what CIT is and aims to contribute to major industries like apparel in Sri Lanka. We're extending an open invitation to the entire apparel industry, regional fashion brands, producers, retailers, suppliers, non-profit organisations, innovators and funders to make the best of this global fashion influencer being here in the heart of South Asia."

For more information on the global business ecosystem present at Colombo Innovation Tower, the CIT Accelerator and Fashion for Good South Asian operations, reach connect@cit.lk or 076 100 7610