We were rudely awakened to a different facet of 21st century terrorism on 4/21 – Pic by Shehan Gunasekara
---
Depoliticise politics – am I saying something of an oxymoron?! Today we are a society sadly in painful transition to a new normal after 4/21. How we react or rather act in these days may define the new normal – act wisely it has the power to position us at a stronger position than ever; act in haste and if reasoning was to be through emotions then the society sinking to an abyss would be very much on the cards.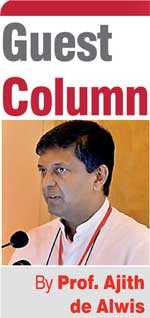 4/21 was an event that witnessed losing so many innocent lives and affecting so many in so many different ways brought in by a number of educated well-to-do terrorists – another oxymoron!? The educated and well-to-do, a combination which we never associated with destructive self-consuming terrorism – so we thought till that morning and now we want to peer into a face and the way of interactions have changed.

If we have been conversant with the poor and uneducated and those with significant grudges against society as insurgents and terrorists, we were rudely awakened to a different facet of 21st century terrorism on 4/21. This appears to have shaken us in a way that surpasses much of what we experienced for three long decades.


Multiple chinks in our nation's armour

The issues that we are facing today have shown multiple chinks in our nation's armour. It is a fact that we badly let our guard down post 19 May 2009, first by ignoring the need to act to develop with a purpose – time was spent more in engaging in fun and seeking frolic and expecting tourism to take us to development perhaps supplemented by income from those who crave Ceylon Tea, and then later actually by thinking and acting in ways that had the principle of pleasing the outside as much more important.

At all times seeking power through politics was uppermost and it may be difficult to actually count the amount of seeds sown for potential bad harvests. Somewhat fortunately nature had been kind to us this year as this period for past three years, it had been nature that had a hand in spinning the economy to a low level.

Cyclone Fani keeping away from Sri Lanka with only some little damage did not compound the issues that we were facing and for the moment the coast is clear nature wise. What nature did not deliver unfortunately a few men took upon themselves.

When the nation needs advice and positive communications, our media tends to focus on political verbiage. Anyway that verbiage is showing no sign of abating too. For the media the bloodier is newsier and sadly the truth of this is just getting cemented every day. Yes you need to report events.

After indicating free Wi-Fi as a political promise even by balloons and come what may, people are not at all happy when their WhatsApp fails to connect suddenly. The imagination gets into the overdrive over trying to understand what's up! The interpretations unfortunately are always done negatively and we fail to comprehend the ill effects of such collective thinking.


A smart media

A smart media that empowers with reason and logic perhaps with a touch of refined sense of humour is more important than one thinking of screaming headlines to prop up circulation or hearing. The habit of media to truncate comments to suit their story with scant disregard for responsible journalism too should be deplored. The users of social media exemplify the dangers of sophisticated tools in wrong hands. When curfew and destruction is the net result of a single Facebook post, it is time to think on how to bring sanity back.

The world is facing multiple kinds of 'isms' and one is left to wonder why today, with all this knowledge and abilities that we have. We most certainly have left the middle ages yet some of the practices and the tribal ways of thinking that are emerging appears to be in no way different to those periods though the weapons of destruction may be quite up to date.

Why cannot we understand the great similarities that we have and build on that rather than killing each other based on artificial social constructs and scheming politics, which only have one concept on top of their minds – power?

Why do we in Sri Lanka keep hearing that my blood is this colour and that colour yet it takes only a small prick to reveal the colour that we all share? Colour of politics sadly has ruined many a mind over seven decades. It is indeed time to depoliticise the way we work and think.


Race is a social construct

Recently a communication by an 8,000-strong science group consisting of geneticists came out stating that the concept of racial purity is scientifically meaningless. This largest society of geneticists has decided to take this stand to decry the distortion of ideas by racists of different types including the ruling class.

It is indeed disturbing to see that some dividing people by their abilities to digest milk as well – the supremacists in USA. Now an ability to develop supremacists in a country has been an emerging phenomenon. However, with so much scientific advances in the world, nothing can hide the fact that racism and bigotry are present and in many an instance rearing their heads strongly in quite an uglier fashion.

To science and very well explained by genetics, race is a social construct as science does not support the concept of race. There is probably little or no harm done when the social construct is used in activities that demand diversity and definitely there is pleasure in diversity. The danger is when ideas takes root in indicating that one race is superior, political ideologies of superiority, etc.

This statement coming from the American Society of Human Genetics (ASHG) and they were actually articulating with this message in response to unsettling internal practices taking place right within United States. Though in principle it is targeting their own system, there is certainly value in the communication to all of us as it is one based on science.

The message of the society is that as far as the scientist is concerned, the age-old concept of race is wrong and humans cannot be split into subcategories that would be biologically different from each other. Of course the reasoning stem from genetic intermixing that had resulted from constant migration, which have taken place throughout human history. The constant movement has resulted in blurring of genetic lines.

Extending this reasoning to a small land area north, south, east and west of Sri Lanka perhaps can be identified with a simple picture of non-uniqueness and essentially of similarity. What is perhaps most important to note is the statement that there is no genetics based support for one group to be superior to another. What the education, attitude and experience impart only can be the differentiator and such differences one can even find perhaps between twins!

I am reminded of a recent statement from Dr. Ben Carson (a famous neurosurgeon) about whom I even share with my first year students – a biographic sketch of him – how his almost illiterate mother ensured that the young Ben was kept away from TV but more with books. Now as an influential medical professional he stated, "We have been conditioned to think that only politicians can solve our problems. But at some point, maybe we will wake up and recognise that it was politicians who created our problems." It must be indicated that Ben did run to be a presidential contender in USA but a closer engagement with the establishment must have given him this insight.


Next election more important than next generation?

If something changed in Sri Lanka post 4/21, we are witnessing a strong discontent with politicians of all colours. The establishment also has been shown with its true colours of inefficiency and even perhaps ineptness. If there was intelligent interpretation of intelligence rather than perfect filing in and writing a series of letters towards providing VIP protection instead of ensuring pre-emptive action on the information, we perhaps would not be in this situation that we are in today.

Even post event we were privy to be finger-pointing across aisles rather than a cohesive, focused approach to the newly-emerged threat. It is sad but a fact that in our context democracy has a strong fascination to votes and numbers matter over quality. While emotion rules over brain, irrational mythical power-related thinking is driving extremism. To the politician the next election appears to be sacrosanct over the next generation.

I dare say there is a need for more science at this juncture. We have shunned science for so long and politics broadly was never seriously interested in science for solutions. It has been a sad fact for 70 plus years since our independence. Across the Palk Strait we know it was different.

Jawaharlal Nehru immediately obtaining independence opted to have a Central Government portfolio for Scientific Research in independent India starting from 15 August 1947. As a politician, his embrace of science was 100%. We can only dream at this stage for such a situation.

Only perhaps a few understand the importance of science and technology at this darkest hour in our country. Heinze Pagel in 'The Dream of Reason' wrote that science cannot resolve moral conflicts, but it can help to more accurately frame the debates about these conflicts. Now considering and understanding social constructs we should be wiser to the underlying scientific message that we have. I have to conclude – Bring in science, keep the values, understand the oneness. We may beat what the terror dictated.