By Hiruni Dabarera

Galewela, a small town in the Matale District with a population close to 70,000, shows the other side of the tobacco debate.

Galewela farmers, who would otherwise be left to poverty, are beating the sow-debt cycle that grinds down other farmers with their tobacco cultivation. Yet their occupation is a controversial one. The World Health Organisation (WHO) estimates about 26% of Sri Lanka's adult population uses some form of tobacco products and Alcohol and Drug Information Centre (ADIC) reports on average 20,000 people die each year from related health complications.

In this backdrop the Government last week increased taxes on cigarettes and President Maithripala Sirisena has pledged to ban tobacco cultivation in Sri Lanka by 2020.

However, Sri Lanka's monopoly tobacco trader – Ceylon Tobacco Corporation (CTC) – insists tobacco cultivation infuses Rs. 1.5 billion into the rural economy and the company also paid Rs. 92 billion in taxes revenue to the Government in 2015, making it the single largest source of public revenue.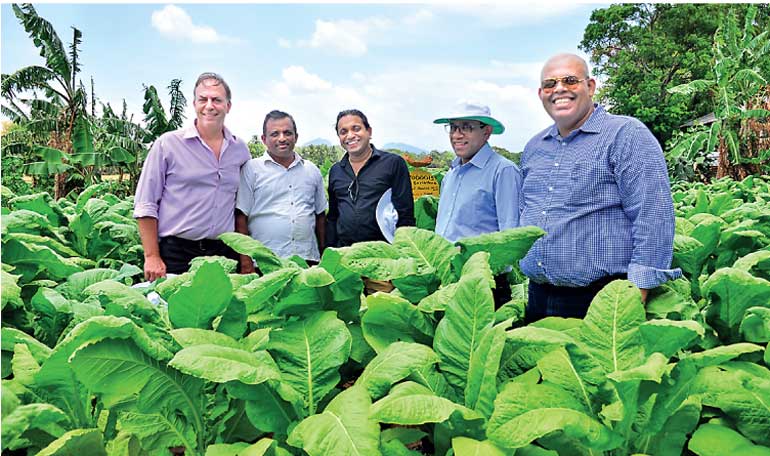 A recent field trip to tobacco farms in Galewela substantiated the upgrade in the standard of life of farmers since growing tobacco. H.M.W. Srirathna Banda is the Chairman of the Barn Owner Association at Galewala.

"I started cultivating tobacco 26 years ago because the income I generated from paddy cultivation was not enough to feed my family. I realised that the income I took home was always constant or less and there was no space for growth," he stated.

"During my youth due to political insurgents within the country I was unable to find a job. So I took to agriculture. I grew onions, tomatoes for a few years when paddy was out of season but soon wanted to increase my levels of income. I realised that the people who were well off in the village were mostly tobacco planters. They even help the temple and various villagers in times of need. So I too decided to take up tobacco plantation to develop," he elaborated.

Today, Srirathna Banda provides close to 130 jobs that feeds over 60-50 families in his area. From 12 hectares of land he obtains a crop of 24,000 Kgs that generates him a profit of close to Rs. 150,000 from one hectare.

"Now I am a rich man without any debts and am able to educate my children with ease," Banda shared with us, gleaming with pride.

Patrick and Samantha Wijeyrathne who were also tobacco planters shared a similar story.

"The main reason why I undertook tobacco plantation in large scale during off-paddy season is that unlike the plantation of onions, pumpkins, corn or other crops, I am guaranteed a stable price for tobacco leaves. At the leaf depot I am paid Rs. 400 per kilo and this price never fluctuates, neither is any of my crop left. So my revenues are maximised with a 30% return on my investments," Patrick explained.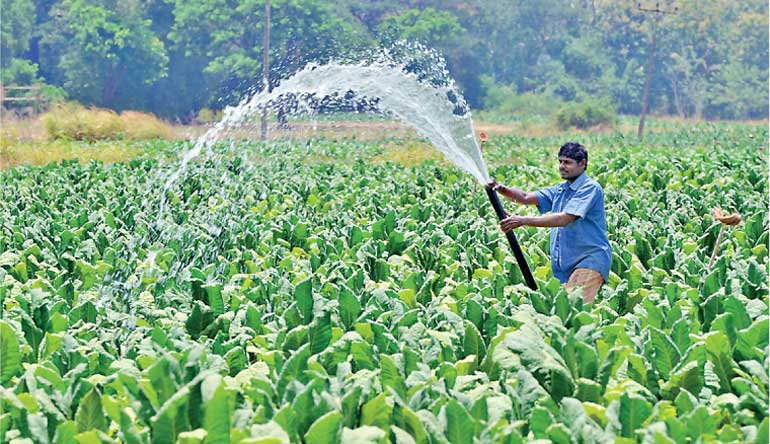 The farmers further expressed how tobacco plantation requires minimal pesticide control is and also quite apt for growth in Galewala provided the high temperature and low rainfall.

"There is zero hindrance to paddy cultivation from tobacco as it facilitates paddy," Samantha expressed. "I believe it is the most suitable crop to be grown in this season."

Both of them employ 65 farmers at present growing tobacco over a land area of 4.5 hectares, which produce 9,000 Kgs of tobacco leaves.

The farmers told reporters how they wished for more tobacco planters from Galewela area.

"Galewela started developing due to tobacco farmers. I remember that the third commercial bank from the whole island was opened in Galewala due to the income that was flowing in to the village," shared Banda. He stated how the villagers were quite reluctant to take up tobacco plantation due to various threats and negative responses from local authorities.

"The only challenge I have faced over the years is from authorities who come to my place and inform me to stop cultivating. They tell me that tobacco is a banned crop and that its plantation is not legal. However, this is not true. There is no law or document produced by the Government claiming tobacco cultivation is illegal as of yet. It is a legal crop. They simply want to discourage it," affirmed Banda.

"What the authorities have to understand is, if not in Sri Lanka, then we will have to import tobacco leaves from other countries like Bangladesh and Pakistan. This will mean a loss of employment opportunities and revenue for our local farmers," said CTC Head of Operations Rukshan Gunatilaka.


Process
Usually tobacco plants are left to grow for four months in the fields. When the leaves start to turn a yellowish green they are plucked as layers from bottom to top. The plant is harvested layer by layer, with five harvesting cycles in seven-day intervals.

Next, the leaves are taken to the barn where they are strung up in strings and hanged for the curing process. The barn is a fully enclosed room with small air vents that are heated by the use of steel pipes circling underneath the leaves. One significant feature here is that CTC employs its own sustainable method of using paddy husks to fuel the barn instead of wood fuel (following legal issues for felling too many trees in the '90s).

Usually, the leaves are cured at a heat ranging from 90-160 degrees. Inside the barn the leaves are cured under the following four stages:
Yellowing
Colour fixing – fixing the yellow pigment in the leaf
Lamina stage – drying the lamina
Stem drying
The curing process takes five days – 125 hours at a stretch.


"If 5,000 leaves are strung up to cure in the barn, only 800 will remain at the end of the process. The rest is all water," stated CTC Galewela Area Manager Piyal Jayasekara.


Support from CTC
CTC guarantees purchase of full-crop at a pre-agreed guaranteed price.
Rs. 140 million worth agricultural inputs provided on a credit basis by CTC.
Free extension services to all farmers through CTC's leaf officers.
Farmer pension scheme for all tobacco farmers.
Scholarship system to farmer's children.
Support during natural disasters by phasing out loan recovery.
Farmer Appreciation Programme
Tobacco farmers more creditworthy by financial institutions.


Despite all this positive feedback the Government simply cannot turn a blind eye to the severe adversity caused to human health by tobacco. Tobacco consumption was recently named the cause for the most number of deaths that could be prevented.

When questioned upon this, CTC operatives replied, "We are not forcing our customers to buy cigarettes. It is simply another product in the market that provides customers with a choice. You buy it if you desire it. Also, nobody below the age of 21 is legally allowed to purchase a cigarette."

The CTC officials also brought our attention to the cottage 'beedi' industry that operates around the island in large-scale without any regulations.

"We are not asking the Government not to regulate us. Regulate us, as our product is harmful. But then please also regulate the beedi industry that operates without any legal standards and is also not required to pay taxes. Even though there were various claims about it made by the Government, I believe they are reluctant to do so as the majority lobbies the Government," declared Gunathilake.
-Pix by Daminda Harsha Perera
​