By Hemal de Silva


The potential of P. butyracea

The so far known potential of the species are listed below:

1.P. butyracea is a perennial tree crop that will be productive for well over a century and can either be established on a plantation scale or by smallholder growers in tropical and sub tropical climates, provided an adequate annual rainfall is experienced. At the end of a long period of productivity, with multiple benefits to a country's economy, environment and the prospective grower, it will ultimately yield a substantial volume of good quality timber.

2. This species produces at least an annual crop of edible fruits and the oil/fat extracted from the seed is a trans-fat free confectionery fat.

3. If adequate volumes are produced, the demand for the fat will be from cosmetic – (http://www.specialchem4bio.com/news/2013/08/07/icsc-offers-pentadesma-tree-seed-derived-kpangnan-butter-for-stringent-cosmetic-applications), food and confectionery industries. It is a suitable feedstock for producing biodiesel.

4.Biodiesel can be produced from Pentadesma fat even on a small scale. This substitute for petroleum diesel can reduce respiratory diseases arising from the use of firewood and kerosene for cooking and lighting, especially in rural homes.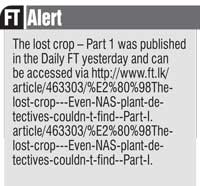 5. The establishment of this perennial tree crop is a unique and implementable solution to inter-crop/diversify the substantial extents of uneconomical tea, the main reason for the present non-viability of the Sri Lankan tea plantations industry. This important industry that is almost 150 years old was started with the deforestation of natural forests by the British in the early 19th century. It continues to be very important for the country's economy providing employment to more than a million people. The inter cropping/diversification of the uneconomical tea need not affect the production of the required supply of the world famous 'Ceylon Tea' to meet its global demand. The production of this vegetable fat will open the way for new export oriented agro-industries in Sri Lanka.

Despite the known importance of Pentadesma fat extracted from the oil rich seeds, its production remains negligible in the TWAR as the seeds are collected from natural stands in forests. I have been informed that app. 70 mt are produced annually by rural women in Benin, adopting primitive methods of extraction yielding 30% of the fat. According to Prof. Shukla this can be increased to 47-67%, subject to the methods employed and the quality of the seed.

An initial trial in a small laboratory in SL, it was possible to extract 43-45% by solvent extraction. From the dried seeds provided by me, a Research Engineer at the National Engineering Research and Development Centre of Sri Lanka very kindly tried out the mechanical extraction of the fat successfully though it was the first time any one of them had even seen the unusually large and hard seed. This fat is also produced in Togo and a supplier may be able to offer about 20 mt annually. It was from Togo that I was able to arrange the transfer of a 2 kg sample to a large organisation involved in food and confectionery in Germany and the initial trials carried out were satisfactory making the user inquiring for supplies.

In November, 2013 the US FED announced that partially hydrogenated oils were not suitable in foods. Realising the importance of this statement my inquiries revealed the extent to which items of food produced with imported artificial fats were being consumed in SL. It is the young and the younger generations who will be most affected. This danger was published in 'Cardiovascular diseases arising from Atherosclerosis - Prevention or Cure? (http://www.dailymirror.lk/55597/cardiovascular-diseases-arising-from-atherosclerosis-prevention-or-cure). If Pentadesma is grown on a plantation scale in the uneconomical Tea, first of all Sri Lanka can produce a trans-fat free confectionery fat rather than importing what is not really suitable for consumption.

A news release on 16th June, 2015, states that the FDA has taken steps to remove artificial trans fats in processed foods to reduce coronary heart disease and prevent thousands of fatal heart attacks every year.
The fruit

The mature fallen fruit is sour in taste. To quote, "In Benin fruits are usually gathered in April–June, mostly by women. After collection, they are put together under a tree and covered to accelerate fermentation of the fruit pulp and to facilitate seed extraction" (www.prota4u.info). This is not necessary and an absolute waste of a natural renewable resource. Despite the large numbers of fruits produced annually, research has not been carried out on its composition and utilisation.

The weight of a fresh fruit varies from about 200 – 450 gms. The peeled fruit (Mesocarp) is app. 40-50% of the fresh fruit by weight. It is not necessary to allow the mesocarp to decay or rot for the removal of the seeds. This fruit may turn out to be economically and nutritionally important. The fresh fruit can be used to produce a tasty fruit drink. Considering the large number of fruits, even a young tree bears each year, the fruit has the potential for production of jams, preserves and innovative value addition.


Penta fresh fruit drink, anyone?

Having found the species P. butyracea by a coincidence, thanks to Prof. Shukla, I have persevered to understand the important basic information, despite the lack of scientific training. There is adequate information to show its importance as a perennial tree crop with multiple benefits, as good as or better than any other. In order to fully realise its inherent potential research already carried out by Prof. Shukla have to be published and maybe further research has to be carried out but, in the meantime, why waste the fruits and seeds produced annually in Sri Lanka?

When each and every seed of this multipurpose asset with potential to relieve or reduce problems such as rural poverty, devastation from unsustainable land practices, often added burdens for women and mothers even in our little Island, should have been used to raise a seedling for establishment of this species, the above pictures indicate how such a gift endowed to us has been wasted for over a century. Has no one so far seen, read or understood or been a wee bit curious of the meaning of the word "Butter" clearly written of the name board?

This definitely is not a case of a 'Lost Crop of Africa' being 'found' in Sri Lanka but, a little attention or curiosity given to a perennial tree crop that should have been established on a large scale long, long ago. I firmly believe that God and nature have evolved such tree crops with objectives, finally for the benefits to reach the people, irrespective of their nationality, colour or religion. I sincerely hope that this will be the final result of my lone effort.

I appreciate very much the response of Dr. Noel Vietmeyer, for recognising the potential of the species from the information sent to him and rather than ignoring it like so many Sri Lankan and foreign individuals, organisations, NGOs, etc., by suggesting that I write this article.



(The writer is an Associate of International Food Science Centre A/S, Denmark.

He can be reached via email [email protected])