Suranga Gunaratne – the Director of the National productivity Secretariat (NPS) briefs participants about the objectives of the e-learning course. Resource coordinator Prof.Rohana P.Mahaliyanarachchi – the Senior Professor of Agri Business Management of the Sabaragamuwa University is also in the picture.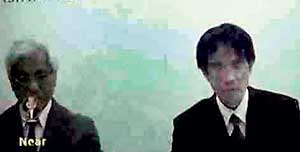 Text by Harsha Udayakantha Peiris

The three-day 'e-learning course on Good Agricultural Practice (GAP) for Greater Market Access' organised and sponsored by the Asian Productivity Organisation (APO) in Tokyo, Japan began yesterday at the Distant Learning Centre of Sri Lanka Institute of Development Administration (SLIDA) in Colombo.

The program is held with the objectives of enhancing participants' understanding of the benefits and importance of GAP for increasing access of agri-food products to international markets, familiarising participants with the GAP concept, adoption process, and certification methodology and reviewing the status of and procedures for benchmarking of national GAP with other internationally recognised GAP standards.

The course conducted in two sessions will be held from 13 to 15 October in Bangladesh, India, IR Iran, Mongolia, Nepal, Pakistan and Sri Lanka and from 4 to 6 November in Cambodia, Philippines, Thailand and Vietnam. The Sri Lankan component of the course will be implemented by the National Productivity Secretariat in collaboration with the APO Secretariat.

With international trade in food booming, consumers are increasingly concerned about food safety and how food is produced and how it is handled within supply chains. New pressures from consumers, retailers, and legislation have placed additional demands on farmers and producers. They are increasingly required to use production methods that reduce the impact of agricultural practices on the environment, reduce their use of agrochemicals, and make efficient use of natural resources (land and water), while safeguarding the welfare of workers and farm animals. GAP could be the solution for producers seeking to address consumer concerns in domestic and foreign markets.

The GAP concept addresses two distinct issues namely, ensuring food safety during on-farm and post-production processes to build consumer confidence in the products and enhancing environmental sustainability for continued productive farm operations. The development and adoption of GAP have become increasingly important in light of increasing regional and international trade in food products and growing consciousness of consumers of the quality and safety of the food products they buy. Agricultural producers, particularly small farmers, need to have their farms certified as GAP compliant to enhance the acceptability of their products.

Several countries have developed their own GAP standards and certification systems. However, lack of harmonisation between GAP schemes among countries and scarcity of affordable certification systems have often led to increased confusion and higher certification costs for farmers and exporters. The GLOBALGAP standard now serves as key reference for GAP worldwide as this is increasingly being recognised internationally by retailers. It is a single, integrated standard with modular applications for different product groups, ranging from plants, livestock, and aquaculture to plant propagation materials and compound animal feed.

An understanding of the principles and standards of GAP and benchmarking of national GAP against GLOBALGAP are essential so that stakeholders in various APO member countries can improve agricultural practices, facilitate exports, and reduce the cost of multiple audits by meeting established GAP standards. This e-learning course is designed to address these needs of various stakeholders with emphasis on Good Agricultural Practice (GAP) for Greater Market Access in APO member countries.

The course is offered using the APO's own video-conferencing platform. Appropriate video-conferencing centres in participating countries will be used for this purpose. International experts will conduct the training course. Each participating country team will make video-conferencing presentations to share their experience in GAP/GLOBALGAP, which will be moderated by a local coordinator. On the last day, a written examination will be conducted to test the participants' learning from the course. Performance in the examination will be one of the criteria for selection of the participants for the subsequent follow-up face-to-face training course.

The course will cover a wider area of related segments of good agricultural practices that include general concepts and basic requirements of GAP systems, scope and trades in implementation of GAP in Cambodia, GAP and GLOBAL GAP and their importance in the global trade in agri-food products, issues and challenges in GAP adoption, support systems for the dissemination and the sustainability of GAP implementation, benchmarking national GAP schemes against GLOBALGAP and its implementation, certification and key success factors. Good agricultural practices; the Asian perspective – why farmers in Asia need to adopt GAP, an overview of GAP/GLOBALGAP in Germany, Japan Good Agricultural Practices (JGAP) and its requirements, case studies of impact of GAP on farm productivity in Japan, Global GAP regulations and certification process for fruits and vegetables and Harmonisation of National GAP with GLOBALGAP and other initiatives of GLOBALGAP will also be discussed under session 01 of this e-learning course. The distance-learning course will further consist of a combination of video-conferencing and offline sessions such as online lectures, online discussions, online presentations of country case studies, offline group exercises, and a written examination.