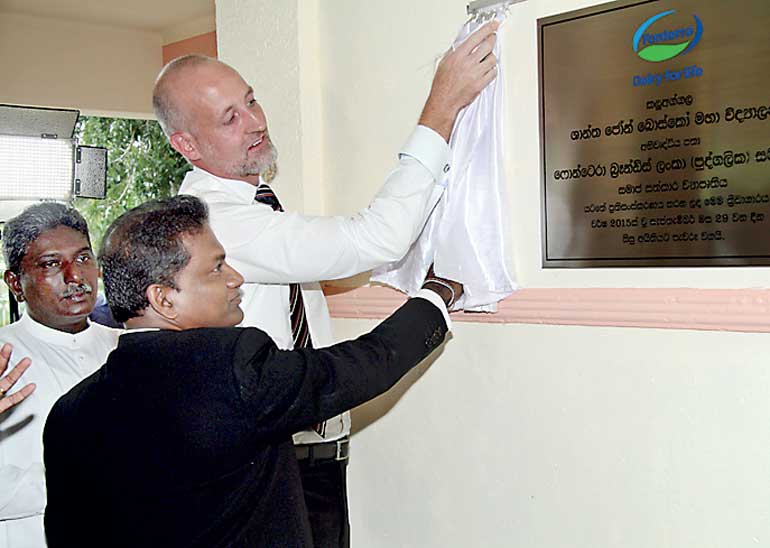 Deputy Speaker of the Sri Lanka Parliament ThilangaSumathipala and Managing Director of Fonterra Brands Sri Lanka Leon Clement ceremoniously re-opening the St. John Bosco's College's renovated sports pavilion to the Hanwella community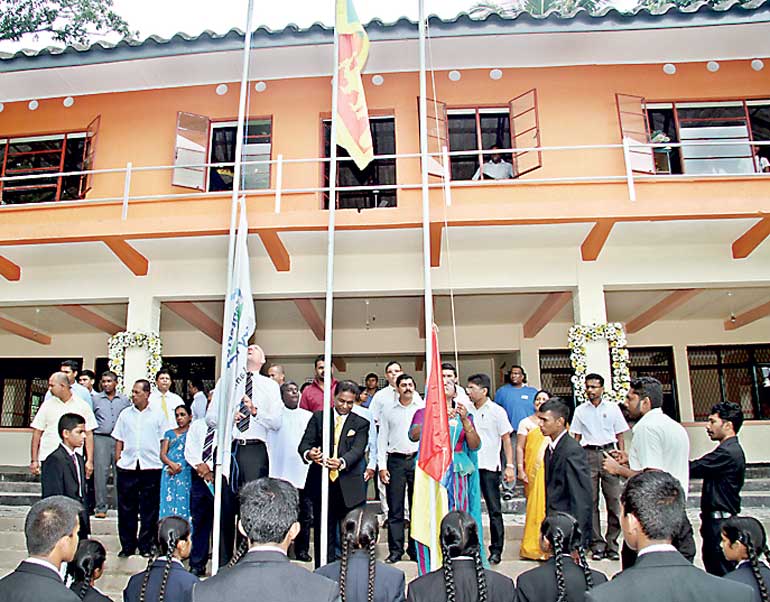 Managing Director of Fonterra Brands Sri Lanka Leon Clement (centre left), Deputy Speaker of the Sri Lanka Parliament ThilangaSumathipala (centre) and Principal of St. John Bosco's College K.B. Theresa (centre right)during the flag-raising ceremony to commemorate the re-opening of the St. John Bosco's College's renovated sports pavilion to the Hanwella community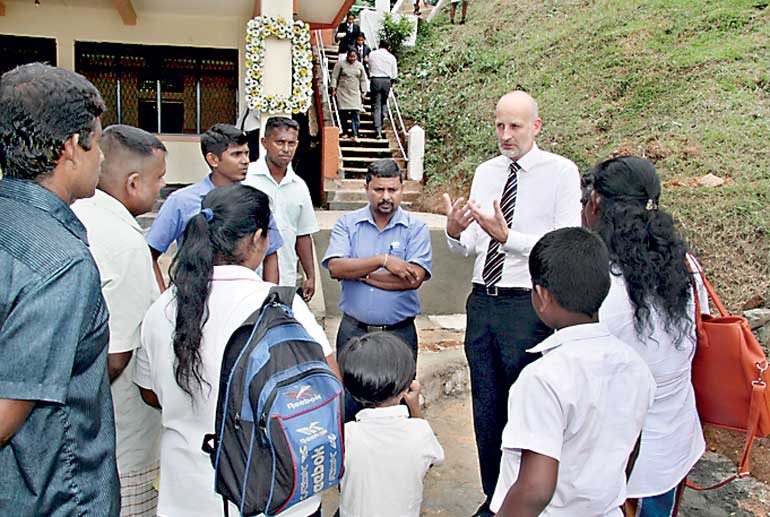 Managing Director of Fonterra Brands Sri Lanka Leon Clement speaking with several of Fonterra's dairy farmers from the Hanwella area whose children attend the St. John Bosco College and will directly benefit from the renovated sports pavilion
Fonterra Brands Sri Lanka's Grass Roots Fund has now helpedmore than 6,000people across dairy farming communities in Sri Lankasince its launch in October 2014.

The milestone was reached when Fonterra, a dairy co-operative,re-opened St. JohnBosco's College's renovated sports pavilion to the Hanwella community recently.

The Fonterra Grass Roots Fund aims to grow more sustainable dairy communities through a series of projects that have a positive social, economic or environmental impact, and St. John Bosco's College is the latestproject to be supported by the Fund.

Without functioning water and sanitation facilities, a leaking roof and broken doors and windows, the pavilion posed a significant safety hazard to the school's 1,300 students and the Hanwella community using it.

Principal of St. John Bosco's College, K.B. Theresa said,"On behalf of the students, staff and past pupils, I want to extend my heartfelt gratitude to Fonterra for coming forward to assist us. It was a true pleasure to work with the Fonterra team; they worked tirelessly together with us as one family to ensure all our requirements were fulfilled."

Partnering with the School Development Society and Kansarmen Foundation, Fonterra renovated the building and made it functional and safe to use. The pavilion and its facilities were officially opened by Thilanga Sumathipala, Deputy Speaker of the Parliament, and Leon Clement, Managing Director Fonterra Brands Sri Lanka.

At the opening, Sumathipala said, "St. John Bosco's College is attended by the children of the dairy farmers of this area. The school has a renowned history in sports and is one that has produced many sportsmen who are beloved to this community as well as the country.

"We appreciate and welcome the involvement, support and help extended by Fonterra for this project wholeheartedly. It is difficult to maintain a school with the sole help of parents, past pupils and the government. This is why the support of the business community of an area is invaluable. Fonterra has strongly and passionately supported this community in which their dairy farmers are based, ensuring their dairy farmers are directly benefitted through projects such as these."

Speaking to farmers at the event, Managing Director of Fonterra Brands Sri Lanka, Leon Clement,said"We are committed to building a stronger dairy industry in Sri Lanka, and as part of this we believe it's important to support our dairy communities, to make a difference."

"Since 2014 we have been involved inprojectswhich have enabled us to enrich the lives of more than 6,000 children, teachers, dairy farming families and community members.

"Together with our implementation partners, we look forward to supporting these communities through the Fonterra Grass Roots Fund for years to come," said Clement.