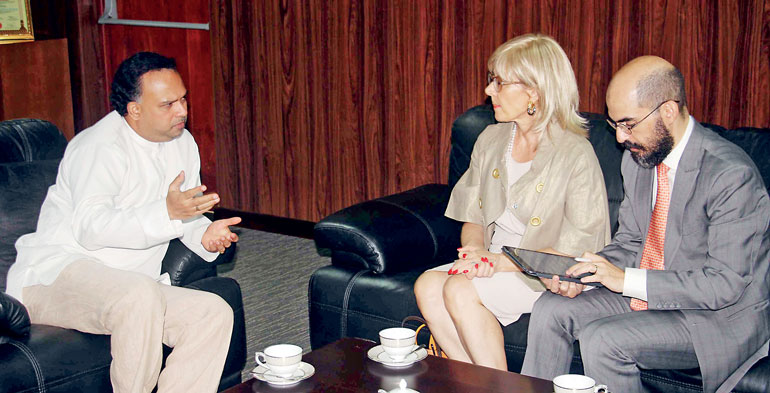 Plantation Industries Minister Navin Dissanayake (left) in discussion with Brazilian Ambassador Elizabeth-Sophie Balsa (centre) and Counsellor Bruno Pereira Albuquerque De Abreu
Ambassador of the Federative Republic of Brazil Elizabeth-Sophie Balsa, and Counsellor Bruno Pereira Albuquerque De Abreu, met the Minister of Plantation Industries Navin Dissanayake Tuesday (18) to discuss possible bilateral cooperation in plantation industry related areas, especially in relation to rubber and coconut industries.

Amazon forests in Brazil were the original source of rubber tree and Sri Lanka received the first batch of rubber seeds collected from Brazil in 1876 albeit via a long route through Kew Gardens in London. Later, the Brazilian rubber industry was badly affected by South American Leaf Blight, but at present, it is one of the world's large rubber producers. It also produces rubber products mainly for local market which exceeds 215 million people and Brazil is one of the BRICS countries.

Sri Lankan rubber product manufacturers export latex gloves and tyres to Brazil and the Ambassador was impressed with the quality of Sri Lankan rubber products. Sri Lanka exports tea and desiccated coconut also to Brazil although there are no favourable trade agreements between the two countries which prevents trade expansion.

Brazil will send a trade mission to Sri Lanka in August to learn the workings of the Sri Lankan rubber industry and to explore possible partnerships and investments in the rubber sector. The ambassador was very keen to learn more about the Sri Lanka Rubber Master Plan which is being promoted by the Minister. The delegation is expected to visit the Rubber Research Institute, some rubber plantations as well as a few rubber products manufacturing facilities in addition to taking part in the CRT Fair that showcases tea, rubber and coconut industries on from 11 to 13 August. The CRT Trade Fair is organised by the Ministry of Plantation Industries and the Brazilian delegation intends to hold B2B meetings with potential partners.

The Ambassador invited the Minister to make a visit to Brazil with a senior delegation to discuss and agree on a more concrete action plan for inter-country collaboration. It is expected to sign an MOU among the two countries.

Lakna Paranawithana, Advisor to the Minister also participated in the discussion.