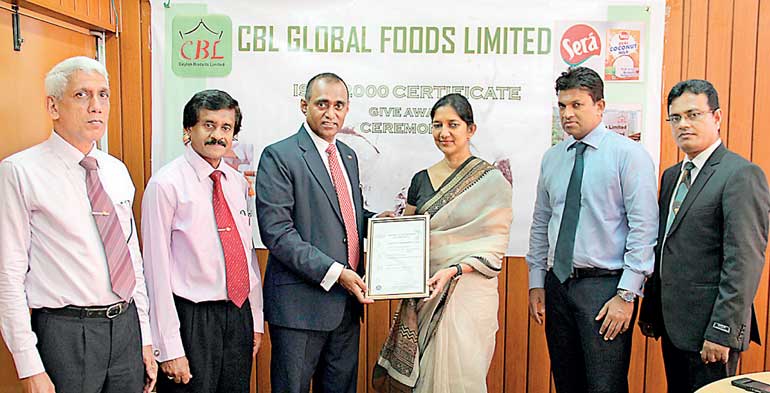 CBL Global Foods Ltd, the manufacturer of the 'Sera' brand of coconut milk recently received the ISO 22000 certificate from the SLSI which sets out the requirement for a food safety management system and ensures that the organisation is able to control food safety hazards and provides safe products for consumption. Further it became a globally recognised coconut based product manufacturer by achieving BRC A Grade Certificate from Control Union Certification B.V. Netherlands.

The company is the newest member of Ceylon Biscuits Ltd., (CBL) group and is in the business of manufacturing and exports of all Coconut based products.

CBL Global Foods Ltd manufactures a range of Coconut based products including 'Sera' coconut milk, Organic coconut milk, coconut water and juices in order to give greater benefits to customers under the large and small organic coconut cultivators with upstream and downstream functions.

The company exports its products to Europe & Asian countries and is also the exclusive supplier to most of the Multinational Companies and National Manufacturers in Sri Lanka. Strengthening with ISO certifications will help CBL Global Foods Ltd explore many more export markets in the years to come.