National Chamber of Exporters (NCE) President Sarada de Silva has been invited to attend the World Spice Conference – 2016 and invited to make a presentation on 'Spice Industry – Sri Lanka Perspective'.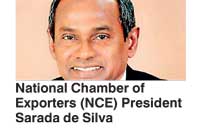 Since its inception in 1990, the World Spice Congress (WSC) has evolved to become the global platform for discussion and interaction between producers, importers, exporters, regulators, and other stakeholders in the spice industry.

The WSC which is organised by the Spices Board of India with support from various trade organisations is now a much sought after and a well-attended event.

Since the world is experiencing rapid changes in food safety issues, health authorities globally have embarked on a mission to make food safer for their people. WSC 2016 will deliberate extensively on this, as well as other issues and bring the delegates up to date on plans to make the food chain safe, reliable, consistent, and most importantly sustainable.

Several professional speakers from India and other countries will address the WSC on important topics related to the spice sector. These include: A spice importer's expectation on reliability and integrity of the supply chain; Perspectives of spice importers from countries such as Japan, South Africa, the USA, and European Countries; Perspectives of a retail spice packer; Role of the 'Common Fund for Commodities' in promoting the international spice trade; Co-Mingling of allergens in spices; Integrated pest management programs for selected spices including red pepper and chilies; Progress in value added products such as spice oils, oleoresins and nutraceuticals and "crop reports" covering ginger, nutmeg, mace, turmeric, chilies, red peppers, seed spices, onion garlic, and herbs. The NCE said de Silva who is the Founder Chairman of the Spice Council has contributed substantially to the development of the Sri Lanka spice industry. The spice industry in Sri Lanka which has tremendous potential for development and increase of exports of a range of spices, especially cinnamon, has received the focused attention of the government in respect of exports for the economic development of Sri Lanka.

In this context invitations received by de Silva to participate at several international events related to the spice industry including the WSC will not only enable to attract international attention on the spice industry of Sri Lanka for its future development and growth, but will also enable him to gather knowledge on current world developments related to the industry, for the benefit of stakeholders in Sri Lanka.