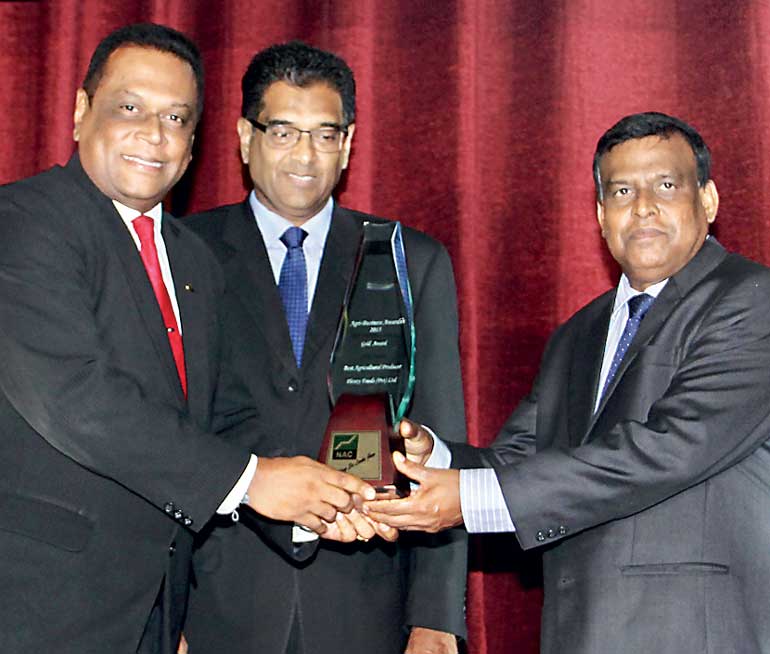 Plenty Foods Director/CEO Shammi Karunaratne (extreme left) receiving the Gold award as the Best Agricultural Producer from Ministry of Agriculture Secretary B. Wijayaratne, at the NAC Awards 2015 in the presence of NAC Chairman Rizvi Zaheed
The 'National Agribusiness Awards 2015' organised by the National Agribusiness Council was ceremoniously held at the BMICH recently. In recognition of the contribution and excellence shown in the food processing industry by Plenty Foods Ltd., the manufacturer for Samaposha received the Gold Award in the Best Agricultural Producer category.

Samaposha contains only locally grown wholesome ingredients and is manufactured by Plenty Foods Ltd., a fully owned subsidiary of Ceylon Biscuits Ltd. (CBL) which is the leading biscuit and confectionery manufacturing company in Sri Lanka. Over 8,000 farmers island-wide benefit through their involvement in supplying the required raw materials for the manufacture of Samaposha and this significantly contributes to uplift the living standards of the nation's farming community whilst strengthening our agricultural economy.

Plenty Foods Ltd. does not operate solely for profitability but with foremost responsibility towards the well-being of their dedicated farmer community. Inaugurated by the organisation in 2012, 'Govi Pawula' is their main corporate social responsibility initiative working towards enriching the lives of the rural farmers. Four sub projects under the scheme namely; 'Govi Sathuta', 'Govi Sarana', Govi Denuma', 'Govi Arana' and 'Govi Suwaya' work towards providing farmers assistance with the necessities of life and also engages in supporting and strengthening their livelihoods.

Understanding the hardships and toil faced by these sons of the soil, the programs are successfully carried out throughout the entire farming community network ensuring the farmers' social, entertainment and community needs are looked into. Likewise the farmers receive assistance and advice on the harvest in protecting its quality and also on any scientific knowledge needed.

Commenting on the strong relationship between the farmer community and the organisation, Plenty Foods Ltd. Director/CEO Shammi Karunaratne said, "We aim to represent our farming communities in a fair manner and develop our country's agriculture and towards this goal follow very specific policies. According to the agreement between our farmers should the market price increase despite a contracted rate we pay them the higher market price. Similarly should the market price decrease, we pay them the promised rate."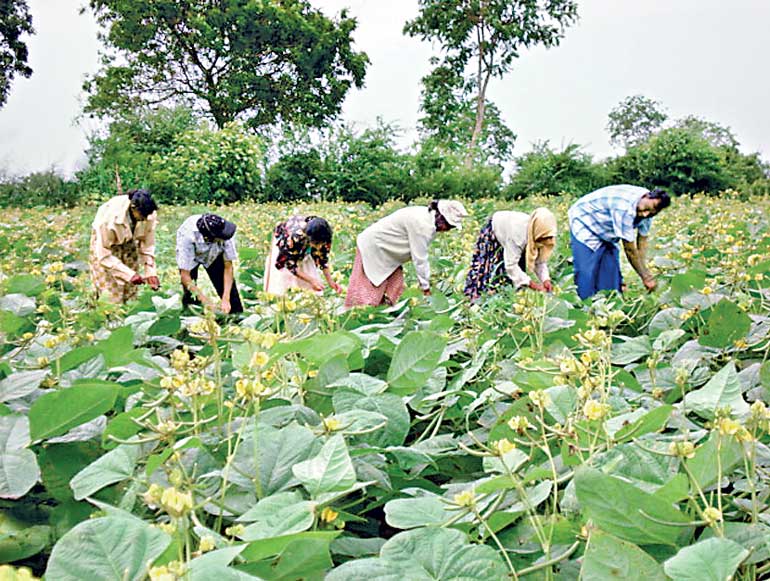 From the initial planting of seeds to harvest time as part of the ongoing commitment between the farmers, the organisation impresses upon the need to meet high standards, provides quality raw materials continuously educating the farmers.

The quality and goodness of the raw material provided by the farmers is further established as the entire manufacturing process of Samaposha is conducted using modern machinery.

Plenty Foods Ltd. understands the importance of protecting the well-being of the farmers and through their corporate social responsibility program recently commenced 'Govi Suwaya' project to ensure the health of the farmer communities. "Most farmers are bound by the need to continuously engage in farming as it is their sole livelihoods and neglect their health as a result. Filling their lives with happiness through our program 'Govi Sathuta', providing assistance in times of need through 'Govi Sarana', enhancing their agricultural knowledge through 'Govi Denuma', offering assistance for infrastructure facilities and supporting religious needs through 'Govi Arana' are all conducted through our unique corporate social responsibility programme, Govi Pawula," Karunaratne noted.

Plenty Foods, subsidiary of Ceylon Biscuits Ltd., as a pioneering manufacture has a proud legacy of beginning from our own soil providing nourishment not only to our nation but having won the trust of consumers in over 25 countries worldwide extends its sincere gratitude to both the farming communities and its loyal consumers.