By Ceylon Tea Brokers Plc

The 1st quarter of the Sri Lankan Tea industry saw an upward momentum with elevation averages reaching all time high levels. Substantial decrease in production last year and the continuity into first quarter this year resulted in a substantial price hike in the first quarter.

The decline of tea production by around 30% by major producers namely Kenya and Sri Lanka and a marginal decline YOY in India helped move global tea prices up by 15-20% in the first three months of the year.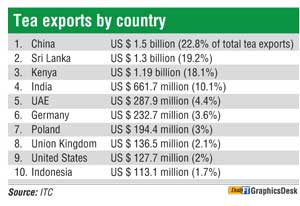 Increased demand from Russia, Turkey and Iran has helped global tea prices gain substantially in the aforementioned period.

The total Sri Lanka tea production for first quarter 2017 recorded 66.56 m kg in comparison to 70.42 m kg (-3.86 m kg) for the same period last year.

The total national average of the teas sold for the first quarter of the year 2017 was Rs. 608.03 in comparison to Rs. 409.21 (+ Rs. 198.82) for the same period last year. Low Growns averaged Rs. 614.82, Mid Growns recorded Rs. 564.28 with High Growns at Rs. 619.62. The averages for High, Medium and low growns in Rupee & Dollar term shows an increase in the first quarter 2017 when compared to years 2016, 2015 and 2014. Low growns having the largest market share with 63% of the production recorded the sharpest increase of Rs. 202.11 with the high growns recording an increase of Rs. 200.17 whilst the medium growns increased by Rs. 185.30 when compared to year 2016.

Sri Lanka tea exports for the first quarter of 2017 amounted to 68.41 m kg vis-à-vis 74.45 m kg recorded for the same period last year (-6.05 m kg). The FOB average price per kilo for this period stood at Rs. 769.87 as against Rs. 605.37 recorded for the same period last year. (+Rs. 164.50)

The total revenue realised for the first quarter 2017 from tea exports was Rs. 52.67 billion (349.17m US$) compared with Rs. 45.07 billion (311.85m US$) (+Rs 7.6 billion) recorded last year. It's an increase in Rupee and Dollar value compared to the year 2016.

Russia has emerged as the largest buyer of Sri Lankan tea in the first quarter of 2017. Turkey has shown a considerable increase in their purchase volume from Sri Lanka. Iraq the third largest importer of Sri Lanka Tea in 2016 has shown a significant decline in their purchases in the 1st quarter.

Global economic overview

After almost two years of recession Russia has entered a path to recovery with global economic growth starting to strengthen at the end of 2016. Russian economy showed signs of recovery caused by shocks of low oil prices and economic sanctions. Solid growth by commodity importers and pickup in commodity exporters are expected to boost global economic recovery in 2017. Oil prices plunged 77% from June 2014 to January 2016 severely undermining the activities of energy exporters. Despite adverse conditions Russia's growth adjustment happened earlier than other oil exporters with balance of payments remaining stable and the net capital outflows decreasing.

The Iraqi economy is expected to rebound in 2017 due to improved security and higher non-oil industrial spending. Iraqis oil export prices are projected to average $ 47.4 per barrel in 2017, Compared to an average of US $ 35.6 in 2016.

Iran's growth rate is expected to average 4.1% in 2017 – 2019.

The growth outlook assumes that agreements between Iran and major foreign companies in oil, gas and other key sectors will materialise. The gains from oil revenue, the budget performance also improved and the deficit shrunk to 1.5% of the GDP in 2016.

The Eurozone economy witnessed a strong 1st quarter and recorded the best results in two years. Increased private consumption, healthy labour market and looser fiscal policies help drive the euro economy.

The Chinese economy is likely to expand around 6.8% in the second quarter of 2017.

US Dollar – The US federal reserve hiked interest rates by 0.25 basis points in June this year. This was the 2nd time the federal reserved hiked interest rates this year.

Global sales from Tea exports amounted to $ 6.5 billion in 2016. The overall value of tea exports was down by an averages -9.5% for all exporting countries since 2012 when the shipments were valued at $ 7.2 billion. Asian countries amounted to the highest dollar worth of exported tea during 2016 with shipments valued at $ 4.3 billion or (65.5%) of the global total.

African exports were at 15.1% while 14.9 % of the world tea shipments originated from Europe.
In the first four months of the year 2017 black tea production in major producing countries namely, India, Kenya and Sri Lanka witnessed a decline of 11%, largely attributed to a significant drop in Kenyan production.

Though major tea producing countries are currently witnessing healthy production levels, it is not expected to reach last year's volumes.

With a limited tea production, more positive global economy, stable oil prices and the devaluation of the rupee, the Sri Lankan tea prices are expected to remain stable for the rest of the year.